The latest report from the House of Lords EU committee is of interest to all involved in Ireland's Agri-food industry, including the logistics companies that make it tick. 
Called 'Brexit: Food Prices and Availability', it looks at some pretty fundamental questions – in particular, what are British people going to eat after they leave the EU, and how much is it going to cost them?
From an Irish point of view, the Lords first conclusion is stark - "It is inconceivable that Brexit will have no impact on EU food imports to the UK".  
Another vital point notes: "It seems unavoidable that in either a 'deal' or 'no deal' scenario, Brexit will result in some additional border checks and documentation requirements for food imported from the EU to the UK.
"These will increase the time it takes for food to reach shop shelves and result in additional costs to businesses, which may be passed on to consumers through food price rises".
The Lords also note that EU businesses exporting food to non-EU countries face various non-tariff barriers before their product leaves the EU, such as veterinary certificates.
Post-Brexit, EU businesses – including Irish businesses – that want to export food to the UK will encounter these additional barriers for the first time. 
An example from a KPMG report for the Dutch government – getting the necessary veterinary certificates to export meat products to a non-EU country (as Britain will soon be) costs between €130 and €725 per shipment.
Don't forget, we are talking big volumes. 
Half the UK's food is imported - 30% comes from the EU, and another 11% comes from non-EU countries under the terms of trade deals negotiated by the EU.
Being part of the EU customs union has meant food from the EU can be imported with no tariffs or customs barriers. 
That's 40 separate deals covering 56 individual countries that will have to be renegotiated by the British one by one after they leave the EU, as well as negotiating a trade agreement with the EU, its number one trade partner. 
And, those 41 renegotiated deals will impact on every other trade deal the UK has or will have.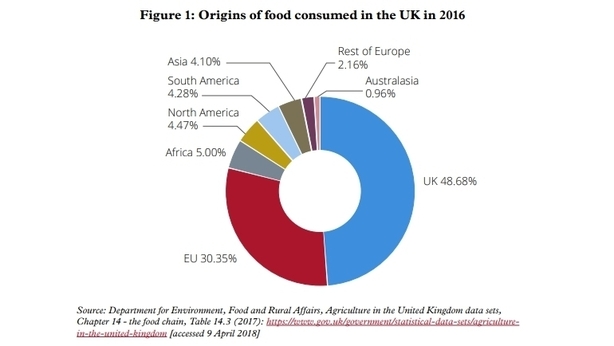 But let's focus on us.  
Ireland's Agribusiness sector has exports worth just over €11billion (about 10% of total exports). 
About 37% of those exports go to the UK market, with the rest of the EU getting 32%, and international markets getting 31%, according to Bord Bia. 
As we know, the British government has stated that the UK will be leaving the customs union and the single market.
Right now nobody knows what kind of trade agreement the UK and the EU will have after Brexit. 
We don't even know for sure if there will be a transition period, putting off the practical effect of leaving the EU until the end of 2020.  For all we know, the UK could crash out of the Union at the end of next march with no agreement in place. 
What does any of this mean for the Agri-food industry here? 
One place to start looking for answers is this Lords report, which looks at the various options facing Britain – including a favourite among Brexiteers; Growing more food in Britain.
Without a Free Trade Agreement with the EU, Britain would have to introduce WTO tariffs on food imports.  The British government has said it will seek to replicate the tariff schedule the EU has with the rest of the world, as the easiest solution.  This would mean applying these tariffs to imports from EU countries.
The Lords say: "If an agreement cannot be negotiated, Brexit is likely to result in an average tariff on food imports of 22%. While this would not equate to a 22% increase in food prices for consumers, there can be no doubt that prices paid at the checkout would rise. To counteract this the government could cut tariffs on all food imports, EU and non-EU, but this would pose a serious risk of undermining UK food producers who could not compete on price".
Of course the 22% average tariff is an average – there is wide variation depending on the levy applied to different  food products. 
According to the UK Trade Policy Observatory, the average tariff for whole milk is 70%, but for low-fat milk it is 36%; beef is subject to a 56% average tariff, but the tariff on poultry is 14%.
What does this mean for consumers?
The UK Trade Policy Observatory's modelling predicts price increases of 5.8% for meat, 8.1% for dairy products, 4% for vegetables, 3.1% for fruit, 1.8% for bread and cereals and 1.5% for fish.  The milk industry lobby Dairy UK said: "A WTO schedule would push up the wholesale price of cheese by one third with retail prices rising by 20%".
Shopkeepers lobby The British Retail Consortium (BRC) has tried to calculate the impact of tariffs on prices in the shops. 
It foresees a price rise in the range of 5–29% for beef, 6–32% for cheddar cheese, 9–18% for tomatoes and 5–10% for broccoli. The BRC explained: "The reason for the range is we do not know how domestic producers would react to price increases … would they raise their prices or would they put more of their own product on the UK market if they face tariffs to export to the EU".  In other words, would WTO tariffs induce import substitution?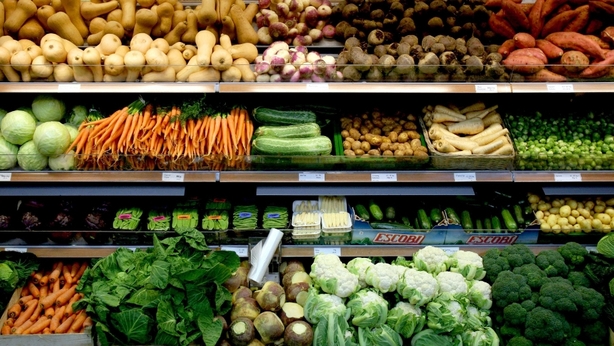 The Lords think not. 
They write: "EU food imports cannot easily be replaced by either producing more in the UK or importing more from non-EU countries. UK self-sufficiency has been declining for the past 30 years, and reversing that would require financial incentives, investment in new technology and skills, and continued access to the EU workforce (at least in the short term).
"It would also take time and, given the restrictions of landscape and climate, there are some foods that could not be grown here. We heard no evidence that non-EU imports could increase significantly; 20% of the UK's food already comes from outside the EU and there do not seem to be many other likely sources of supply".
Nor were they impressed by the British Government's "it will all work out, don't worry" approach.
George Eustice MP, Minister of State at the Department for Environment, Food and Rural Affairs (DEFRA), told them that even if the UK were to trade under WTO rules "the impact on food prices is quite marginal".  
He noted that "in a typical year food prices will go up or down by between 5% and 10%" due to fluctuations in energy prices, fuel costs and other factors.
The Lords rejected the minister's view, saying all that means is that price rises from tariffs would come on top of rises that would have occurred anyway. 
And they rejected the ministers view that these levels of price rises would be "marginal for UK consumers".
But even Mrs May's agriculture minister doesn't believe the rest of the world will  step up to supply Britain in the EU's place, as he told the Committee : "There will be some opportunities for new trade deals … [but] it is important not to exaggerate the opportunities … There is already quite a lot of trade that takes place. The impacts of these new agreements are probably less than some people would presume".
Besides, the minister recognised a pretty big consumer problem: "Beef produced in Brazil, Uruguay and the US is cheaper than in the EU and, in particular, in the UK, but that comes at a price of using hormones in beef and all sorts of approaches that probably would cause consumer reaction here, and the quality of that product is far inferior to what we have". 
Although the price difference might overcome some consumer resistance, there could be wider economic and ecological consequences: "Current retail prices for sirloin steak in the US is £12.67 per kg and in the UK is £22.06 per kg—so a trade deal, opening the UK market to US beef, would likely undercut UK produced prices by some considerable margin.
Would our farmers seek to reduce standards to compete, or would they stop producing beef?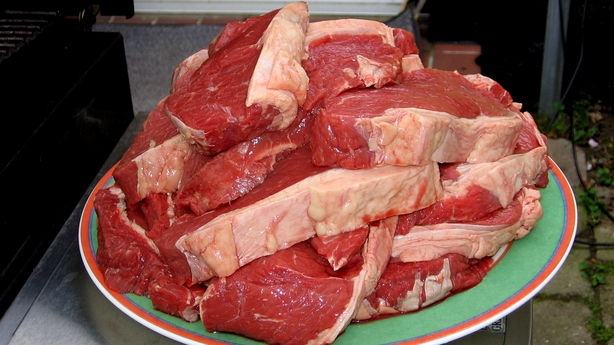 If so, what might happen to the UK agricultural economy and the wider rural economy, as well as the way land is managed in our 'green and pleasant land'," asked Professor Tim Benton of Leeds University.
Then there are the non-tariff barriers – from technical specifications and rules to physical infrastructure, such as where are they going to park the trucks when doing the customs checks?
The Report says: "The (UK) government remains confident that it can secure an agreement that would allow 'frictionless' imports of food from the EU to continue, but it is unclear how that would be possible outside of the customs union.
"Any such agreement would be likely to require the UK to mirror all EU standards and regulations; a condition the UK Government may find politically difficult to accept.
"If no agreement is reached, and food imports from the EU are subject to the same customs and border checks as non-EU imports, the UK does not have the staff, IT systems or physical infrastructure to meet that increased demand. Any resulting delays could choke the UK's ports and threaten the availability of some food products for UK consumers.
"The Government's proposed alternative is to allow EU imports through with no, or very few, checks: this raises safety concerns as well as questions over how customs charges would be processed".
One potentially big question is the WTO "Rules of Origin" regime.
Rules of origin are criteria to define where a product was made, and thereby ensure that the correct tariffs and other regulations are applied. 
There are no origin requirements for trade within the EU, but when the UK leaves the customs union, producers will need to meet whatever origin regime is put in place.
This will apply even if a trade agreement is reached, as producers will need to demonstrate their product is eligible for preferential trade terms. Rules of origin can be problematic for products that have inputs from different countries.
This is particularly important for Irish food and drink companies that source ingredients in the UK and other third countries. 
Indeed the Lords committee cited an Irish example in their discussion of the rules of origin problems: "The Food and Drink Federation gave the example of a frozen pizza made in the Republic of Ireland, but with flour milled in the UK from grains bought from Canadian, US and UK growers. Failing to meet origin requirements would mean the flour would be subject to EU MFN (WTO) tariffs when imported from the UK; the pizza would then also be subject to tariffs if exported for sale to the UK".
Checking all this sort of thing out is going to take time, and time is money.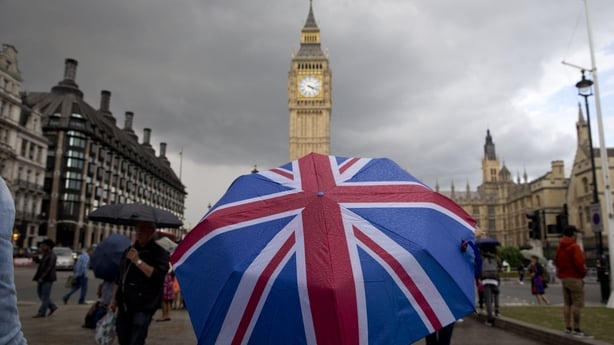 This is what the British Retail Consortium told the Lords EU Committee:
"Currently due to frictionless borders, even the most perishable products such as soft fruit can be transported from Spain but still have 5 days shelf life in store or fresh beef can be transported from Ireland, minced and still have up to 10 days shelf life. Delays due to border controls will reduce the life of products in the home, driving up food waste or, in the worst cases meaning it is unproductive to put it into store. We know where SPS [Sanitary and Phytosanitary] checks are applied to products from outside the EU such as processed meat coming into the UK that additional checks can take up to two days which is not feasible for a fresh supply chain". 
The City of London Corporation are responsible for all port health functions on the Thames, including London City Airport, London Gateway, Tilbury, Thamesport and Sheerness.
They stated: "Should the UK undertake veterinary checks in the same way on EU products as it does for current third countries, there could be considerable delays at borders".
 A report produced by KPMG for the Dutch Government highlighted the knock-on effect of delays: "UK retailers apply strict delivery time slots. If a shipment arrives late at the retailer, it cannot be unloaded on the same day and unloading will be delayed by a day or more".
Walter Anzer, Director General of the British Food Importers & Distributors Association, told the committee: "If we have lengthy delays in ports, shippers will simply decide to drop goods off in Rotterdam. They go to Rotterdam, to Felixstowe and on to Hamburg … If they get long delays, they just will not call at UK ports". 
This could also have implications for Irish supply chains using ingredients sourced from outside the EU that are imported through UK ports.
And there are the well flagged potential problems facing Irish exporters sending goods to UK ports and airports – particularly the smaller ones – that have no infrastructure for dealing with WTO level customs checks. 
The City of London Corporations said the extra checking requirements "could be particularly problematic at short-sea-crossing ports and smaller airports that have quick turnaround times.
"These points of entry, which deal with many EU products, often have little or no resource. Developing a resource (suitably trained workers, infrastructure and inspection facilities) will be problematic in the short run".
Terry Jones, Director General of the National Farmers Union (NFU), raised related concerns, saying: "Currently, the only ports set up to do veterinary checks on meat are London Gateway, Tilbury, Felixstowe, Southampton and Liverpool". 
Only one of these is on the west coast – the one facing Ireland.
Needless to say a new customs regime will need a new customs computer. 
Fortunately the British were in the process of procuring a new system before Brexit, and are in the process of scaling it up.  It is estimated that Brexit will increase the number of customs filings from 55 million a year to 255 million a year.  The new system is designed to cope with 300 million filings a year.  But it won't be ready for a hard Brexit next march. 
Some like the director general of the UK's Food and Drink Federation, Ian Wright, think it won't even be ready after the proposed transition period. 
He told the committee: "There is no chance that our customs system will be ready in two or three years' time. It simply is not going to happen. The technology is not there. It is not tested. The new customs declaration system will not be ready for testing until February of next year, and theoretically it might have to be in action three weeks later".
As well as causing delays and shortening the shelf-life of products, non-tariff barriers are an additional cost for businesses.
The KPMG report, for example, calculated that "one day of delay for a lorry will easily cost a business €600 to €1,000".
It also stated that delays would mean that "businesses will have to make more frequent use of 'last minute' carriers charging premium rates", and that this could add 20–25% to transport costs.
Professor Tim Benton of the University of Leeds and Chatham House gave further examples of additional costs facing those transporting food: "A container inspection costs £700; £80 per day would be the impound cost; and there will be the cost of the testing fees. For each additional container that might be inspected, you are talking about £1,500 to £2,000".
Modelling by the UK Trade Policy Observatory found that even if the UK Government negotiated a free trade deal with the EU to keep tariffs at zero and minimise non-tariff barriers, the cost of border inspections and some low-level non-tariff barriers would see food prices rise by 3.8%.
The predicted increase varies depending on the type of food - Bread and cereals were expected to increase in price by 1.4%, meat by 3.3%, fish by 1.8%, dairy products by 4.3%, fruit by 5.1% and vegetables by 4.8%.
But it is not just trade with the EU countries that will be disrupted by Brexit. 
The report notes that for continued tariff-free "frictionless" imports of food, the UK government must also secure agreements with the non-EU countries from which the UK currently imports food as part of EU trade agreements.
40 such agreements are currently in place, covering 56 countries and accounting for more than 11% of UK food imports.  The Lords note "The Government's belief that most can be simply and easily 'rolled over' is not shared by those who have given evidence to previous EU Committee inquiries".
And they go on: "This contrast between Government confidence and industry concerns is striking. The Government may not be worried about the potential for Brexit to impact on the price and availability of food, but the representatives of the food and farming industry, importers, port authorities and consumer organisations were vocal in their concerns".
The question is, will vocalising their concerns make any difference to the politics of Brexit at Westminster?