Vladimir Putin's coronation as President of the Russian Federation for the fourth time is not in doubt. But two factors are over-shadowing Sunday's election: turnout and the Skripal poisoning scandal.
On the first, this has been a lacklustre election. President Putin is notoriously averse to campaigning and debating.
He is technically running as an independent candidate, with the dominant political force, United Russia, formally supporting him (other regional and charitable "foundations" have also made sizeable contributions to his war chest).
But Putin, 65, is probably running for the last time, so a big turnout and win would consolidate his legacy.
Russian media says he wants a 70% margin with a 70% turnout. However, widespread apathy means voter turnout could be lower, perhaps as low as around 60%.
"Anything lower that 60% is tricky," says one Western diplomat, "so there's a big move to mobilise people."
That does not just mean bussing supporters to polling stations in large numbers, or even stuffing ballot boxes (something that is expected in far flung regional centres, but not in Moscow).
Russian state television is also pulling out the stops, broadcasting a video produced by Alexander Kazakov, a pro-Putin consultant, to the effect that poor turnout will result in hyper-inflation and Africans in the army. 
The video has gone viral online and been viewed six million times. Kazakov says he wants Putin's win to be convincing. "Only then will Putin be able to conduct the best domestic and foreign policy," he says.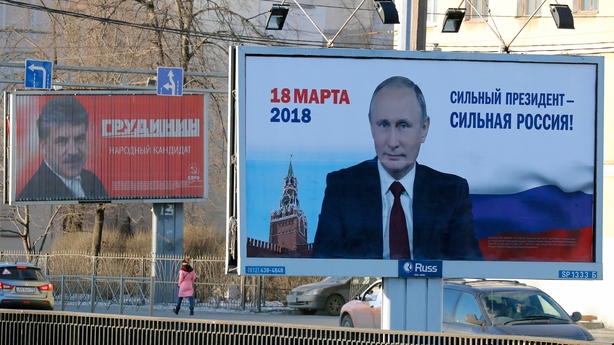 The country has been blanketed by pro-Putin billboards, while the Central Election Commission has been exhorting people to vote, through door-to-door visits, messages on milk cartons, text messages, and glossy brochures.
The State-backed polling organisation VTsIOM predicts that 74% of Russians plan to vote, but the country's only major independent pollster, the Levada Center, believes that less than one third of Russians definitely plan to vote.
As usual, this is not a fair fight. The leading opposition figure, Alexei Navalny (below), the anti-corruption campaigner, was recently given a suspended prison sentence for what his supporters call trumped-up charges. He is barred from running.
The six other candidates have no chance of winning, and some, like the reality TV star Ksenie Sobchak, are widely dismissed as political decoys, approved by the Kremlin to give the appearance of a proper contest.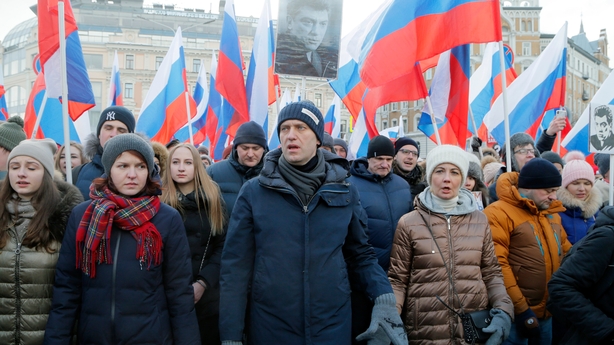 The EU's relationship with Moscow has been in deep freeze since Russia's annexation of Crimea in 2014 and the destablisation of eastern Ukraine. 
In March 2016, EU foreign ministers agreed five principles in their ongoing relationship with Moscow.
Demand full implementation of Minsk agreements on de-escalating the conflict in Ukraine
Closer ties with its former Soviet neighbours
Strengthening EU resilience to Russian threats
Selective engagement with Russia on certain issues, such as counter-terrorism
Support for civil society and people-to-people contacts
Since July 2014, there have been targeted sanctions connected to the invasion of Crimea, which Europe still regards as contrary to international law (Russian Crimea is still not recognised by the EU and that situation is likely to prevail).
These have included the suspension of EU-Russia summits, travel bans and asset freezes imposed on 146 individuals and 37 organisations, a ban on trade and investment between the EU and Crimea, and sanctions targeted at Russia's financial, defence and energy sectors.
Whereas US sanctions are approved by Congress and stay on the statute books for a long time, EU sanctions have to be rolled over every six months by member states.
Although unity has prevailed, countries such as Italy, Cyprus, Greece and the Czech Republic can be relied upon to resist or try to moderate sanctions, while falling short of blocking them altogether.
Have the sanctions worked?
Diplomats say it is hard to be definitive, but if they have bitten, then the macro-economic effect at least has been short-lived with Russia now emerging from a recession.
In June 2017, a European Commission assessment found that Russia's economy was improving from a -2.8% GDP contraction in 2015 and -0.2% in 2016, with oil prices stabilising at around $50 per barrel.
However, an internal note prepared by one EU diplomat concluded that: "International capital markets remain closed while restrictions on the transfer of energy-related technology – designed to limit Russia's ability to develop innovative and unconventional extraction techniques – has also had a significant bearing. There has been no new investment by EU companies in the sector."
Russia, of course, retaliated with a ban on EU agrifood exports, ostensibly on animal and food health grounds. This affected some countries more than others, with Poland, Finland and the Baltics all suffering big hits in some food sectors.
Overall, the EU lost 52% of its agrifood exports to Russia compared to 2013, but it was largely offset by European producers diversifying to the US, China and the rest of Asia.
In total, EU exports to Russia fell by 1.8% in 2016, year-on-year, and EU imports from Russia fell by 13% in the same period.
Ireland's food exports to Russia fell by 68.2% between 2013 and 2016, with pig meat falling from 1,300 tonnes to zero (that was comfortably offset by a 41% increase in sales to China).The WTO later ruled the Russian ban illegal. Indeed, the EU has more complaints pending at the WTO regarding Russia than any other country.
The EU is viewing this weekend's presidential election with a kind of jaded patience. Despite voter apathy, Putin has strengthened his approval ratings at home through robust military action abroad in Ukraine and Syria, and he can point to a modest increase in the economy as a source of anti-Western defiance.
"Consolidation is evident," says a senior EU official. "The Russian economy has survived the recession and the overall decline in oil prices and demand. Russia avoided a collapse of its currency and any other major economic meltdown (although the banks are still vulnerable).
"Quite a few families are benefitting.
"The idea that the middle class will rise up against the system won't happen. The working class are not going to revolt either. Syria and Ukraine play into the narrative of a great power Russia, one that resonates with the public."
According to Bruno Lété, a Senior Fellow at the German Marshall Fund, large sections of the electorate support Putin because of his attitude to the West.
He said: "The sanctions regime, despite the economic pain, has not prompted him to change his policy vector. The confrontational approach towards the West is largely supported inside Russia by the population. So as long as Putin keeps that agenda of confrontation with the West, people will vote for him."
Brussels has been careful not to endorse any candidates, but it has raised the issue of equality of access to resources and state television exposure. Diplomats say the Kremlin will be desperate to show that on paper the election has been free and fair, but the denial of access to media coverage, and the alleged state harassment of Alexei Navalny, means it will have been anything but.
"You'll see very extensive efforts by the Central Electoral Commission and the authorities to make the election run as smoothly as possible," says one Western diplomat. "People will show up and vote. You'll have regional bosses, bussing people in, stuffing ballot boxes etc.
"But this is not how they will win. They'll win by making sure those who run won't get anywhere. They'll limit access to rallies and TV via control of the media. Civil rights defenders are made outcasts and marginalised."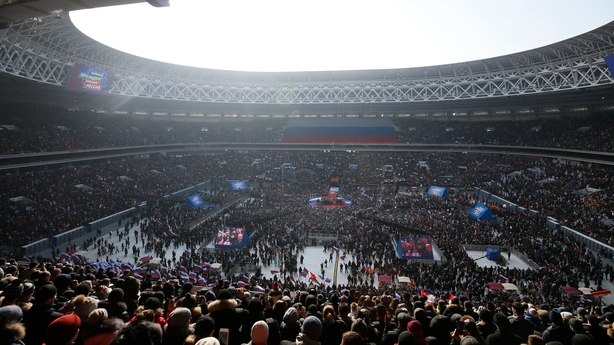 But Putin's appeal is strong, with many people drawn to the narrative that he has restored Russia's super-power status.
In a speech to the Federal Assembly on 1 March, President Putin vowed a new generation of "invincible" nuclear weapons. 
"This was a clear message to the West," says Bruno Lété. "I am here to stay, I will win the elections, take me seriously. Otherwise I will make your life difficult."
In Crimea, participating in a Russian presidential election for the first time since the territory was annexed from Ukraine in 2014, engineer Andrei Lukinykh told Reuters that Putin was the only candidate who could provide stability in tough times.
"As the saying goes, you don't change your horses mid-stream. Unlike the others, my candidate can provide the stability that's needed," Lukinykh said.
Yulia Dyuzheva, a student from Moscow, says she will vote for Putin in recognition of the economic progress during his 17 years in office.
She said: "As a representative of the younger generation, I can say that for us, young Russians, all the doors are open. Everyone is able to grab the opportunities presented and make the most of themselves, in whatever town or region."
For the West, however, the poisoning of Sergei Skripal and his daughter Yulia, has meant the election is being seen in an entirely harsh light. 
With the usual fog that swirls around Kremlinology, the EU is waiting for the UK to take the lead on attributing blame and next steps. Demonstrations of solidarity, despite Brexit, have been forthcoming, if relatively restrained. 
The EU's High Representative for Foreign Policy Federica Mogherini is expected to make a statement on the issue at a meeting of foreign ministers in Brussels on Monday.
"This is an evolving situation," says one EU diplomat. "Who knows who's best placed to say anything? The [European] Commission is saying informally that it can't be ruled out that these are rogue elements, that it may not be the Russian state per se. We really don't know."
Robert Pszczel, who was NATO ambassador to Russia for five years until 2015, is more forthright.
"There are certain facts," he told RTÉ News. "It's the first use of chemical weapons in a NATO country. That's not just spectacular, it's hugely significant and very worrying. How could we take seriously some of their statements that Russia is reacting to Russophobia? It's simply not true. It's a pattern that has developed over the years."
Events elsewhere mean that there are a lot of moving parts in this latest standoff.
The sacking of the US Secretary of State Rex Tillerson and his replacement with the former CIA chief Mike Pompeo means a period of upheaval in Washington.
Tillerson had built an extensive network of contacts within the Pentagon and the White House, and while Pompeo is thought to be even more hawkish on Russia, it will take time for his policy on Putin to bed down.
In Berlin, Angela Merkel has just completed a bruising coalition deal with the centre-left SPD, which has been historically much more nuanced on Russia.
It remains to be seen if Chancellor Merkel can continue her persistently tough stance on Russia's foreign policy and its attitude to the international rules-based system.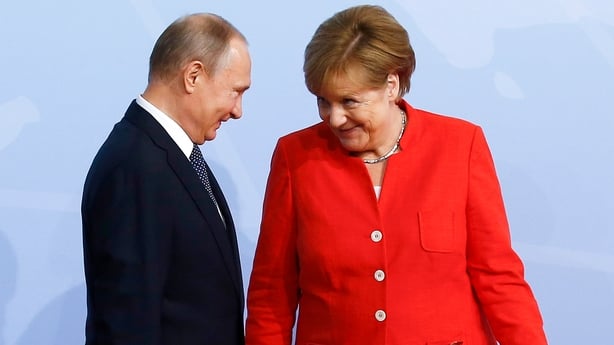 What will Putin's legacy be, and how will he define it?
"There are many centres of power inside Russia," says Bruno Lété of the German Marshall Fund. "The key challenge for Putin is to ensure that those centres of power keep supporting him. That is what defines his own agenda domestically and in foreign policy. 
"We can expect relations to remain confrontational, we can expect it to be more unpredictable, dysfunctional and more dangerous for the foreseeable future."
According to Robert Pszczel, the former NATO ambassador, the West is stuck for the time being.
"The people in charge in Russia are not really keen to improve relations. There are no signs that things will change.
"We in the West have to remain patient, but we have to keep the door open for dialogue, because we would like to have dialogue with Russia – whether it's in trade, culture, sport, but so long as they follow the rules.
"It's up to the Russian people and to come up with something more positive. At the moment it's all very negative and worrying."
For the EU, the fact remains that Russia is somehow connected to, or implicated in, all its strategic problems remains a worrying trend for the future.
"Whether you're talking about Yemen, Iran, the frozen conflicts in Georgia, Transnistria, Ukraine, and Syria," says one EU diplomat, "they're players and we have to engage with them on a rational, reasonable basis.
"In Bosnia, where this is a NATO presence and an EU force, the Russian fingerprints are all over the place."
The same is true in Africa. The EU has a training mission in the Central African Republic (CAR), but Russia has just supplied the country's military with a significant arms shipment, thanks to an exemption in the UN sanctions regime.
Diplomats worry about what the terms were, about transparency, and about whether Russia will be flexing similar influence in Chad, Mali and other potential flashpoints.
Vladimir Putin will win on Sunday, and not much will change. The Russian reaction to the poisoning scandal in Salisbury shows it is content to play hardball, and won't mind about the risk to its international reputation.
Meanwhile, Russia's alleged meddling in elections in Europe and America, as well as its cyber attacks on the way democracy operates, are expected to continue.
With Putin staying in power until 2024, the West's strategic patience will be stretched to the limit.