Hats off to the country's ten-year-olds. When it comes to reading, across the EU and OECD our girls and boys truly are second to none.
In this highly-regarded international study, they've completely outclassed their peers in 43 countries and regions, and are neck-and-neck with another four, including Northern Ireland and Poland.
Just two countries, Singapore and Russia, are significantly ahead of us.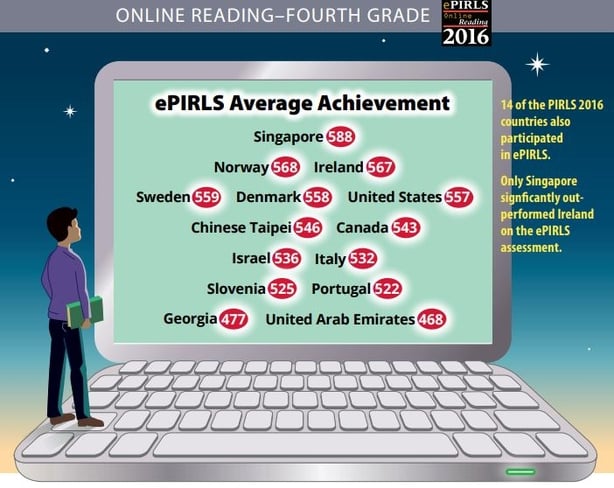 Not only that, but the performance of our fourth class pupils has improved very significantly since the same tests were applied in 2011.
In our education system it would seem, something is going terribly right. So who's responsible? They say success has many fathers.
Hats off to the country's ten-year-olds, but also it appears, to their parents, to their teachers and schools, and even - gulp - to the Department of Education.
(For journalists so used to probing shortcomings and failings it can be painful to have to distribute praise with such abandon.)
It's five years since the Department of Education introduced its national strategy for literacy and numeracy.
Schools were encouraged to spend significantly more time on these two core skills; up to half an hour of extra time every day.
Additional training, with a focus on reading, was offered to every primary school teacher in the country, with substitutes paid to cover their absences, and the vast majority of teachers availed of it.
Schools were encouraged to introduce children to a broader range of texts, including the kinds of texts that boys often prefer, things like graphic novels, often more attractive to boys.
Literacy test: How well would you do?
It seems from today's data that this sustained focus has paid off.
But let's not just take the department's word for it.
Peter Long is principal of one of the country's larger primary schools, Scoil Ide in Limerick.
He says the strategy has "absolutely worked" because it's cleared space in a crowded curriculum for these two crucial core skills, literacy and numeracy. "There's a plan in place", he says simply, "and it's working".
The Educational Research Centre, which administered the PIRLS tests here, points to another vital factor. It's a deeper cultural thing.
Irish parents too were questioned as part of the PIRLS study, and they performed "spectacularly well", according to Dr Eemer Eivers of the ERC.
They displayed a strong attachment to reading, 47% stating they 'very much liked' it. That compares to an international average of just 32%.
In other questions too; the number of books in the home, the frequency with which they read to their children, and the kind of relationship they had with their child's teacher or school, Irish parents scored extremely highly in all.
All this matters hugely when it comes to a child's attitude towards reading. If their parents enjoy reading it's no wonder they do too.
This is another factor that doesn't surprise the principal of Scoil Ide. When it comes to educational attainment, "Home and school, it's 80/20", he says "80% home and 20% school".
One last thing; with all eyes on Brexit this week, and talk of borders, it's interesting to note that the fantastic attainment of Irish ten-year-olds is an island-wide phenomenon.
In overall terms, fourth class pupils in Northern Ireland do just as well as those south of the border. Interestingly, both groups significantly outperforming their English cousins.
Minister for Education Richard Bruton has set a goal of making the Irish education system the "best in Europe" by 2026. It seems that in one area at least, we're already there.