Irish ten-year-olds are among the best in the world when it comes to literacy, according to an international study published today.
In what is the world's largest comparative study of reading achievement among primary school pupils, no other EU or OECD country has achieved a score higher than Ireland's, and just two countries, Singapore and the Russian Federation, emerge significantly ahead of us.
21% of children here are classed as "advanced" readers, compared to just 10% internationally.
More than 340,000 children across 50 countries and regions took part in the latest Progress in International Reading Literacy Study (PIRLS).

Analysis by Education Correspondent Emma O Kelly
Literacy test: How well would you do?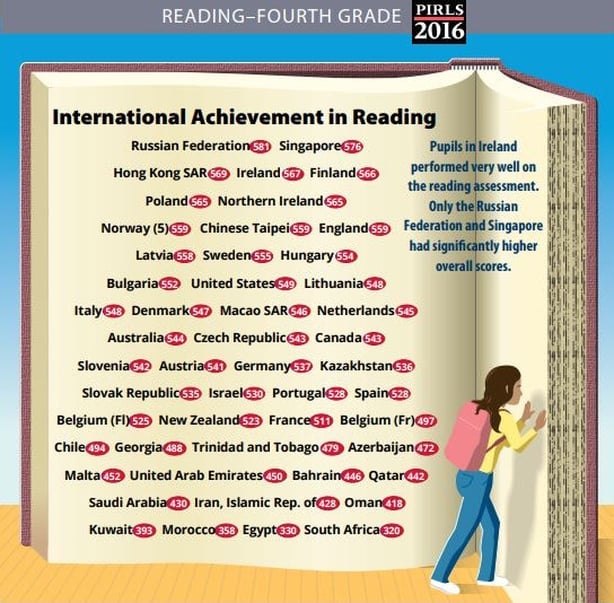 The study is carried out every five years and it is the second time that Ireland has participated.
Last year more than 4,000 Irish children in fourth class sat literacy tests as part of the project.
The tests were administered to pupils in 148 schools by Ireland's Educational Research Centre and the results collated with comparative international data at Boston College in the United States.
Ireland's score was found to be significantly higher than that of 43 countries, including England, the US, the Netherlands, Australia, Germany and New Zealand.
The scores of four other countries - including Northern Ireland and Poland - while lower than Ireland's, were found to not differ significantly.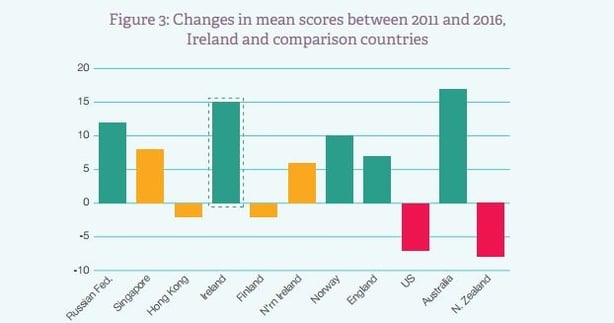 A smaller number of pupils also sat a different test - called ePIRLS - designed to measure pupils' ability to read in an online environment.
Just 16 countries and regions took part in ePIRLS .
In this test too, Irish pupils performed extremely well, with a score significantly ahead of 13 countries and regions, and with just one country, Singapore, scoring significantly higher.
The results also show that literacy levels in Ireland have improved substantially since the last PIRLS test in 2011.
Overall, there has been a 15-point improvement; the proportion of children classed as low achievers in Ireland has fallen, while the proportion of high achievers has risen.
While PIRLS places 10% of children internationally in the highest achieving category, the figure for Ireland is now more than double that, at 21%.
Ireland's performance is  positive too when it comes to gender. The gap between the performance of girls and boys is relatively small here compared to other countries, and it is getting narrower.
Girls do better than boys in practically every country. While the international average is a gap of 19 points between the sexes, in Ireland the gap is 12 points.
As well as an overall score, PIRLS also provided scores in subcategories encompassing various distinct reading skills.
Irish pupils demonstrated a particular strength when it comes to literary texts, with Irish girls in particular performing very highly in this subcategory.
Boys here performed well above average on both literary and informational types of text, but did not show a particular strength or weakness in either category.
The Department of Education believes that a national literacy and numeracy strategy, introduced five years ago, has been very instrumental in the improvements captured in this latest PIRLS study.
The strategy encouraged schools to dedicate more class time to literacy and numeracy. It included additional training for all primary school teachers in different aspects of reading.
There was a focus on using texts that boys might find more attractive, and schools were encouraged to measure and evaluate their own pupils' performance to see where their weaknesses lay and what might be done to combat them.
However the data also reveals an strong cultural attachment here to reading, with Irish parents playing a key role in their children's impressive performance.
As well as pupils, 330,000 parents were surveyed internationally as part of the study.
Overall, Irish parents were found to be very supportive of their children when it comes to literacy, and also to have a very positive attitude themselves toward reading.
Irish parents scored highly across a range of indicators, including how often they read to their children, the number of books in their home, and their interaction with their child's school and teachers.