Around 300 Irish fans gathered at Perth Airport to welcome the Republic of Ireland as they arrived in Western Australia for their crucial tie against Canada on Wednesday, as manager Vera Pauw said the support from the Irish team lifts them to other heights.
The squad were greeted by Irish people who live in Perth and some of those who have travelled from Ireland to see the games.
Pauw said she is so proud of the team for their performance against the Matildas saying she believed they controlled the game.
"I'm so proud and it's something we can build on."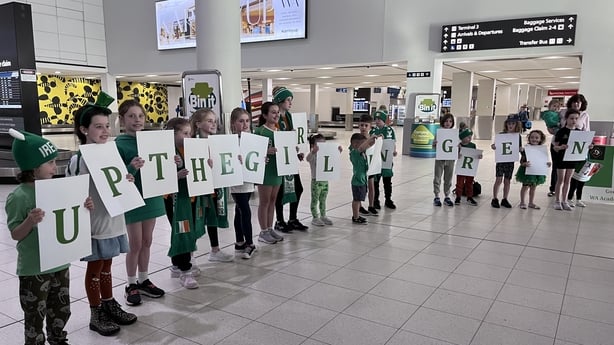 Louise Quinn walked through the airport in a boot, a precaution after she took a knock to her ankle in last Thursday's 1-0 defeat against Australia, but the manager says she is confident that she can play.
Pauw also said that the reception from the Irish in Perth was heartwarming, and that it made her and the team feel like they were at home.
"In our first game, 20,000-30,000 Irish people, I don't know but they were the loudest of all. And I hope that everybody turns up now again and that we feel the same vibes as we did in the first game as it really lifts us to other heights," she said.
Looking ahead to the next two games Pauw also said she has always believed that "Nigeria are the best team of every kind" and she was not surprised that they drew with Canada.
She said Ireland had really been hoping for that result, adding that "there's everything to play for".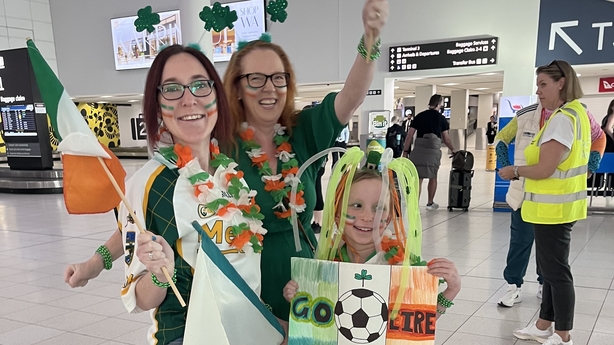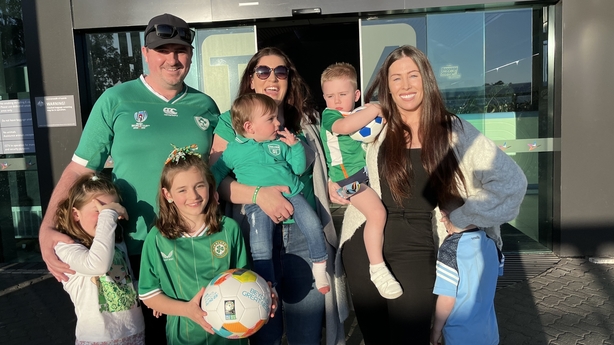 She said she expected Canada to show the same experienced play they had shown against Nigeria.
Asked if she agreed with the head of women's football in Australia Sarah Walsh, that Ireland would get out of the group, she said "that's easy to say for others but we know the task we have playing the Olympic champions, and the best team in Africa, so it will be really really hard but we will do everything to get there".
Before they departed for their first training in session in Western Australia, the Irish team were also presented on their arrival to Perth with a soft toy of a Quokka, which is a small animal that can only be found on two small islands off the coast of Western Australia.
The animals have become an online phenomenon in recent years because they appear to smile when photographed, promoting tourists to take selfies with them.
Barbie star Margot Robbie and tennis star Roger Federer are among those who've posed with the tiny animals.