How was a psychologist able to operate with fake qualifications, as was revealed in an RTÉ Investigates programme on Monday night?
Lack of regulation of the psychology sector is an obvious answer. But concerns about it are not new. As far back as the 1980s, psychologists have been seeking to be regulated, according to consultant psychologist Dr Mitchel Fleming.
"We thought in 1981 that regulation was imminent," said Dr Fleming, a former president of the Psychological Society of Ireland.
The State body CORU was set up in 2007, tasked with regulating psychology and other professions. But regulation of psychologists remained elusive, while demand for psychologists soared.
It was against this background that psychologist Caroline Goldsmith first presented a CV to a recruitment firm which was working for the Health Service Executive in 2012.
At that time, she possessed an apparently impressive CV, boasting a degree, a masters and PhD in clinical psychology. She described herself on the CV as a determined and resourceful practitioner with an "an innovative approach to achieving objectives".
Over the next two months, she carried out 19 diagnostic assessments of autism on children for the HSE. But then concerns were raised about her qualifications.
According to HSE documents seen by RTÉ Investigates, all of these children had to be reassessed.
A HSE manager wrote that this caused "distress to the children and their parents", with "some parents … angry and upset at the loss of school resources".
Attempts were made by the HSE to verify the accuracy of this CV presented by Caroline Ward Fahey - as she was known then - but it transpired that she did not appear to hold any of the third level qualifications listed on it.
In response to questions raised by the HSE, Caroline Goldsmith insisted the issue about her CV arose because of what she described as "discrepancies in the validating process with the original study institution".
So what are these discrepancies?
We asked the colleges listed on her CV from that period about her qualifications.
First, we asked Nottingham University about a masters she claimed to have been awarded in 2000. Nottingham University told RTÉ Investigates: "A number of the features on the transcript are features we didn't start using until 2006."
A spokesperson added: "The name and date of birth of the student does not match our records for anyone graduating in that subject during that year".
We then contacted the Open University. It told us the award documents from 1998 were "not consistent in format and appearance with degree certificates issued at this period".
So what about Caroline Goldsmith's PhD in clinical psychology? The Union Institute and University told us these documents are fake.
The families of the children she diagnosed for the HSE were later informed that the executive had significant concerns about the qualifications of the psychologist and all were offered reassessment.
"I can only imagine what it must have been like for them," said chartered clinical psychologist, Mark Smyth.
"To be informed that they had to go through a process again…And the sense of doubt, why am I doing this? Again? So I think it's fundamentally sad."
Adjunct Professor Davida Hartman commented that "it is unfathomable, an autism assessment, or any kind of assessment to the child" could be carried out in such circumstances.
So with such a questionable CV, how did Caroline Goldsmith manage to get a contract in such a sensitive role with the HSE?
Well, we can reveal that only months before she joined the HSE, Ms Goldsmith managed to join the Psychological Society of Ireland (PSI) - the voluntary professional body for psychologists.
She presented the PSI with the same fake qualifications from the Open University, Nottingham University and the Union Institute.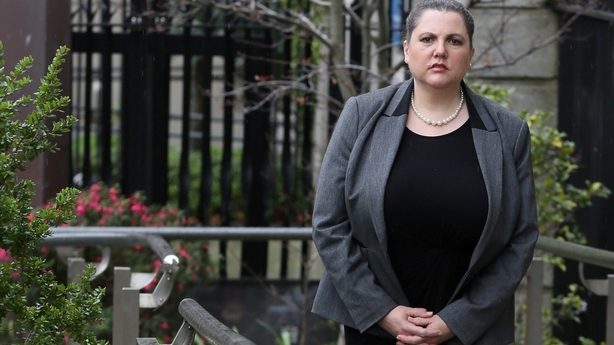 We asked Caroline Goldsmith to comment but she declined.
The recruitment company said it supplied Caroline Goldsmith to carry out autism assessments for the HSE in June 2012.
"Arising from a complaint about the work of this individual in September 2012, (the recruitment company) conducted an immediate review," the company said. It "terminated the agreement" with Ms. Goldsmith and reported the matter to the HSE.
The HSE stopped using her services. But this did not prevent Caroline Goldsmith from working as a psychologist.
RTÉ Investigates has established that she continued to work in private practice, where she again presented fake qualifications as a psychologist to families with children, and also in court cases at different periods over the next four years.
Claim to be world leader on autism
Just six months after leaving the HSE, Caroline Goldsmith was associated with a clinic whose website proclaimed her to be "a world-renowned authority in the field of autism".
Dearbhail Gildea was among her new clients from the private sector. She said: "I poured my heart out to this person ... difficulties that I would have experienced, whether it's going through secondary school, you know, in my 20s, college life, dating, just friendships in general."
Operating under the title Dr Caroline Goldsmith, Clinical Neuro Psychologist, she was also treating children with traits of autism.
Aoife Garde brought her daughter to see the psychologist. She said: "I had concerns my daughter had autism. I rang Dr Caroline Goldsmith as she was a renowned world expert in autism in females. So we went to the clinic. Daisy was 14. I was so desperate to get help for my daughter."
Fiona O'Leary, a campaigner on various issues including autism for many years, was another client who met with Caroline Goldsmith around this time.
Fiona said: "I had no experience of an adult diagnosis, didn't know what to expect; meaning it was very scary for me because I trusted her. I trusted this woman, and she asked me very personal questions about my family."
In both Fiona and Aoife's final reports by Caroline Goldsmith, it stated that Dr Caroline Goldsmith had a PhD.
Separately, they asked for copies of her PhD. What they received were doctorates from two different colleges in America. One from Sheffield State University, dated 29 May 2004, and a second one from the Union Institute, dated 15 June 2004. The PhDs were dated just 17 days apart.
Aoife was confused, frustrated, and determined to find out more. "I wanted to know who is this woman? Who is Caroline Goldsmith?"
The award from the Union Institute in America was the same PhD which was presented to the HSE almost two years earlier - and which the college confirmed to us was fake.
The second PhD from Sheffield State University turns out to be a different type of fake award. The award is from a diploma mill in America. In researching the documentary, I bought a 'PhD' from this online university.
Within hours of paying them a fee, Sheffield State University awarded me a PhD in Clinical Psychology - the same Sheffield State University qualification presented by Caroline Goldsmith.
The documents supplied to me included a transcript with my grades, course codes and details of times studied, covering a period of two years, all of which was generated without any material supplied by me.
In addition, it said its ten-member committee had decided to award me the PhD on the basis of a resume, I never supplied.
Weeks after she received her assessment from Caroline Goldsmith, Dearbhail Gildea found about the qualifications.
She said: "I was devastated at the time ... because you're, you're on this very personal journey. "I just felt like I had put my faith in something that no longer meant anything. I really struggled with that."
Caroline Goldsmith did not actually breach any state regulations governing psychologists – simply because there are none.
"Any individual could set themselves up and claim to be a psychologist," according to consultant psychologist, Dr Mitchel Fleming.
"Until the term psychologist becomes a protected title under statutory regulation the public are very vulnerable."
---
Read more:
Psychologist with fake qualifications worked for HSE
'My three-year-old is self-harming' Mother's waiting list worry
How I set myself up as a fake psychologist
---
In the absence of any statutory regulations, there is no State register for people to consult when looking for a psychologist in the private sector.
Adjunct Professor at the UCD School of Psychology Davida Hartman noted: "It really shows how bad the situation is. If someone can just put themselves forward as a psychologist with fake qualifications, and access a job within major organisations in our country, something is going seriously wrong."
Dearbhail Gildea added: "I think that's heartbreaking to think that the regulation isn't there. Anyone can put up a plate on the door, saying that they're qualified psychologists, and bring you into their trust."
We asked the HSE what action it took to protect people in the private sector, such as Dearbhail, after it discovered that Caroline Goldsmith did not have the qualifications listed on her CV in 2012. It declined to comment.
In the same year she treated Fiona and Dearbhail, Ms Goldsmith appeared as an expert witness in a family law hearing.
She was the court-appointed expert, directed by the court to determine whether or not a child should have more or less access with its mother - with a view to potentially reunifying the child with the mother.
"So it was a very important decision to be made," said Dr Patrick Randall, a forensic psychologist who was also an expert witness in the case.
RTÉ Investigates has seen a redacted copy of Caroline Goldsmith's assessment report that she supplied to the judge. This document reveals that at this point she had a new CV.
Bogus qualifications
In this document for the court, in 2014, she claimed that all three of her college qualifications in psychology - degree, masters and PhD - came from Sheffield University. These were for the years 1998, 2000 and 2004 – the same years as the equivalent qualifications supplied to the HSE, but now from a different university.
This is not the real Sheffield University in the UK. It confirmed she did not receive the qualifications there.
In fact, Caroline Goldsmith's qualifications were from Sheffield State University in America where I bought my online PhD.
We asked Dr Randall, hypothetically, about the implications of a person misleading a court about their qualifications. Dr Randall said: "It's extremely serious. This is something upon which the judge is asked to base decisions as to the life and the happenings within this family unit. Whether the child gets to stay in the family, whether the child does not, who looks after the child. It's shocking."
Chartered Clinical Psychologist Mark Smyth pointed out that the role of an expert witness within the courts is a unique one.
"You are you there to help and support the courts to make the best judgement based on your relevant experience and qualifications," he said.
"And I think any incident where a court would be misled as to the qualifications of that expert witness, is something that would and should be taken extremely seriously."
In 2016, Caroline Goldsmith featured as a witness in a second court case. In this case, the judgment stated she now had a different masters and a different undergraduate degree than those presented in the earlier case.
We asked the Courts Service to comment on Caroline Goldsmith's role in these cases and it said that the recommendations of an expert report "are not legally binding and acceptance ... is at the discretion of the judiciary".
So how could all of this be avoided?
Adjunct Professor Davida Hartman said: "The fact is if the term psychologist was regulated, all this would have been avoided."
The State body CORU has been tasked with regulating psychologists since 2007. In a statement, it said it faced unique challenges because there are no common educational standards or pathways for entry into psychology.
It plans to recommend to the Government that specific psychology titles should be protected in law. But a proposal to change the law to protect the general title of "psychologist" is still a long way off and is described by CORU as only a long-term aim. So until that law is introduced, anyone will still be able to call themselves a psychologist.
"Something has to change with the regulations," said Aoife Garde. "A psychologist is someone we inherently trust and yet these people are not regulated."
Goldsmith still operating as psychologist
Caroline Goldsmith continues to work with autistic children and adults. She now has a Masters of Science in Applied Positive Psychology from the University of East London, and a Masters in Clinical Applications of Psychology from Newman University.
On her website, she calls herself a consulting psychologist. She appears to have dropped the title of doctor in recent years. And there are no claims of a PhD, except for a post on her Instagram account.
According to Caroline Goldsmith, she has treated and assessed thousands of children and many adults over the years.
However, within the HSE, some officials are wary of accepting her assessments, according to emails seen by RTÉ Investigates.
In one email from 2019, a HSE official from the south east says: "I have told certain parents who presented these reports that we do not accept them and suggested to them that they ask for their money back."
More recently, last March, a Dublin-based HSE official says officials in his department "do not accept assessment work" carried out by Caroline Goldsmith ... and "we do not refer to those ref ports [sic] in any way in hse documentation."
However, there seems to be confusion on how to deal with her reports. Another official says there are "no grounds to decline" any private psychology reports, and we know that some sections of the HSE does accept Ms Goldsmith's reports.
In late spring of last year, the issue was brought into the public domain in the Dáil.
Anne Rabbitte, Minister of State for Disability, said: "I am actually very aware of the case of Caroline Goldsmith ... [in] my ministerial visits around the country, I was horrified to hear the experience that parents had and got their diagnoses but were not allowed to use it. "
So where does all this leave adults and parents of children who received autism assessments from Caroline Goldsmith?
Families angry and frustrated
We have spoken with ten of these families and they spoke about their anger and frustration at the approach to assessing children for autism and ADHD in Ireland - where an overcrowded public system pushes people into a private sector with no regulation or enforcement of standards.
Autism campaigner Adam Harris has frontline experience of dealing with such families. He said: "What we can see really is by the negligence of the state from failing to regulate ... that we see really a whole ecosystem develop here, which is negative, and which disadvantages the family."
There is still no State register of psychologists. This is the responsibility of CORU. However, it said: "A date has not yet been set for the opening of the Psychology Register, as this cannot happen until all of the standards and requirements of a statutorily regulated body has been established. However, CORU and the Board are fully committed to delivering regulation to this very important profession."
Dr Mitchel Fleming argued there is an alternative. "The State have the power to introduce statutory legislation to regulate professions when others fail to do so."
So what now for Caroline Goldsmith?
For many years, she led people to believe through her work in public and private practice, and in the courts, that she had a genuine degree, a masters and a PhD in psychology - which was not the case at that time.
While she has subsequently acquired two masters qualifications, Chartered Clinical Psychologist Mark Smyth added: "We rely on trust, irrespective of what subsequent courses that you may have completed. [If] you are undermined so much from the very beginning ... I don't think that's repairable."