In Ireland there are no State regulations covering psychologists - the title 'psychologist' is not protected.
So does that mean that anyone could call themselves a psychologist?
Chartered psychologist Mark Smyth says it would depend on where you tried to get a job.
To work in the public sector, you need high level entry requirements. But the private sector is a different story.
"I think there are plenty of very reputable, qualified people working in the private sector," Mr Smyth said, "but there's also an element of the Wild West."
He told me: "You could call yourself a psychologist."
So I have decided to put that to the test as part of our research for the programme Ireland's Unregulated Psychologists.
I decide to use the title Professor of Psychology and to set up as Dr Barry O'Kelly & Associates.
"It couldn't be any simpler because there's nobody to stop it," according to the autism campaigner Adam Harris of AsIAm.
"Buy a brass plate, put it up, say you're a psychologist, set yourself up a website."
I follow that route by setting up a website and getting a brass plate for my office.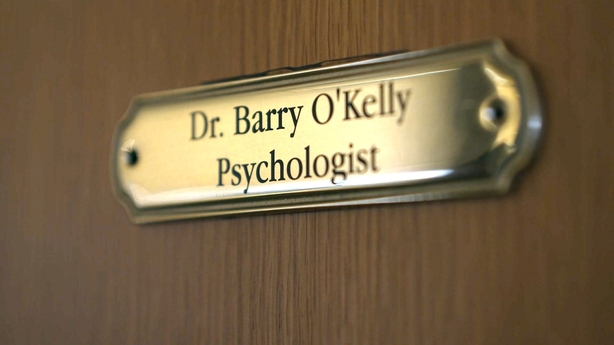 In order to get some impressive-looking credentials for my business I join the World Health Organization's Global Clinical Practice Network, which describes itself as a "global network of 18,343 clinicians" that is "transforming mental health care worldwide".
It sounds fancy but it turns out that anyone can join.
At this point, I am not in breach of any regulations - because none exist.
With over 11,000 children on the waiting lists to see a psychologist in the public system, I could aim to service the overflow of clients seeking help in the private sector.
I could offer to carry out autism assessments - an area people are desperate to find a psychologist.
I could make this the specialist service on offer on my website.
Again, there are no regulations I would be in breach of by doing this - despite having absolutely no background in the area.
"There's an urgency to access support, and people are willing to pay," explains Mr Harris.
"So I think you'll have a very successful if not deeply unethical business."
As things stand, the Department of Health and the Psychological Society of Ireland (PSI) have no statutory role in checking the qualifications of private psychologists who do not seek to either join the PSI or work in the public sector.
Nobody has the role of checking those qualifications.
'Sheffield State University'
So I decide to get some qualifications for the wall in my office.
I go to the website for Sheffield State University in America.
On the face of it, Sheffield State University looks like a legitimate and respectable college, except one of the main images on this online "university" appears to be a picture of Trinity College in Dublin.
A quick reverse image search on Google establishes that it is in fact a picture of Trinity College, which has been lifted by Sheffield State for their website.
And unlike the legitimate college in Dublin, the amount of study time required to obtain a qualification from Sheffield State is purely a function of how much we want to pay up front.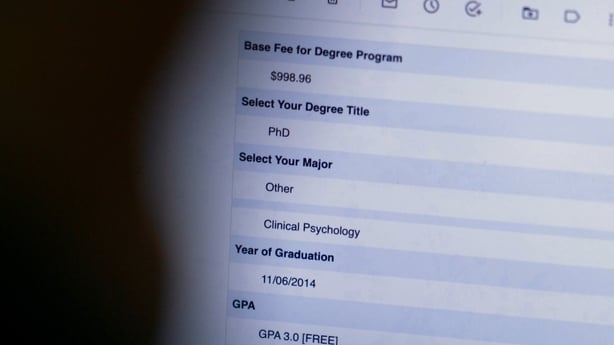 I opt for the full package - a PhD degree with thesis for $849.
And the date of graduation? That's completely up me, so I backdate my graduation year to 2014.
Sheffield State ask me for my resume, but I don't supply one.
Despite this, seven minutes later, its "10-member accreditation committee" approve my application for a PhD, based on my resume, which I had never sent.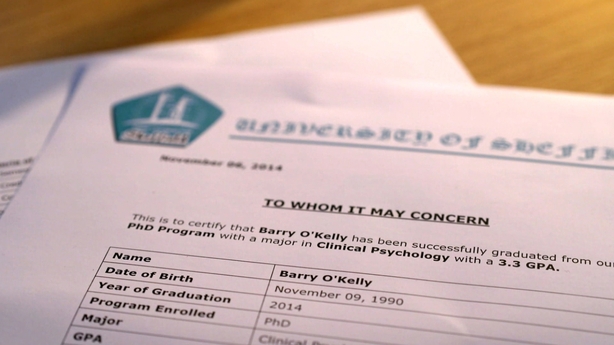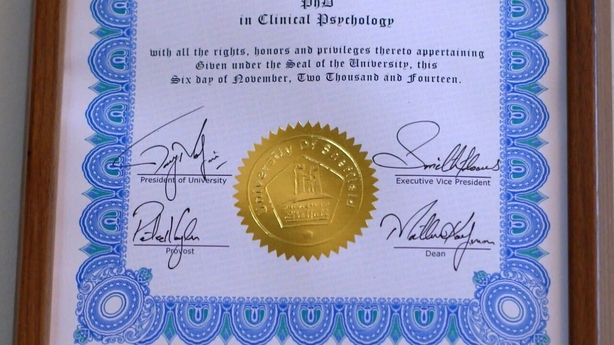 Of course, for obvious ethical reasons, I do not actually open for business as a psychologist.
But our experiment and the role of US-based online college Sheffield State University in it offers an insight into the urgent need to regulate psychologists practising in Ireland.
"I think that the shocking thing is that it's not clear where you can go to when an issue like this emerges," said Mr Harris.
Protection in law
So how can the public be protected from this sort of practice?
"The only way we are going to get that protection for the public, is when the term psychologist is protected in law," said Chartered Clinical Psychologist Mark Smyth.
"Then the public can have confidence that I can go to one central register and know that anyone on that register can do that work."
State body CORU outlined the benefits of regulation in a statement to RTÉ Investigates.
"Regulation provides greater protection for the public," it said.
"Members of the public can have confidence in knowing that a professional's standing and qualifications have been independently verified. 
"They also know that if there is a failure in the delivery of care from a CORU registered professional, CORU will investigate any complaint under our fitness to practise process."
However, none of this protection is available to people who want to engage a psychologist in Ireland.
CORU was tasked with regulating psychologists and other professions back in 2007.
Roll on 15 years and that still has not happened.
CORU also told RTÉ Investigates that "the establishment of regulation for a new profession is a complex process" and that "the psychology profession presents a number of unique challenges which the Board has had to consider" and this has extended the timeline beyond the amount of time it typically takes to regulate a profession.
It plans to recommend to the Government that specific psychology titles should be protected in law.
But a proposal to change the law to protect the general title of "psychologist" is still a long way off and is described by CORU as only a long-term aim.
So until that law is introduced, anyone will still be able to call themselves a psychologist.
Watch RTÉ Investigates: Ireland's Unregulated Psychologists, tonight on RTÉ One and the RTÉ Player.