Britain's Foreign Secretary has told his US counterpart that the UK government recognises President Joe Biden's strong desire to see a resolution of the Northern Ireland Protocol issues.
In a news conference at the US State Department in Washington, James Cleverly said Mr Biden's desire for a resolution mirrored that of the UK government and he said he strongly believed the European Commission has a strong desire to reach a resolution.
But asked if the negotiations would finish in time for a possible presidential visit to mark the 25th anniversary of the Good Friday Agreement in April, Mr Cleverly said the negotiations were not aimed at meeting a particular date or anniversary, though the UK always welcomed visits by US officials including the president.
US Secretary of State Antony Blinken said that in their private discussion, he had "affirmed President Biden's firm support for the Belfast Good Friday Agreement".
Mr Blinken said: "The United States believes that there must be a negotiated settlement implementation of the NI Protocol that's acceptable to all sides, and was heartened in recent days that the United Kingdom and the European Union made subsequent progress for detailed towards a negotiated solution.
"Last month, we appointed Joe Kennedy as our new Special Envoy for Northern Ireland economic affairs. A career public servant, Joe will bring his extensive experience to support economic growth and to deepen our nation's people-to-people ties with all communities."
Mr Cleverly said: "We recognise the interests that the President has on this issue and his desire, which is shared also by us, to see institutions of Northern Ireland back up and running."
Mr Cleverly told journalists in Washington DC that potential solutions were being negotiated "in good faith with a genuine desire to get resolution to these important issues".
He said: "We want to see devolved government in Northern Ireland in Stormont, back up and running, we want to see free flow trade within the UK internal market whilst respecting the desire of the European Union to protect its single market."
Asked if a possible visit by the US President to Northern Ireland was a motivation to work out a deal before the Good Friday Anniversary in April, Mr Cleverly said: "We do these things because they are the right thing to do, not because we are trying to get a particular date of anniversary.
"We want to see these things as soon as possible, so the people of Northern Ireland can enjoy the relief packages that the UK government has put in place to address some of the issues of for example, energy prices increased as a direct result of Russia's invasion of Ukraine.
"And of course, we recognise the President, and indeed the whole US government's desire to see this resolution. And it mirrors our very strong desire for a resolution. And indeed I believe very strongly the European Commission has a desire to get this resolved."
Mr Cleverly said the talks have been carried out with discretion, and because of that he said it has "helped us get some things over the line". He added he will continue to keep the negotiations discreet.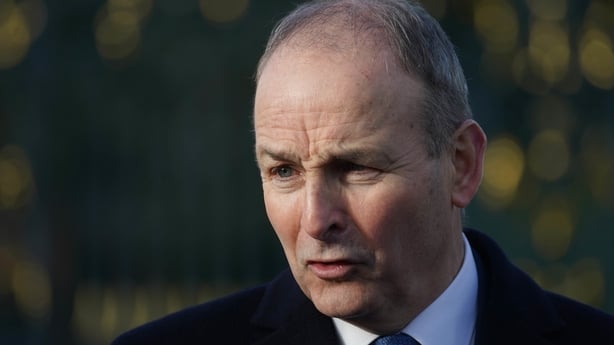 Tánaiste and Minister for Foreign Affairs Micheál Martin said that while the Government would like to see an agreement reached on the protocol, there should not be time limits.
Mr Martin said he is of the view that "we should allow the European Union and United Kingdom to continue discussions, we shouldn't set down timelines".
"We should create a space to allow them to continue these negotiations because the issues are very challenging and very difficult," he said.
"They are engaged in a dialogue process. That's positive and we welcome that, but we don't in any way understate the challenges and the difficulties within that negotiating process."
The Tánaiste said he would like to see an agreement reached because, given the wider problems across the world, it would "make sense that Europe and the United Kingdom would be in one step and would work in harmony".
He said he believes a resolution of the protocol issues "would pave the way for a very constructive relationship between the European Union and the United Kingdom".
"It would also facilitate a stronger British-Irish relationship into the future," he added.
"I will be maintaining my contacts with British government counterparts to pursue that broader objective."