Despite the attacks on energy, Ukraine's rail network has survived and is providing a life line, with cross border routes still operating into neighbouring Poland, Hungary and Slovakia. RTÉ's Europe Editor Tony Connelly reports from Kyiv
In the first days of the war, railway stations were hubs of despair and disbelief as the first wave of people fled Ukraine in their millions.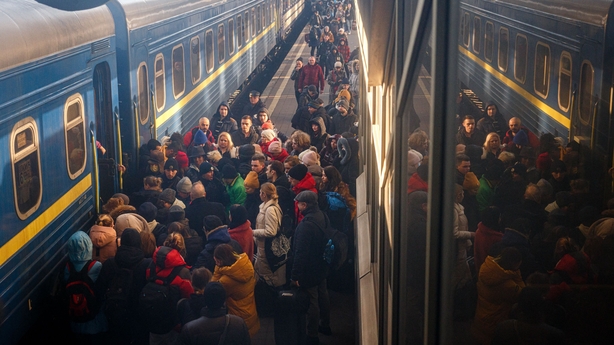 Now, the network is a symbol of defiance.
Even though 30% has been destroyed or is under Russian occupation, the electrified network has kept running, despite air strikes and power outages.
Ukrainian Railways Chief Executive Oleksandr Pertsovskyi said: "No attack is capable of stopping us. We keep running, keep connecting the country. As of now, we only have 10 trains out of a 100-plus long distance trains that are running behind schedule."
As trains carried soldiers to the front, they brought back the wounded.
These were the first trains in the world to be fully functioning intensive care units, operated by Doctors Without Borders/Médecins Sans Frontières.
But 280 rail workers have been killed, either in the line of duty or after being drafted into combat. A Russian missile killed 60 at Kramatorsk railway station.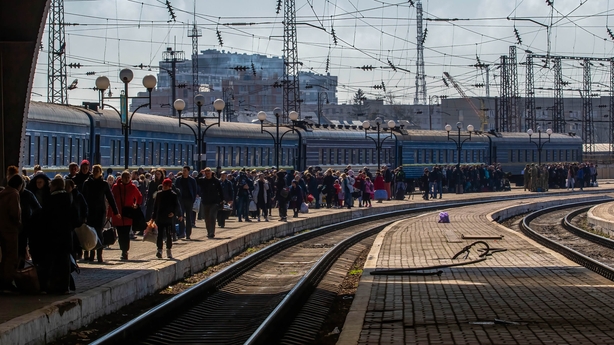 Today, trains are bringing people out of the cities to the countryside where power cuts are more easily managed.
The rail network has persevered through war, through missile strikes and blackouts.
Trains have evacuated millions of refugees, ferried thousands of soldiers to the frontline, and brought back countless wounded.
The network is prioritising night trains, so that there is less pressure on the grid during the day.
Mr Pertsovskyi added: "Rail tracks are made out of steel. And people use this word to describe us railway men and women. "Iron people." Because they keep the country running despite all the adversaries and the attacks.
"Unfortunately, there is a very high price to pay for that."
Ukrainians believe that if the trains keep running, then their country will survive.