A couple based in Co Kerry who missed their flight from Dublin Airport to Italy this morning, despite arriving several hours in advance, have described the situation faced by passengers there today as a "terrible bad advertisement for Ireland".
Jerry Daly and his partner Rose travelled from Kerry and arrived at Dublin Airport at 4.45am ahead of their planned trip to Naples. The trip was organised with tour operator Topflight.
"We were here at 4.45am this morning, and our flight was meant to be 7.45am. We arrived at the closing gate at 7.40am, and our plane was outside, but they wouldn't let us through the gates. I counted 36 of us at the gate, and people looked very distressed," said Jerry.
He added: "We pleaded with the person at the gate to let us in and then I gave one look out the window and see them removing the cases off the plane. While they were removing the cases off the plane, I don't see why they couldn't put 36 of us on the plane in that time. Once again we pleaded with them, and no good."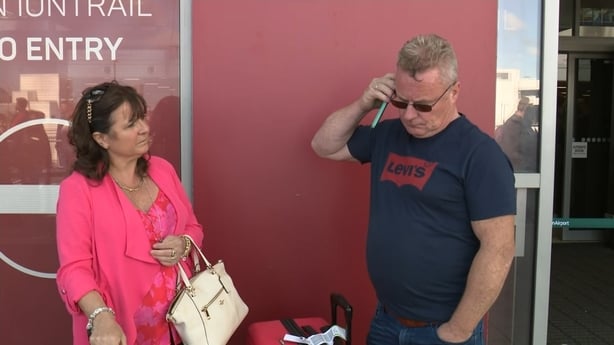 "I don't think we're going to get to Naples now, simple as that, because we came back down to security where we picked up our luggage, we were told to re-queue again, which we did at 8.40am. Five hours we were queueing again, just to be told then that we had no flight to Naples.
"We're very disappointed."
Both Jerry and Rose are now in touch with Topflight in a bid to make rearrangements for their holiday. This was their first trip abroad since the onset of the Covid-19 pandemic.
"It's a terrible bad advertisement for Ireland. I see a lot of people of different nationalities getting distressed and cross. It doesn't look good," he said, saying their day was now ending with a long drive back to Kerry.
Rose said there was a mood of anger inside the terminal, adding that "people were going mad".
"They were jumping the queues. People who were behind us kind of rushed up and went in front of us and people were going mad. There was no security. People were going mad."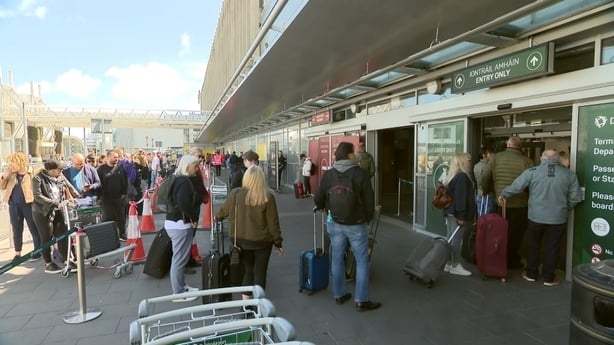 "I'm angry. I definitely won't fly from Dublin Airport ever again. Definitely not. We've been here since 4.45am," she said.
Mr Daly said he did not know whether they would be left out of pocket after the ordeal, saying he hoped that would not be the case, adding that "it is a lot of hassle trying to get your money back out of this".
"It's paperwork and phone calls and hassle".
Jerry said that Rose had the hotel booked well in advance, and that the hotel in Naples rang the pair assuming at that stage they had arrived in Italy.
"They actually rang her [Rose] and said 'welcome to Italy'. We were supposed to be there at 10.30am. We took the call from here in Dublin Airport and had to tell them we never got on the plane!"
"We were really looking forward to the holiday. We're very disappointed," he said.
Dublin Airport this morning warned that some passengers may miss their flight due to "significant queues" for airline check-in, bag drop and security screening.
Around 50,000 passengers were expected to depart the airport over the course of the day.
Airport operator daa said it "apologises unreservedly to passengers for the delays encountered this morning".
Meanwhile, Minister for Transport Eamon Ryan and Minister of State for International Transport Hildegarde Naughton have expressed "deep unhappiness" with the lengthy queues and waiting times faced by passengers at the airport.
In a statement, the ministers said the airport was "falling far short" of the service people expected to receive there, adding it was "not satisfactory" that some people who were turning up on time were still missing their flights.
A meeting between Ms Naughton and daa Chief Executive Dalton Philips has been brought forward to tomorrow morning.
Ms Naughton said the meeting will be centred on getting clarity for the reasons behind the lengthy queues experienced by passengers.