Minister for Transport Eamon Ryan and Minister of State for International Transport Hildegarde Naughton have expressed "deep unhappiness" with lengthy queues faced by passengers at Dublin Airport, which has resulted in a number of people missing scheduled flights.
In a statement, the ministers said the airport was "falling far short" of the service people expected to receive there, adding it was "not satisfactory" that some people who were turning up on time were still missing their flights.
A meeting between Ms Naughton and daa Chief Executive Dalton Philips has been brought forward to tomorrow morning.
Ms Naughton said the meeting will be centred on getting clarity for the reasons behind the lengthy queues experienced by passengers today.
The Chair of the Oireachtas Committee on Transport Kieran O'Donnell has also recommended the Committee request the daa appear before it "as a matter of urgency" ahead of the June bank holiday.
Dublin Airport earlier warned some passengers may miss their flight due to "significant queues" for airline check-in, bag drop and security screening, with passengers queuing outside the terminal possibly needing to contact their airline to rebook.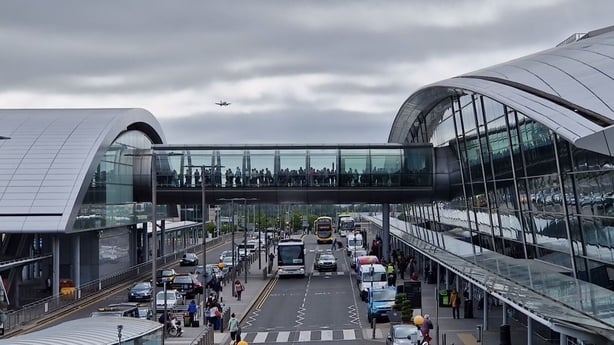 Around 50,000 passengers were expected to depart the airport over the course of today.
"The situation is causing undue stress and potential cost to people, which is simply not good enough," the ministers said.
Ms Naughton said she will also seek assurances during tomorrow's meeting that can be provided to passengers ahead of the bank holiday weekend next week, when a further increase in passenger numbers is expected.
Meanwhile, Taoiseach Micheál Martin said that the delays at Dublin Airport are "not satisfactory" and the Minister for Transport Eamon Ryan will be engaging with the daa on the issue.
But when asked if the Defence Forces could play a part he said "the Defence Forces have enough to be doing."
"We have to put our hands up and say we got that wrong. We wish we had more staff available" - daa apologises for Dublin Airport delays https://t.co/Pv2yXterCE pic.twitter.com/F5VkxRo29h

— RTÉ News (@rtenews) May 29, 2022
Sinn Féin Transport spokesman Darren O'Rourke branded the situation at the airport a "complete shambles".
In a post on social media, Mr O'Rourke said the situation was a "failure of management".
"At the very least, no passenger should be out of pocket due to missing flights through no fault of their own. Plans A and B have obviously failed," he said, adding "Ministers Ryan and Naughton, daa, what is Plan C?"
Labour Transport spokesman Duncan Smith said the problems at the airport in recent weeks had now turned into a "national embarrassment".
A spokesman for the airport operator daa has said they are "deeply sorry" for the disruption caused to passengers, and said they want to make sure "no one is out of pocket" as a result.