Almost one in two people being tested for Covid-19 in the community are now receiving a positive result, and the current demand for testing is unprecedented, the HSE has said.
HSE Lead for Test & Trace and Vaccination Damien McCallion said this may lead to longer waiting times for PCR tests.
The Department of Health was today notified of a further 6,735 cases of Covid-19 in Ireland. The positivity rate is 49.7% - meaning almost half of the swabs taken were positive.
The number of people in hospital with the virus stands at 461, which is up 35 on yesterday.
Of these patients, 91 are being treated in ICU – unchanged since yesterday.
The department estimates that approximately 87% of reported cases are now due to the Omicron variant.
The HSE said all 41 of its Covid-19 testing centres have fully reopened after a portion were closed and others operated reduced hours over the past two days.
Vaccination centres have also fully reopened following a two-day Christmas closure. Almost two million people have to date received a booster vaccine
Mr McCallion said testing capacity had been trebled in recent months but that its "almost impossible" to sustain the level of demand which he said is being driven by the high level of disease in the community.
"When the disease is at the level that it's at, at the moment, it's almost impossible in relation to trying to sustain that demand. So, we'll continue to provide a service, we will continue to provide access and continue to open up slots for people. But what's really key for people is to follow the public health advice in relation to restricting your movements and ensuring that you're symptom free for 48 hours before changing that."
The reduced availability of PCRs on Christmas and St Stephen's Day will impact on demand on the comings days, he said, and added that PCR tests are being booked more quickly than before.
He said staff had continued to work in testing over the Christmas period and he appealed to people to be patient with them "through this difficult period".
It would be premature to assess what impact the recent record number of cases will have on the hospital system, he added.
He said while there has been some increases in recent days, the true impact will become clearer in the coming weeks due to the lag between cases and hospitalisations.
There is now a facility for people to book an appointment in advance online at a time that suits them and he hoped that that would encourage more people to come forward for boosters.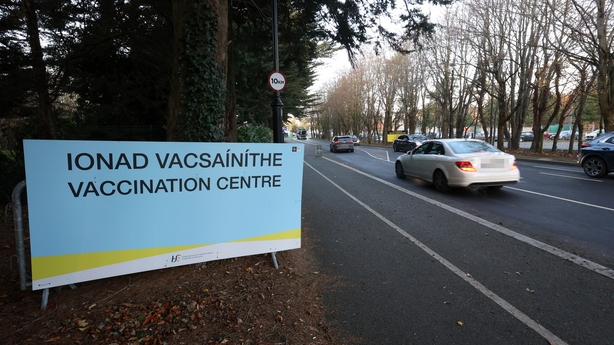 CMO urges people to avoid crowded places
Meanwhile despite Government advice that up to four households can meet indoors over the Christmas period, the Chief Medical Officer has appealed to people not to socialise or meet indoors with people from other households.
Dr Tony Holohan also asked people to avoid crowded places, including retail environments.
In response to queries about the divergence of advice between the CMO and Government on meeting other households indoors, a Government spokesperson said: "Omicron is much more transmissible than Delta. Reducing or keeping social contacts as low as possible reduces risk - that is clear in the Government's 'RSVP' information campaign.
"The Government is monitoring developments very closely and in constant contact with public health officials and the HSE.
"Those who have yet to receive the booster vaccine should take particular caution, and the Government is again urging everyone to avail of the booster as soon as it becomes available to you."
Retail Ireland has said businesses will be reinforcing messaging around face coverings and social distancing, which may lead to queues outside some retailers.
Arnold Dillon of Retail Ireland said public health is "the absolute priority".
Speaking on RTÉ's News At One, he said the primary focus of retailers will be to ensure a safe shopping environment for staff and customers.
"Businesses will be reinforcing messages around face coverings, hand hygiene and social distancing," he said.
He added: "It may also mean that customers may have to queue outside of stores so that social distancing can be managed inside.
"But we're nearly two years into this and compliance is not a significant challenge. The vast majority of customers are very used to these measures and very supportive of them."
Well done to all of our vaccination teams. Back at it. Please see details below of today's walk-in vaccination centre clinics. It's never too late to receive your 1st dose vaccine. And please take the earliest opportunity to receive your booster. @HSELive https://t.co/qqgiMGLHZ8

— Paul Reid (@paulreiddublin) December 27, 2021
---
Read more:
Latest Covid-19 stories