A ceremony will be held in New York tonight to mark the opening of the Irish Arts Center's new building.
A red carpet event and an official dedication ceremony will be followed by a performance from singer Camille O'Sullivan.
The Irish Arts Center has been based in an ageing tenement building in the Hell's Kitchen neighbourhood of New York since the 1970s.
For decades, the venue has provided a showcase for Irish and Irish-American art and culture.
A new, state-of-the-art building has been completed which includes theatre space, classrooms and studios.
The $60 million project was supported by the Irish Government, the city and state of New York, as well as private donations.
Irish Arts Center Executive Director Aidan Connolly said they were inviting artists and audiences of all backgrounds to the venue."
The new Irish Arts Center is a dream realised and a tribute to the broad coalition of people in New York and Ireland who have brought it to life, at a time when we so eagerly need a place to come together with inspiration and hope," he said.
Taoiseach Micheál Martin visited the Irish Arts Center in September ahead of its official opening.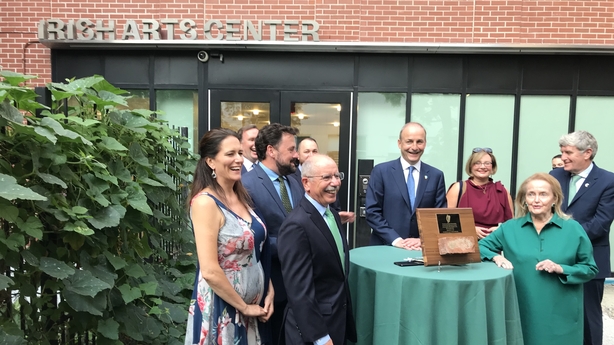 "The Government of Ireland is proud to have supported this new building, which is a new cultural landmark in New York, a celebration of Ireland-US relations and a platform for creativity, innovation and diversity," he said.