Children will not have to be vaccinated against Covid-19 to attend school, the Minister for Health has confirmed.
Speaking on RTÉ's Morning Ireland, Stephen Donnelly said any suggestion that pupils would need the vaccine to go to school was "absolutely not on the cards and won't be on the cards".
It follows yesterday's announcement that the Covid-19 vaccination programme will be extended to all those aged 12 to 15.
The minister said the National Immunisation Advisory Committee (NIAC) has given a "huge amount of consideration" to the issue.
Protection against serious illness is one of the key reasons for the use of vaccine in this age group, as well as the threat of long Covid.
He said the 269,000 children in this age group will be vaccinated mainly through vaccination centres. Some may be vaccinated by their GPs, in particular where a child has an underlying condition.
Minister Donnelly said it is likely that, along with parental consent, parents would accompany their child for the vaccine, but all the details had not yet been finalised.
The Department of Health has confirmed 1,408 new cases of Covid-19. There are 152 people in hospital who have tested positive for coronavirus, 26 of whom are in ICU.
Dr Tony Holohan said at a NPHET briefing that he believes we can get to a higher uptake of vaccination than other countries.
The Chief Medical Officer said he would not see vaccination as a requirement to return to school in September.
He said there are many other protections that will be relevant in the school.
Dr Ronan Glynn said that childhood vaccination programmes have been a particular target for misinformation, and he warned parents to be aware of misinformation in coming weeks and not share anything on social media or family groups unless they are sure of it and can find on several reputable websites.
NIAC head Prof Karina Butler said vaccination in the 12 to 15 age group will not be used to discriminate or decide who goes to school or who does not.
Earlier, Tánaiste Leo Varadkar said it would be "an optimistic statement" to claim the pandemic will be over by October".
He said it was his opinion that "we need to get through another winter before we can say the pandemic is behind us".
Mr Varadkar stressed that this was just his opinion and he would be delighted to be wrong about this.
He said that vaccinating all second level students by the beginning of September would be "very ambitious", but the reopening of schools is not dependent on this being achieved.
---
Latest coronavirus stories
Find a walk-in vaccine centre near you
---
'Strong uptake' already among 16-17s
Mr Donnelly said there had been a "very strong" uptake yesterday when the vaccine portal opened to the 16 to 17-year-old age group.
There was "well in excess" of 10,000 registrations "within the first 90 minutes to two hours".
The minister said it was not yet known if vaccines will be offered to the under-12s, but he does not expect this is something that would happen in this calendar year.
He said walk-in Covid-19 vaccination centres will be open over the bank holiday weekend and anyone over the age of 16 can attend.
NIAC chair Professor Karina Butler said a number of factors contributed to NIAC's recommendation that a vaccine be offered to children aged 12-15.
Speaking on RTÉ's Today with Claire Byrne, she said that while Covid-19 is often a "very mild disease" in children in this age group, "some will end up in hospital".
Prof Butler said: "Most of them who would get very sick from it will have underlying medical conditions, but even the healthy child can very rarely get severe complications.
"What is much less uncertain, is that we know that in some of the children who get Covid .. [they may present] four to six weeks later, with an inflammatory condition that can often end up in intensive care as well. That is a rare condition."
She added that "the other uncertainty is around the issue of Long Covid" in children.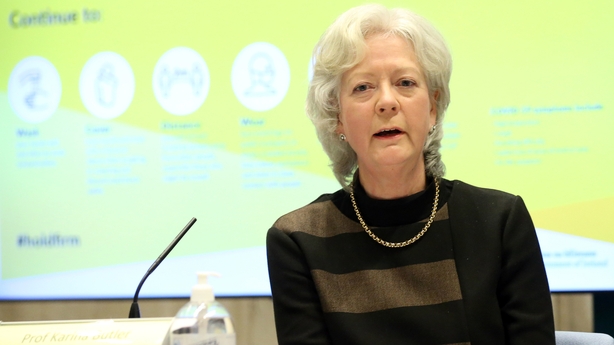 Prof Butler said: "We would strongly encourage parents who have children with any underlying condition to go forward.
"We would strongly encourage parents who have a vulnerable person within their household to take the vaccine. We feel that the vaccine is of benefit to all healthy children."
She said there has been no new or concerning side effects seen in international research into administering Covid-19 vaccines to 12- to 15-year-olds.
The very rare side effect of inflammation of the lining of the heart, called myocarditis, was seen in one in 20,000 cases among the under 30s, mainly young males, in the United States.
She said the myocarditis was very short-lived and that patients were admitted to ICU for monitoring and later discharged.
Longer term implications for some have included restrictions on strenuous activity for six months. Prof Butler said side effects may not affect the 12 to 15 age group.
She added that there should not be any "discrimination or segregation" when schools return between those who are vaccinated and those who are not vaccinated".
Benefits of vaccination of children 'outweigh the risks'
Dr Mary Favier, Covid Advisor to the Irish College of General Practitioners and member of NPHET, said the risks to vaccination of 12-15-year-olds are so "small" that they can be "largely discounted".
Speaking on RTÉ's News at One, Dr Favier said the benefits for children of vaccination "outweigh the risks".
She said the HSE and NIAC will provide information to aid the decision making of parents and guardians, but she said people can ask their GPs about the risks and benefits.
"One in five cases at the moment are affecting this age group. And Covid isn't nothing in some children. And some of them unfortunately get quite ill and some of them will develop long Covid."
"There's individual benefits, but then, as parents will know looking at other vaccines, like measles, its benefits to the wider child population, through herd immunity. If you vaccinate your children, you protect the other children who can't be protected for whatever reason, or family members who might be vulnerable."
Talks on Romanian Pfizer vaccines 'ongoing'
Mr Donnelly said there are "good, constructive, ongoing" talks between Pfizer and Romanian authorities about the potential purchase of one million vaccines from Romania.
He said that Ireland will soon have surplus stocks of AstraZeneca and will play a strong role internationally in ensuring that there is a globally just vaccination programme.
Yesterday it was reported that the Government is considering booster shots of Covid vaccines for people in nursing homes, over-80s, health care workers and those with underlying conditions
Minister Donnelly said boosters would be administered at the same time as the winter flu vaccine that would traditionally start in the last week of September.
He said he agreed with Mr Varadkar that there should be more detailed figures on those hospitalised with Covid.
There is a distinction, he said, between those who were admitted because they have Covid-19 and those who happen to test positive, but are actually in hospital for something else.
He added that it is important to get more details of how many Covid-19 patients in hospitals are unvaccinated, have had one dose, two doses, and then two doses of a vaccine plus 14 days.
Mr Donnelly said a recent report by Deputy Chief Medical Officer Dr Ronan Glynn revealed that just one of 124 ICU patients hospitalised for Covid had received two doses of a vaccine plus 14 days.
It comes as HSE Chief Executive Paul Reid confirmed "a great national milestone" in a post on Twitter. He said over 70% of the adult population are now fully vaccinated with 85% having had at least one dose.
Taoiseach Micheál Martin hailed a "brilliant national effort" in our vaccine roll-out, with 5.66 million vaccines administered.