Chief Medical Officer Dr Tony Holohan has indicated that there may soon be a further easing of Covid-19 restrictions, because of the high uptake of vaccines in Ireland.
Speaking at a National Public Health Emergency Team briefing, he said that the more people who are vaccinated "the less opportunity Covid-19 has to inflict severe illness and disruption on us."
He urged people who are eligible for a Covid-19 vaccination to register for one as soon as possible.
Dr Holohan also said that 2% of cases are currently being hospitalised.
"We know that we would be experiencing many more cases and hospitalisations were it not for the great progress being made in taking up vaccination. We need to keep this up as we move to vaccinate the remaining, mostly younger, cohorts of our population," he said.
Dr Holohan said there are still a significant number of restrictions in place but the "progress we're making in relation to vaccines is putting us in a strong position".
Asked when these restrictions could be eased, he replied: "If we keep progress going the day may not be far away".
His comments come as the Department of Health reported 1,408 new cases of Covid-19.
As of 8am, there were 152 patients with Covid-19 in hospitals, up ten from the same time yesterday. Of these
26 people were in ICU.
We need your consent to load this rte-player contentWe use rte-player to manage extra content that can set cookies on your device and collect data about your activity. Please review their details and accept them to load the content.Manage Preferences
Deputy Chief Medical Officer Dr Ronan Glynn told the briefing that nine Covid-19 related deaths have been reported since the last briefing on 21 July.
He said there are a total of 5,035 Covid-19 deaths in Ireland to date.
Dr Glynn said there were 11 deaths with a date of death in June and ten in July.
There have been 16,922 cases of Covid-19 reported in Ireland in the last 14 days.
---
---
Dept of Health reports 1,408 new Covid-19 cases. Deputy CMO Dr Ronan Glynn says that the national average 14-day incidence rate is now 355 cases per 100,000 population | https://t.co/IN91O8WjoZ pic.twitter.com/wi34FT1uPY

— RTÉ News (@rtenews) July 28, 2021
Dr Holohan said NPHET does not have a target of 90% herd immunity - it does not use that concept, he said. But he said it does endeavour to ensure the highest uptake amongst those offered vaccination.
He added that NPHET will not talk about herd immunity because "it's not strictly in public health terms meaningful in the context of this particular illness".
Dr Glynn said that while most countries in Europe have shown a deteriorating Covid situation in recent weeks, all but two - France and Ireland - have shown a stabilisation in recent days.
He said that "vaccination is having a very positive impact on the risk profile of Covid-19 in Ireland".
"As more people get fully vaccinated we can expect to see a higher proportion of cases in fully vaccinated people. This does not mean that vaccines are not working and, for those who have been fully vaccinated, their risk of severe illness or hospitalisation as result of Covid-19 is much lower than if they had not been vaccinated.
"It is vital that as many people as possible take the opportunity to get vaccinated in the weeks ahead – both for their own protection and for the protection of their families and friends. Walk-in centres for vaccination will open this weekend – please take the opportunity to get vaccinated."
Professor Philip Nolan, Chair of the NPHET Irish Epidemiological Modelling Advisory Group, said the median age of today's cases is 24.
Prof Nolan said that hospital admissions are up to 26 per day in the last week - almost double what they were a week ago.
He said there is half the number of cases in hospitals compared to October, but there are more admissions.
Prof Nolan said the disease is growing - the growth rate peaked at 10% per day and is now at around 4% per day, meaning it could double case numbers in 17 days, he said.
Prof Philip Nolan says that on average, there are 26 people being admitted to hospital per day over the last week. He says that the admissions are "very significantly up" than what they were two weeks ago | https://t.co/IN91O8WjoZ pic.twitter.com/OsxYnTIRjI

— RTÉ News (@rtenews) July 28, 2021
He said in the middle of June there was the start of an exponential increase and then in July there was an unexplained big rise in numbers.
He said it is hard to understand why this step change happened - it might be that a large number of people had something they had been waiting to do and then they did it.
He said at the moment it is a disease of young people dominated by those aged 19 to 24, followed by those aged 13 to 18, but in that age group it is mostly 16- and 17-year-olds, followed by those aged 25 to 34.
"The current trajectory of the more transmissible Delta variant across the country means that unvaccinated people remain at high risk of contracting Covid-19.
"The pace at which our vaccination programme is operating means that it will not be long before you can avail of a vaccine. In the meantime, unvaccinated people should take all public health precautions to avoid contracting the disease."
Vaccinating children
Professor Karina Butler, Chair of the National Immunisation Advisory Committee (NIAC), said clinical trials estimated efficacy of both the Pfizer and Moderna vaccines as 100% in the 12-15 age group, "making them extremely effective in preventing infection in this age cohort".
"I would strongly encourage those aged 12-15 years of age with underlying medical conditions, those living with a younger child with complex medical needs, or with an immuno-compromised adult to accept vaccination as soon as it is offered," she said.
Prof Butler said it is very reasonable for parents to pause and think about whether they need their children to get vaccinated.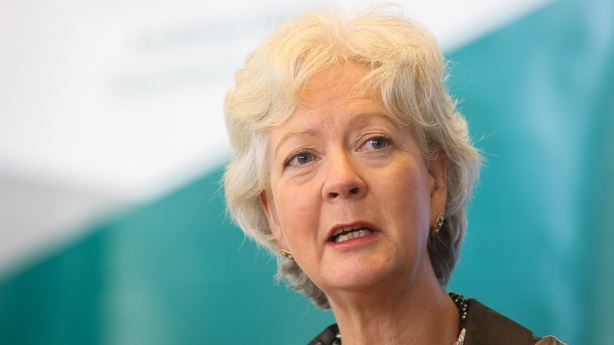 Overwhelmingly, Covid-19 is a mild disease in children and most children will be asymptomatic or have only mild symptoms, she said. However, there will be a number of children who will have severe symptoms and be hospitalised - less than 1%.
Prof Butler said taking all factors into account, and looking at the impact of the pandemic on children - an increase in anxiety, an increase in eating disorders, fear of mingling, a feeling that adults are pulling away from them, and disruption to their normal growth and development - they felt that the benefits of vaccination exceeded any risk.
Prof Butler said NIAC and the Department of Health did research with children and adolescents in focus groups.
They heard the young people were not worried about their own health but about passing Covid on to others, and they wanted to get their lives back to what they had been before Covid.
They said they would feel happier if vaccinated.
Prof Butler said she will respect the decision of parents when deciding on whether to vaccinate their children. She said the uptake from vaccines in young people has really been "quite remarkable".
She said the very rare side effect of inflammation of the heart was in young males under 30, predominantly in the first week after the second dose. While it prompted hospitalisation, she said it was short-lived and resolved.
"There were 300 [cases] out of the millions of doses administered in the US across all age groups."
She said if anybody has something like that happen, they will be advised not to undertake any strenuous activity for six months.
Dr Holohan said he believes we can get to a higher uptake of vaccination than other countries.
The Chief Medical Officer said he would not see vaccination as a requirement to return to school in September.
He said there are many other protections that will be relevant in the school.