Minister for Health Stephen Donnelly has confirmed that the Covid-19 vaccination programme will be extended to all those aged 12 to 15.
It is also understood that the Government is examining the possibility of giving a combined flu and Covid booster jab to those in nursing homes, over-80s, health care workers and those with underlying conditions from September.
A Government source said researchers have been examining this internationally and companies are working on it.
It would require advice from the National Immunisation Advisory Committee (NIAC) and approval by the European Medicines Agency (EMA).
Earlier, a recommendation that all children aged 12 to 15 should be offered an mRNA vaccine was made to the Government by NIAC.
To date, two mRNA vaccines have been approved by the EMA for use in this age group - Pfizer/BioNTech and Moderna.
During clinical trials, the estimate for efficacy of both vaccines was reported as 100% in these age groups.
Minister Donnelly said: "Yesterday, I announced that the vaccine registration portal was opening to all those aged 16 and 17 years old and today's announcement is an important step in offering that same protection to our younger population.
"Support for parents and young people will be made available to help them make the best decision for them."
He added: "We'll make clear information for parents available in the coming days and announce soon when registration can begin."
Speaking on a visit to a vaccination centre at Punchestown Racecourse in Co Kildare, Minister Donnelly said the online portal to register for a Covid-19 vaccine will be opened to 12 to 15 year-olds "very quickly".
He added: "What I want to see, and what we all want to see, is this open to children very soon.
"The HSE, as you would imagine, have already done some preparatory work but what we want to do in the next few days is sit down and work out a very clear timeline."
It is expected that vaccination of a quarter of a million children aged between 12 and 15 could commence as early as next week, so it can be completed before the start of the new school term.
It will require changes to the online portal to enable parental consent to be given.
As adults will have to accompany under-16s to get their vaccine, it will also require some changes to the operation of vaccination centres.
We need your consent to load this rte-player contentWe use rte-player to manage extra content that can set cookies on your device and collect data about your activity. Please review their details and accept them to load the content.Manage Preferences
---
---
'The voices of children were listened to'
The NIAC advice was given to Government after one in five cases of the virus reported in the past three weeks were among teenagers.
The chair of NIAC said the voices of children were listened to when making the decision to extend the vaccination programme to 12 -15 year-olds.
Professor Karina Butler said focus sessions were conducted with children and their parents to see how they felt about it. She said many did not want to be left behind and wanted to protect others.
She said she wants to reassure people that overall Covid-19 is a mild disease for that age cohort and many will never know they have had it
"There are the rare children who do get very sick from it, the unknowns around the inflammatory syndrome that can happen after it and much less known really about long Covid in children," she said.
Prof Butler said the wider benefit will allow children to get back to normal in society.
Countries have been taking different approaches to vaccinating children. France, the Netherlands and Italy are vaccinating those over 12. Limited approval has been given in the UK to those who are high risk or living with an immunosuppressed adult. There is limited approval in Germany also with high risk adolescents being offered the vaccine.
Canada was the first country to approve Pfizer for over 12's in May. The United States is also vaccinating that age group and is planning to roll it out to under 12's by the autumn.
Both Pfizer and Moderna are conducting trials on children as young as six-months-old.
Immunologist Professor Christina Loscher says the "approach in the UK has been very much about letting infection run rampant for a lot of their response to Covid-19, so I think it's good that at least they're allowing the 12- 5 year-olds who are compromised to get it".
"I also think that they're using a different vaccine to us, their vaccine has been predominantly around AstraZeneca."
'Parents can decide with their children how to proceed'
Minister for Foreign Affairs, Simon Coveney, said the decision to approve vaccinations for the 12 to 15 age group "means the benefit of vaccination can be extended to this much younger cohort".
He told RTÉ's News at One that the Government that while parents can decide with their children how to proceed, reassurance that it is safe to do will be provided by Government.
He said that there is very strong demand among young people to be vaccinated and a strong uptake is expected among this younger age cohort.
Mr Coveney said the move will help to try to contain and limit the threat of any new variants of the virus, while also allowing confidence in the reopening of society and the removal of remaining restrictions.
However, he warned that 'we are not there yet' and that the Delta variant is still resulting in a significant number of positive cases each day and an increase, though modest, in hospitalisations and in ICU admissions.
Minister Coveney said that more than 83% of the population now have a first dose of vaccine and over 70% have both jabs.
He said that as variants become more aggressive, a higher percentage of the population needs to be vaccinated and that once over 80% of the population are fully vaccinated "you are in a very strong space" to develop herd immunity.
Speaking earlier on his way into this morning's Cabinet meeting, Taoiseach Micheál Martin said it has been a very effective vaccine programme so far and the Government wants to encourage "heightened participation" among the remaining age groups.
He also said the HSE will be adding walk-in vaccine centres over the Bank Holiday weekend to facilitate further vaccinations.
Arriving for this morning's Cabinet meeting, Taoiseach @MichealMartin says advice is expected from NIAC on potentially opening #Covid19 vaccines to 12-15 year olds, while the HSE will be adding walk-in vaccination centres over the bank holiday weekend | https://t.co/vlcgTCVqyk pic.twitter.com/sVBxL9lodh

— RTÉ News (@rtenews) July 27, 2021
The expansion of the vaccination programme comes as 87% new Covid cases reported yesterday were in people aged 45 and under.
Last week, the European Medicines Agency recommended approving the use of Moderna's Covid vaccine in 12- to 17-year-olds, paving the way for it to become the second shot approved for adolescent use in the European Union.
It May, it approved the Pfizer/BioNTech coronavirus vaccine for 12 to 15-year-olds and said the vaccine was "well tolerated" in children and there were no "major concerns" in terms of side effects.
A professor in Molecular Virology at UCC said parents and guardians should be encouraged to give consent for children to receive Covid-19 vaccines.
Professor Liam Fanning said it makes sense to vaccinate children because they can be repositories of the virus and can contract and potentially pass Covid-19 on at home.
Speaking on RTÉ's Today with Claire Byrne, he said the benefits of protection from the vaccine outweigh the potential complications from Covid-19.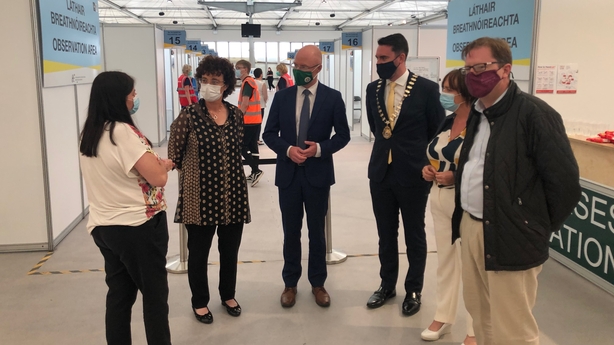 Surplus vaccine supplies set for poorer countries
The Minister for Health has said the Government is currently considering "how best to distribute" surplus supplies of Covid-19 vaccines to poorer countries.
Stephen Donnelly said he is strongly of the view that "Ireland and Europe need to be leading the world in terms of global justice on vaccines."
He said he brought a memo to Cabinet this morning highlighting that in some of the poorest countries only 1.1% of the population has had one vaccine, which he described as "not good enough."
The Minister said "we have to look after our own people" in Ireland in making sure "we hit the level of immunity required to keep people safe and to drive this disease back."
However, he said "at the same time, you'll recall that we pre-purchased about twice as many vaccines as we would need to vaccinate the entire population.
"That means shortly we will have surplus vaccine. So what we're doing now is looking at how best to distribute that."
Stephen Donnelly said he has been "working on this for some time" along with the Minister for Foreign Affairs Simon Coveney.
"Ireland has to take a leading role and the EU has to take a leading role, partly because it is ethical, and is the right and just thing to do, and secondly out of enlightened self interest because the way we will push this disease back is through a global solution."
Additional reporting: Dyane Connor, Mary Regan, Fergal Bowers