The funeral has taken place of the former leader and founder of the Progressive Democrats, Des O'Malley.
Mr O'Malley died on Wednesday aged 82.
His family, including his six children, gathered at the Church of the Sacred Heart in Donnybrook for his funeral mass, while those from the world of politics, both past and present - were also in attendance.
The mass took place in accordance with the current Covid guidelines, with the number allowed in the church restricted to 50.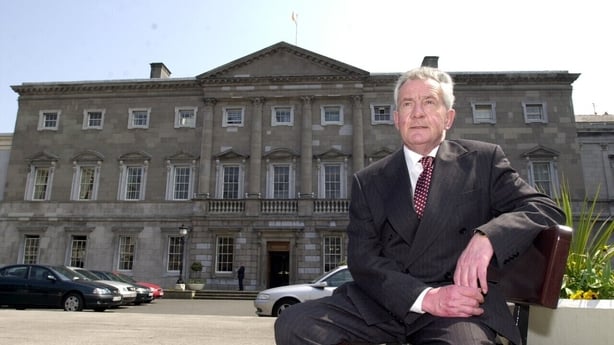 Born in Limerick in 1939, Mr O'Malley's career spanned five decades, and some of the most turbulent years of Irish life.
Following clashes with then Fianna Fáil leader, Charlie Haughey, Mr O'Malley left the party and later formed the Progressive Democrats in 1985.
In 1989, Mr O'Malley joined up with Mr Haughey once again when the PDs went into government with Fianna Fáil - the first time Fianna Fáil was part of a coalition government.
Mr O'Malley has been described as a man of huge courage who left a lasting and positive legacy, and who transformed the status quo in Irish politics.
Mr O'Malley is predeceased by his wife Pat, and is survived by his children Catherine, Hilary, Fiona, Desmond, Eoin and Maeve.
---
Read More:
Des O'Malley - The mould breaker who stood by the Republic
President Higgins leads tributes after death of former PD leader Des O'Malley
Mary Harney pays tribute to her friend and mentor
---
Rev Gerard O'Connor began the ceremony by lighting two candles on the altar. One was dedicated to Pat O'Malley, Des's late wife. Des and Pat O'Malley were wed in the Sacred Heart Church. The second candle was for his parents and brother who predeceased him, Desmond, Una and Peter.
Rev O'Connor extended sympathies to Des O'Malley's children who sat together in the church. "We know that you loved your dad greatly, and so many people not just in this church but throughout the country are journeying with you in this moment of grief."
He asked the congregation to forgive him if he sounded more political than priestly during the mass.
We need your consent to load this YouTube contentWe use YouTube to manage extra content that can set cookies on your device and collect data about your activity. Please review their details and accept them to load the content.Manage Preferences
"I was part of Des O'Malley's efforts to break the mould," as the Rev O'Connor departed the Progressive Democrats to enter the priesthood.
"I know that whatever your political persuasion either here in the church, or if you're tuning in through digital means, and even if you clashed with Des politically, that each of the O'Malleys are very appreciative of your kind support at this time."
Rev O'Connor quoted from Des O'Malley's memoir about religious orders in Limerick, and welcomed Father Leonard Moloney the provincial of the Jesuits from Limerick and Redemptorist Brian Nolan also from Limerick.
"I thought carefully about whether to draw on the Redemptorist and Jesuit mutters from Des O'Malley having enjoyed a number of times teasing him about his comments.
"I decided to include them in the opening of our liturgy as Des could be robust in debate, utterly frank and often right. Des could also be very tender, very gentle, very loving, witty and funny.
"I bring my own fragility to this liturgy as I feel a loneliness and an emotion about saying goodbye to someone I admired and drew inspiration from.
"I feel humbly privileged to be part of this liturgy in what is a threshold moment for the O'Malley family, Irish politics and Irish society."
"I know there are so many people who would love to be here today but can't because of Covid-19. The family were very anxious that we adhere to best practice around Covid guidelines.
"For those who are not here I carry in this liturgy your memories, your tears and your emotions for Des O'Malley."
In his eulogy, Rev O'Connor said: "Des O'Malley lived one wild, precious life. An active member of Saint Vincent De Paul while in school visiting some of the poorest families in Limerick city.
"Appointed, as a political novice to the hottest seat in the government, coffins and red paint being thrown into his family home in Limerick. His in-laws in Tyrone, their pub being bombed twice.
"Playing golf at 40 degrees in Iraq. Given the heat today it's almost unimaginable. Being involved in a serious car crash. Founding a political party. Surviving 34 years in Dáil Eireann. Being accused of 'having ideas'.
"Des O'Malley brought an incredibly valuable temperament into Irish politics. From 1985 onwards, Des regularly articulated that the best role for faith is to challenge politics and to hold the public square morally accountable to values derived from a position of faith. Even though it must be made clear that faith has now monopoly on morality," said Rev O'Connor.
In his eulogy, son Eoin O'Malley said: "Dad was vain enough that he would have wanted a big funeral, but he can't get that, but we know that he would have enjoyed reading the papers and hearing the tributes, from his good friend an tUachtarán, from the Taoiseach, the Tánaiste and former taoisigh."
"I think he would have appreciated that his almost four decades of public service were appreciated.
"Politics is a tough job and the nature of politics invites criticism and conflict and it's not always clear that politicians' efforts are always appreciated so we are grateful for all the messages received in the past few days."
Mary Harney, a close friend of Des O'Malley, also gave a eulogy today.
"The outpouring of sympathy over the last few days was no surprise to me. People from all over the country echoed the sentiment in the print and broadcast media of a statesman, a person of courage and integrity," she said.
Ms Harney said his political instincts were "rooted in what was the right thing to do".
She said: "When he spoke he gave voice to the very best part of our own natural human instincts, instincts in what is right in a fair, equitable and law abiding society in order to function.
"Des believed there were many things bigger than a political party, than politics, than money, fame or ambition, there were things worth risking everything for; principles that are eternal, truths that are abiding."
Ms Harney spoke of a generous man, who always brought gifts when visiting, "most recently he brought a tree for me to plant, and he said 'long after I'm gone that tree will grow."
She also spoke of a Progressive Democrats meeting that was due to take place on a Sunday night in the middle of the saga on Glenroe on whether Billy was going to marry Miley.
While she said this was news to Des, he agreed to delay the meeting until after the programme, when he began the meeting he said, 'If I could only find a man for Harney.' I think he was pleased when that man was from Limerick."
She added: "Des O'Malley served this country by standing by the Republic. He was a man of integrity, courage, freedom and reconciliation.
"Many people say that era is over. Yes, for his loving family and for those of us who loved him, this is a poignant moment, a profound moment of grief and gratitude and we will miss him, our lives will not be the same.
"As we look forward we want to make sure that we serve out in our life the values that meant so much to him. That we took stand by the Republic, that we are decent, courageous and honest and not afraid to speak the truth."