Former leader of the Progressive Democrats Mary Harney said that Des O'Malley was her friend for 40 years, her mentor and an extraordinary person.
Mr O'Malley, who founded the party in 1985, died today aged 82.
Speaking on RTÉ's News at One, Ms Harney said that "Ireland is a better place because of Des O'Malley", adding, "I'm really going to miss him".
She said it is hard for her "to get her head around the fact that he is gone" and that she had a last visit with him yesterday.
She said he "was clearly suffering" and while it is good to see his pain and suffering has now ended "we will all miss him".
She said her thoughts today are with his six children and 13 grandchildren and recalled the "wonderful marriage" he had with wife Pat, who died four years ago.
Ms Harney said he was very proud of his six children and spoke about them frequently and in more recent years had great joy from his grandchildren.
We need your consent to load this rte-player contentWe use rte-player to manage extra content that can set cookies on your device and collect data about your activity. Please review their details and accept them to load the content.Manage Preferences
She said Mr O'Malley maintained his interest in politics to the end and, despite being very unwell two weeks ago, cast his vote in the Dublin Bay South by-election.
She said he was "by any standards an extraordinary person" and the words like "courage, principle and integrity" which are being used to describe him today are "so, so true".
As Minister for Justice in the 1970s, Mr O'Malley took a tough line with the IRA, establishing the Special Criminal Court and introducing the Offences Against the State Act.
Ms Harney said he had to sleep "with a gun under his pillow" and his wife and children were often moved out of the family home in the middle of the night during times of heightened tensions in Northern Ireland.
---
Read more:
President Higgins leads tributes after death of former PD leader Des O'Malley
Des O'Malley - The mould breaker who stood by the Republic
---
She said that Pat O'Malley was originally from Omagh and her own family's business had been blown up by IRA.
Ms Harney said Mr O'Malley was completely opposed to the IRA campaign of violence in Northern Ireland and was convinced that peaceful engagement with all sides was the only way to secure a solution to the political and social problems in the North.
She said he reminded "us often of the fragility of democracy and the dangers to the state posed by the ongoing violence".
She described him as a "genuine Republican" who drew a distinction between a modern republic and the ever-present threat of militant republicanism.
Mr O'Malley was "a man of unwavering principle" who was willing to speak out in favour of democracy and peace, with "a sharp intellect" and "was a ferocious opponent but a powerful ally" and maintained a great sense of humour.
She said her last visit to him yesterday was preceded with a long conversation on Sunday last that was "full of humour" and that he kept "that remarkable sense of perspective right to the end".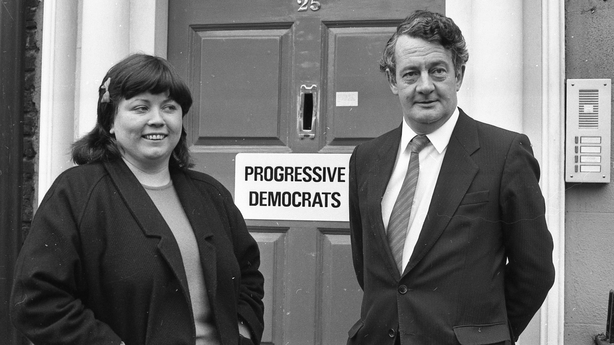 Ms Harney said no one would intimidate him and that he was very thorough in his dealings with civil servants.
She said that on Sunday he told her he was sorry that he could not attend a commemoration for the late Detective Jerry McCabe, who had been part of his security detail, after being invited to do so by his widow Ann McCabe.
She said he was really sorry that he could not go due to ill health and spoke of the great injustice to Det McCabe and his colleague Detective Garda Ben O'Sullivan, who was injured in the fatal attack 25 years ago.
Ms Harney said that "he really felt for them as if they were an extended member of his family and he spoke frequently of the courage and bravery of Ann McCabe, even last Sunday morning".
She said Mr O'Malley "broke the mould" by forming the Progressive Democrats and leading it into a coalition with Fianna Fáil.
She said the coalition "began the end of civil war politics".
She said that he had become nervous about setting up the party, but was convinced to proceed by herself, Micheal McDowell and others.
Ms Harney said that it could not have happened without his "street cred", his political experience and the fact that he commanded huge respect in the country.
She said a huge traffic jam led to the first meeting of the PDs when it was formed on 21 December 1985 and Mr O'Malley was "completely shocked" by this.
She said the first few meetings of the party in January and February of 1986 attracted huge crowds.
Ms Harney said Mr O'Malley reformed industrial policy in Ireland, by establishing the Culliton Commission to make industrial policy fit for purpose.
She said that in all his political work he "stood by the Republic", whether it was standing by the taxpayer [after the Beef Tribunal], reforming company law or making the economy fit for purpose to grow employment and jobs.
She said he was originally quite conservative on social issues but "grew with Ireland" and was thrown out of Fianna Fáil because he voted against its position on family planning.
She said that he had "a great sense of duty and public service" and was very well read, with a great interests in the arts and in sport, particularly in rugby and horse racing.