Three of the world's first double-decker hydrogen fuel-cell-electric buses will be brought into service on one of Dublin's public transport routes from next week.
Built by Wrightbus near Ballymena in Co Antrim, the buses cost €800,000 each and will operate on Bus Éireann services between Dublin and Ratoath, Co Meath.
Minister for Transport Eamon Ryan said reducing carbon emissions is critical to reaching our climate goals and will also improve air quality.
The three buses, launched by the National Transport Authority (NTA) in conjunction with Bus Éireann, are probably the most expensive buses that will ever go into public service in Ireland.
It cost the NTA €2.4 million to buy the three vehicles. There are only 4,200 hydrogen buses world-wide and very few are double-deckers like these.
Hydrogen-fuelled buses are, in effect, electric buses.
But instead of having to charge them by plugging into the electricity network, they use a hydrogen fuel cell to generate their own electricity while in transit which is then stored in on-board batteries.
That way they can keep going for up to 400km, operating silently. Water is all that comes of the tail pipe and refueling with hydrogen only takes minutes.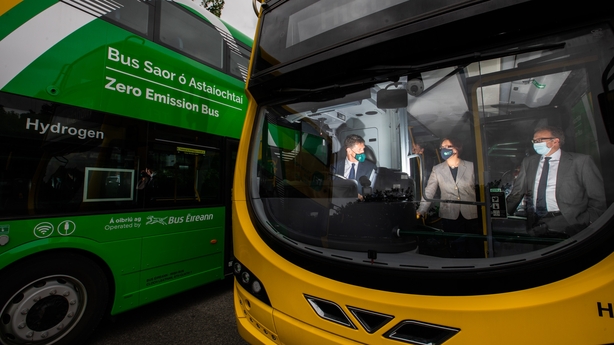 NTA Chief Executive Anne Graham said the buses are being introduced on a pilot basis.
The plan is to closely monitor how they operate to learn as much as possible about where and how they can be best used and examine how operational and carbon savings can be best made.
These buses will initially be supplied with highly pressurised green hydrogen produced by BOC Gases Ireland in its electrolyser at Bluebell on the Naas Road in Dublin.
This is where the buses will have to travel each time they need to refuel. It is anticipated that a dedicated full pressure hydrogen refuelling station will follow at Bus Éireann but there is no known timeline for that yet.
Bus Éireann has already trained 15 of its drivers to operate the new buses and is embarking on a transformation process for its 300-strong engineering workforce.
It is working to introduce the necessary skills and infrastructure at its 17 depots to move from an entirely diesel-fuelled internal combustion engine fleet of 1,170 vehicles to one with a mix of zero and low emission buses.
It is conservatively estimated that each of the new hydrogen buses will cover more than 100,000km per annum. Each will carry up to 63,000 people in their first year of operation and this will increase over time.
Based on experience with hydrogen buses in Aberdeen, Scotland, one can expect that about 170,000kg of CO2 emissions will be saved for every 100,000km these buses travel.
That is the equivalent to the emissions savings that would be made by taking 42 cars off the road for a year.
Minister Ryan said: "Other technologies such as battery-electric, are very well suited to bus services in urban areas.
"But on longer commuter and inter-urban routes, hydrogen fuel cell technology is an innovative zero pipe emission alternative to diesel.
"I'm especially pleased that the Wrightbus Streetdeck, the first such bus in the world, is assembled in Northern Ireland and that Bus Éireann is piloting these buses on their commuter route between Dublin and Ratoath."