Representatives from the hospitality industry are due to hold talks with Tánaiste Leo Varadkar, Minister for Health Stephen Donnelly and Minister for Tourism Catherine Martin.
It will be the first such meeting since the Cabinet decision to only reopen restaurants and bars to people who have been fully vaccinated.
Adrian Cummins, of the Restaurants Association of Ireland, said his organisation would be seeking a date for reopening from Mr Varadkar.
He warned that the hospitality industry is getting closer and closer to holding a national protest due to the maintaining of restrictions on the sector.
Earlier today, Taoiseach Micheál Martin said there will be a delay to indoor hospitality beyond the planned 5 July reopening date.
Speaking at Government Buildings, he said: "We are in a race between the variant and vaccine ... and we want to do everything we can to ensure the vaccines win".
Mr Martin said that over the course of the last number of weeks concern has been growing over the prevalence, nature, and risk associated with the Delta variant of Covid-19.
He said it is clearly more transmissible - 55% more than the last variant - according to the European Centre for Disease Prevention.
Tremendous progress is being made in the vaccine programme, the Taoiseach added, and careful, staged reopening of society with people's co-operation is working.
He said that the reopening of indoor hospitality will be limited to those fully vaccinated or recovered from Covid-19 infection.
We need your consent to load this rte-player contentWe use rte-player to manage extra content that can set cookies on your device and collect data about your activity. Please review their details and accept them to load the content.Manage Preferences
---
Latest coronavirus stories
Chief Medical Officer's letter to Minister for Health
---
Mr Martin said that last night the Government was advised in very stark terms by public health officials that there is a real risk of spreading virus if reopening continues as planned on 5 July.
He said the coalition has agreed to delay some elements of further reopenings.
The Government will find a workable approach and know the delay will be greeted by "dismay and frustration", Mr Martin added, but it will provide additional supports in the coming weeks.
He said the coalition's guiding principle in deciding when a sector reopens is that it wants to make sure it remains open, as the process of opening and closing is badly impacting mental wellbeing and business sectors.
He urged people to take their vaccines as soon as offered, so as not to lose the progress made.
Taoiseach @MichealMartinTD says we are in a race between the Delta variant and vaccines, and we must do everything we can to make sure the vaccine wins. pic.twitter.com/Mn7RRgZiMX

— RTÉ News (@rtenews) June 29, 2021
As planned, from 5 July, numbers for organised events can increase to 200 or 500 for stadiums or venues with a capacity of over 5,000.
Indoor activities (such as organised events, return of service in bars and restaurants, training, group exercise, dance) will not proceed as planned, pending the implementation of a system to verify vaccination or immunity.
The Government said it will devise an implementation plan by 19 July.
As an exception, weddings already planned will be permitted to proceed on the basis of the expected changes, with 50 guests permitted to attend wedding receptions with protective measures
There will be no limit on the number of people who can visit together if they are all fully protected by vaccination or have recovered from Covid-19 infection in the previous nine months.
Current Government advice is to avoid non-essential international travel. Depending on the prevailing public health situation at the time, Ireland will operate the EU Digital Covid Certificate (DCC) for travel originating within the EU/EEA from 19 July.
The Government said that today's decision is based on advice from the National Public Health Emergency Team (NPHET), that the incidence of the Delta variant in Ireland, which poses a significant risk, particularly to those who are not yet fully vaccinated is rapidly increasing.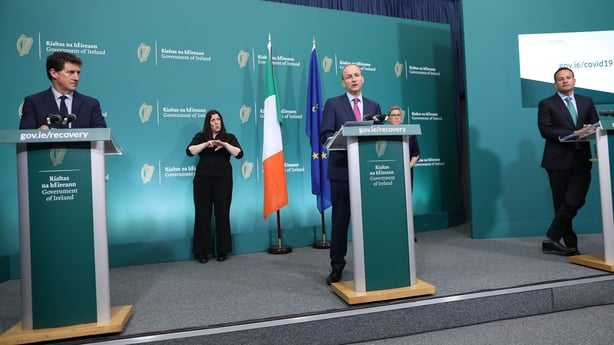 The Minister for Health said it is intended to agree a plan by 19 July in consultation with the hospitality industry to allow those who are vaccinated or recovered from Covid-19 to use indoor hospitality.
Stephen Donnelly told RTÉ's News at One that the delay to reopening will come as a "big blow" to many in the hospitality industry.
However, he said work will begin to introduce a certification system under a model used successfully in many European Union countries including Germany and Austria.
The advice was given last night, Mr Donnelly said, and that the Government will now engage and listen very carefully to the sector.
He said that "we want to listen very carefully to the industry this week" and that issues to be organised include the use of a technology platform, compliance issues, and operational issues for the sector.
Mr Donnelly said he could not confirm if children would be excluded from the new certification system.
NPHET has advised the Government that unvaccinated staff can work in hospitality and tourism outlets under a proposed vaccine certification system for indoor dining, the minister added.
He said that the concerns in this regard need to be discussed with the industry and with representative bodies.
NPHET has advised that for indoor events the unvaccinated are at a high risk of infection from the Delta variant of Covid-19, Mr Donnelly said.
He said the Government is going to 'fully align' with the EU for the digital Covid certificate and allow people to travel in or out of Ireland under three criteria: the fully vaccinated, those who have recovered from the virus within 9 months or who possess a pre-flight PCR test.
Minister Donnelly said NPHET has advised the Government that the pre-flight PCR test is not what it recommends and 'the Government supports that advice, however under law people will be allowed to travel and allowed to return with that pre-flight PCR test and not have to home quarantine'.
He said there are many things that are given as public health advice but are not penalised under the law.
Tánaiste @LeoVaradkar says NPHET presented the government with an optimistic scenario and a pessimistic scenario in relation to the Delta variant, and government decided to err on the side of caution. | Read more: https://t.co/CDrrMLxXmY pic.twitter.com/xkbpJeh60k

— RTÉ News (@rtenews) June 29, 2021
The Tánaiste said the forecast Delta wave could be "a wave as severe as any wave experienced before" in Ireland.
Leo Varadkar said the Government has taken the "cautious approach" after being presented with five scenarios by NPHET yesterday.
He said the Government has taken this approach based on NPHET's "most pessimistic" scenario, which, if realised, said could see over 2,000 deaths over three month period.
"We simply do not know how bad or for how long the delta wave will last. We know what will happen, but we don't know how long it will last."
The Minister for Transport, Climate, Environment and Communications said in the last 10 days, a test indicating the incidence of the Delta variant has shown it has increased from 20% to 50%.
Eamon Ryan minister said this result required a reconfiguration in the policy approach.
He said up until 17 June, the Government has been looking at the reopening schedule and the advice was that the 5 July reopening as expected but this test required a change in approach.
Independent review of NPHET not expected - Martin
The Taoiseach said the Government "does not envisage" an independent review of NPHET.
Micheál Martin said the basis of Irish democracy "allows a plethora of alternative voices", which ask "healthy" questions.
He said the "setting up of alternative, different pools of advice and research would lead to incoherence in a short time".
"What's been very important from the beginning of this pandemic is a consistent and coherent approach from Government and public health authorities.
"And that's important, notwithstanding that people may query it, people may have concerns, people may not agree with it. But the idea of setting up alternative different pools of advice and research would need to incoherence in a short time."
Mr Martin also said: "We need to be very careful that we're not now saying that it's a condition of work that one has to be vaccinated".
It has never been a condition of a worker to be vaccinated in the workplace setting whether it is retail or personal services and so the same applies to hospitality, the Taoiseach said.
He added that employers are being encouraged to make sure the maximum protection is afforded to employees in any setting in the context of the pandemic and he sees "the apparent contradictions of that"
However, NPHET's advice is clear that in the totality of indoor dining and hospitality, the Delta variant can be a spreader and they're concerned about that, Mr Martin said.
"The CMO is clear here, he believes there will be a Delta wave across Europe."
The Taoiseach said this is a matter of timing, a matter of pace and how Ireland responds to it.
Mr Martin said: "The manifestation of this will not be apparent in July, but what's clear from NPHET and the modelling and the advice is that it will be manifest in August and it will be manifest in September and the only issue is scale."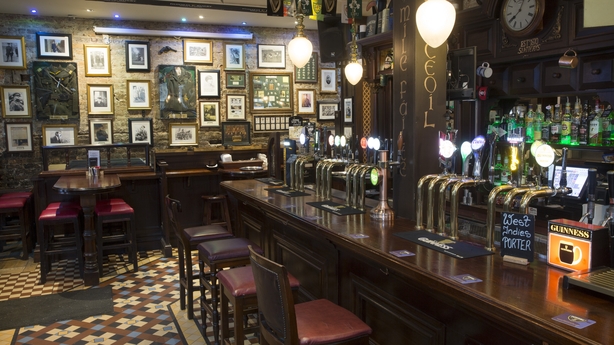 Labour Party leader Alan Kelly criticised today's Government announcement, describing it as "absolutely bananas ... discriminatory, unenforceable ... shocking stuff. Amateur hour".
Sinn Féin's health spokesperson David Cullinane questioned why the Government has not engaged with the sector on the reopening of indoor hospitality being limited to those fully vaccinated or recovered from Covid-19.
Independent TD Mattie McGrath called on Government to dispense of the services of NPHET.
Social Democrats co-leader Róisín Shortall said the Government's plans are unworkable, unenforceable and raise serious legal and ethical issues.