Minister of State Ossian Smyth has clarified that he was giving his personal view, rather than articulating Government policy, when he said that the NPHET figures presented to Cabinet could be assessed by European Centre for Disease Control.
A Green Party spokesperson said: "Minister Smyth was asked on Raidió na Gaeltachta this evening if he believed independent scrutiny of NPHET's advice would be worth getting. He gave his personal advice that it would. The Government will continue to consider the issue of how best to proceed over the coming days".
The National Public Health Emergency Team has warned that, according to the ECDC, modelling scenarios indicate that any relaxation of measures that were in place in June in the EU could lead to a fast and significant increase in daily cases in all age groups.
A letter to Government outlined five separate scenarios, with possible outcomes from "Optimistic" with 250 deaths between 1 July and 30 September to "Pessimistic" with 2,170 deaths from Covid-19.
Earlier, Minister for Health Stephen Donnelly told RTÉ's News at One that the Government saw this data for the first time last night, ahead of a meeting of the Cabinet Covid Committee.
Mr Donnelly said it has "always been the case" that NPHET analysis is not subject to independent scrutiny.
Speaking on RTÉ Raidió na Gaeltachta, Mr Smyth had said: "We will be looking at it again independently... on the figures outside of NPHET. We will ask them [an independent authority] to look at the figures independently."
In his letter to Government, Chief Medical Officer Dr Tony Holohan said that entering autumn with a high incidence could pose a risk as schools reopen.
Dr Holohan said the overall situation has been improving or stable over the last few months and the gradual relaxation of measures has not resulted in any noticeable increase in cases.
But he said that experience in other countries indicates that the level of transmission here will grow very quickly in the coming weeks.
On indoor hospitality, the NPHET letter says that the planned easing of these measures should only proceed once a robust, non-reproducible and enforceable system of verification of vaccination or immunity status can be put in place to support this.
"If this is not deemed feasible, the Government should consider pausing further easing of these measures until such a system can be instituted", it advised.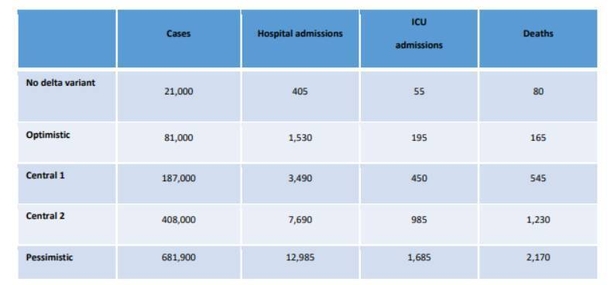 The Department of Health has confirmed that there was an error in the one of the graphics in the letter from Dr Holohan to Minister Donnelly.
The correct figure for the projected number of deaths under the optimistic scenario is 250 and not 165.
Tánaiste Leo Varadkar said the Government has taken the "cautious approach" after being presented with the scenarios by NPHET yesterday.
He said the Government has taken this approach based on NPHET's "most pessimistic" scenario, which, if realised, could see over 2,000 deaths over a three-month period.
Mr Varadkar said: "We simply do not know how bad or for how long the delta wave will last. We know what will happen, but we don't know how long it will last."
---
Read more: Latest coronavirus stories
---
There is an additional important uncertainty in relation to these model scenarios.
NPHET says the latter part of the infection curve, beyond September 2021, is sustained by infection in children and adolescents, who are not currently eligible for vaccination.
If children are less susceptible, and/or less likely to transmit infection, or a decision is made to vaccinate those under 16 years of age, the wave of infection will peak earlier and decline more rapidly.
It says that a high level of transmission in late summer could have significant impacts on the reopening of schools and the tertiary education sector in autumn.
NPHET says that the current vaccine bonus applicable to household visits should be revised. As a result, there should be no limit on the numbers of people that can visit together once they are all fully protected by vaccination or have had Covid-19 infection in the previous nine months.
As a result, the limit of three households can be removed.
NPHET says the hospital system continues to be in a fragile position, with a significant backlog of non-Covid care arising from the demand for coronavirus care in the early part of this year. This is being exacerbated by the ransomware attack of 14 May.
NPHET letter described as 'quite sobering'
The Chair of Irish Medical Organisation GP Committee has said NPHET's letter to the Government is "quite sobering" and he believes the Government is making the right decision.
Speaking on RTÉ's Drivetime, Dr Denis McCauley has said on a positive note, our 14-day average number of cases is still below under 100, although we're the fourth highest in Europe.
He said our 7-day average is increasing and our 5-day average are going up quite a lot.
He said in Northern Ireland, which is slightly ahead in the vaccination programme, their 14-day average was way below the Republic and now it's surpassed it, which he said is totally due to the Delta variant.
He said in the letter NPHET said if we make a decision that will increase the spread, July will be okay but there will be a large amount of virus in the community in August and September.
He said "if we allowed a fourth wave to develop and it became quite significant, it means that schooling is at risk again which is something none of us want".
Additional reporting Fergal Bowers