Even by the usual standards of Northern Irish politics, it has been a tumultuous week.
Edwin Poots' tenure as leader of the Democratic Unionist Party (DUP) didn't even last a month as he faced a rapid and sudden party heave which culminated in his resignation yesterday.
At the centre of the chaos is the anger among many DUP members over the compromise reached between Poots, Sinn Féin and the British government over the Irish language.
A DUP MLA told RTÉ's Drivetime yesterday that the Irish language is a "threat" to Unionists which "strikes at the heart of Unionist identity".
Jim Wells also said that Unionists "are about as enthusiastic about the Irish language as Nationalists are about the Orange Order".
But what Irish language legislation is actually being proposed in Northern Ireland? And how has it brought about the downfall of Mr Poots so quickly?
Power-sharing deal
The reason there has been an Executive throughout the pandemic is the landmark agreement reached in January 2020 to restore power-sharing in Northern Ireland.
For three years, there was no functioning Executive in the North after the Renewable Heat Incentive scandal led to the collapse of the administration.
With the help of the British and Irish governments, Sinn Féin and the DUP were able to agree on a set of proposals to go into power sharing again.
The proposals are contained in the document called New Decade, New Approach. Within the document are priorities and agreements that form the basis of the Sinn Féin-DUP power-sharing Executive for the years ahead.
Irish language
One section of this document outlines the agreements reached around the Irish language.
It offers a "new cultural framework" for Northern Ireland that will create a new Office for Identity and Cultural Expression.
This office will be all about promoting cultural diversity and inclusion across all identities and cultures, according to the document. The First and Deputy First Ministers will jointly agree on a director for this office.
The agreement also proposes legislation creating the position of a commissioner to protect and enhance the Irish language. This legislation would provide official recognition of the status of the Irish language in Northern Ireland.
That commissioner will have to provide guidance and advice to public authorities around the use of the language, and look into issues that arise if those bodies are accused of failing to cater adequately for Irish speakers.
It also proposes a separate commissioner to develop the language, arts and literature associated with the Ulster Scots/Ulster British tradition in Northern Ireland.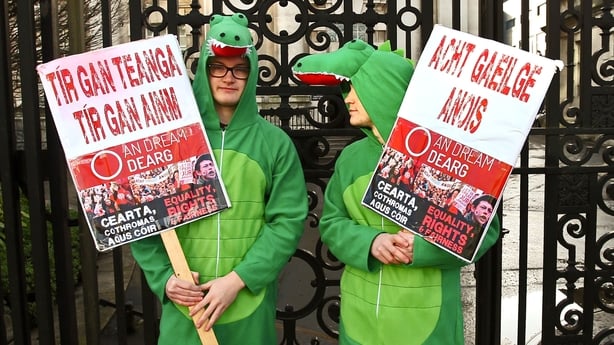 A Translation Hub would be set up to allow language translation services for government departments, local authorities and public bodies. Members of the Northern Ireland Assembly will be permitted to address the Assembly or committees through Irish or Ulster Scots, with translation services available.
Irish and other languages will also be "facilitated when deemed necessary" in court proceedings. Births, marriages and deaths will also be available to register through Irish.
Future recommendations made by one of the commissioners, however, must be ratified jointly by the First and Deputy First Minister.
What the proposals do not set out, for example, are that road signs in Northern Ireland must be displayed in both English and Irish.
For this to become a reality, the commissioner would have to issue a proposal in this regard and the First and Deputy First Ministers would have to agree.
The agreement also makes clear that there won't be employment quotas to have a certain percentage of workers who speak either Irish or Ulster Scots.
So how far has this progressed?
Political compromise was at the heart of the New Decade, New Approach deal that saw power-sharing between the DUP and Sinn Féin return to Northern Ireland.
However, the provisions around the Irish language in this agreement, with the exception of the translation services for public bodies, have yet to be implemented.
It is the position of the Irish Government that these commitments should be followed through upon. In response to a parliamentary question last month, Minister for Foreign Affairs Simon Coveney said it was important that the language and identity provisions in the document "are progressed as agreed".
For Sinn Féin, it is also a very important issue.
Speaking to BBC's Good Morning Ulster programme earlier this week, Sinn Féin MP Chris Hazzard said there was "simply no basis for power-sharing" if there was no agreement from the DUP to progress Irish Language legislation.
On the same programme, Alliance Party leader Naomi Long said the DUP was refusing to show "any sort of compromise or ability to work with others".
"We all signed up to NDNA knowing that there were parts of that agreement that would be more difficult, would be more challenging, but we knew that it had to be done," she said.
After Arlene Foster was ousted as DUP leader last month, the party's new leader Mr Poots signalled he was willing to follow through on the agreements made in New Decade, New Approach.
Mr Poots had won a narrow race over Jeffrey Donaldson by 19 votes to 17 to replace Mrs Foster.
He told reporters last week: "I have publicly committed myself to New Decade New Approach and to the implementation of New Decade New Approach, including the cultural aspects of it.
"I have committed to doing it, obviously we have had a situation which has delayed a lot of progress in this mandate on New Decade New Approach, so let us get it out and look at all of it and how we can deliver all of it as quickly as possible."
What happened this week?
After it became clear Mrs Foster would no longer be DUP leader, the DUP would have to choose a new First Minister to succeed her.
For a new First Minister to be elected, Sinn Féin would also have to support the nomination of that person. If they failed to do so, it would lead to fresh Assembly elections.
Sinn Féin had stood firm that it would not agree to support a new DUP First Minister without first receiving guarantees that Irish language legislation would be enacted.
It had appeared that a showdown was looming but, following meetings with Northern Ireland Secretary Brandon Lewis, an agreement was reached to allow Mr Poots' choice as First Minster, Paul Givan, to be elected.
The British government had agreed to introduce an Irish Language Act in Northern Ireland if the Stormont Assembly fails to do so by the end of September.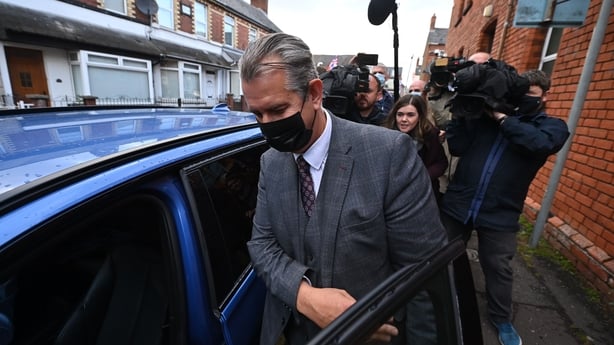 These events provoked a furious response from many within the DUP and wider Unionism, with a perception that Mr Poots had caved in to Sinn Féin demands and had made unnecessary concessions.
Speaking on RTÉ's Six One News last night, Traditional Unionist Voice (TUV) MLA Jim Allister said Mr Poots had given victory to "ransom politics" and had "rolled over" to do Sinn Féin's bidding.
Senior DUP members had urged Mr Poots not to nominate a First Minister because of what they referred to as serious concerns about the British government's intervention.
However, Mr Poots yesterday chose to elect Mr Givan, regardless, precipitating the sudden heave against him resulting in his resignation last night.
What happens next?
This is far from clear.
Mr Poots will remain as leader until a new leadership contest is held. Much of the DUP's strategy going forward will be based on who they elect as their new leader.
On the issue of Irish language legislation, it had been the position of the British government to introduce the legislation anyway if the Northern Ireland Assembly fails to do so.
Whether that will remain the position going forward remains to be seen.
Having appeared as if real progress had been made just a couple of days ago, the trajectory of politics of Northern Ireland appears uncertain again.
As Minister Coveney told RTÉ's Morning Ireland earlier: "It looked like we were moving on after a period of real disruption and uncertainty... and then all of a sudden that began to unravel.
"A lot of questions [are left] in terms of where do we go from here."