Taoiseach Micheál Martin and British Prime Minister Boris Johnson have both called for calm in Northern Ireland having discussed the ongoing street disturbances in the region.
A statement from the Taoiseach's department said they both stressed that violence is unacceptable.
"The way forward is through dialogue and working the institutions of the Good Friday Agreement," it added.
The leaders agreed that the two governments would continue to stay in contact.
This evening, White House press secretary Jen Psaki also said the Biden administration is concerned by the recent spate of violence in Northern Ireland and is calling for calm.
The @WhiteHouse @PressSec Jen Psaki says the administration is "concerned" by the violence in Northern Ireland and that they join British, Irish & Northern Irish leaders in their calls for calm. @rtenews pic.twitter.com/mMny4q92K8

— Brian O'Donovan (@BrianOD_News) April 8, 2021
A US State Department spokesman told reporters tonight that the GFA must be protected from becoming "a casualty of Brexit".
Speaking to reporters, Ned Price said: "We are deeply concerned by the violence in Northern Ireland, and we join the British, the Irish and Northern Irish leaders in calls for calm. We remain, as you have heard us say before, steadfast supporters of a secure and prosperous Northern Ireland in which all communities have a voice, and all communities enjoy the gains of a hard-won peace."
He continued: "President Biden has been unequivocal in his support for the Belfast and Good Friday Agreement, which was a historic achievement. We believe that we must protect it. And we believe that we must ensure it doesn't become a casualty of Brexit."
Earlier Minister for Foreign Affairs Simon Coveney condemned the ongoing unrest in Northern Ireland, saying that the violence needs to stop before somebody is killed.
Speaking on RTÉ's Morning Ireland, Mr Coveney said responsibility to defuse the tensions "has to start at the top with political leadership".
Last night saw a bus hijacked and set on fire, a press photographer assaulted and clashes between loyalists and nationalists at a peace line street that links the Shankill Road with the Springfield Road in west Belfast.
At least seven PSNI officers were injured, according to the Police Federation of Northern Ireland.
PSNI Assistant Chief Constable Jonathan Roberts said 55 officers in total have been injured during rioting in recent days.
Clean up operation on Belfast's Shankill Road this morning as city council staff begin removing wreckage of bus hijacked last night @Rtenews pic.twitter.com/rjP9mgN3bw

— Vincent Kearney (@vincekearney) April 8, 2021
Mr Coveney said it is a time of "real tension" in Northern Ireland and political leaders need to respond by coming together rather than having a go at each other. 
"This needs to stop before somebody is killed or seriously injured," he said.
"These are scenes we haven't seen in Northern Ireland for a very long time, they are scenes that many people thought were consigned to history and I think there needs to be a collective effort to try to defuse tension."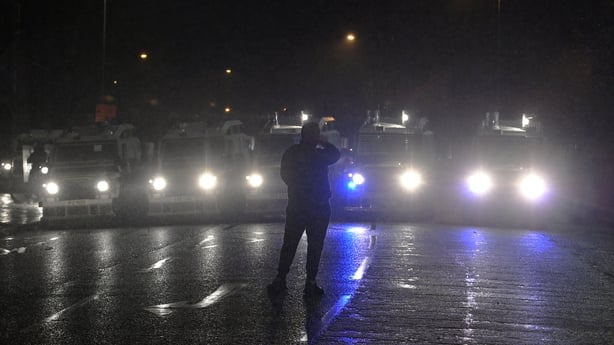 Mr Coveney said while a collective effort is needed, a statement from the Irish Government is not going to calm tension in many loyalist communities, but has "got to come from the unionist community".
"Obviously the Irish Government will play their part in doing that as best they can," he added.
We need your consent to load this rte-player contentWe use rte-player to manage extra content that can set cookies on your device and collect data about your activity. Please review their details and accept them to load the content.Manage Preferences
---
Read more:
Bus petrol-bombed in further Belfast violence 
---
"I think last night was one of the worst I've seen in a long time… this is anger that's been building up for a long time"

Shankill road man Ian Edwards says there is "real anger" in the loyalist community | More: https://t.co/fwyyL6DgDy pic.twitter.com/TDuPBylMrZ

— RTÉ News (@rtenews) April 8, 2021
He said that seeing attempts to incite a response at an interface area to try to spread the violence beyond the loyalist community into the nationalist community is worrying.
The unrest has been attributed to tension in loyalist communities over the Northern Ireland Protocol on Brexit and the PSNI's handling of alleged coronavirus regulation breaches by Sinn Féin politicians at the funeral last year of senior republican Bobby Storey.
Northern Ireland's Public Prosecution Service announced last week that it had decided not to prosecute 24 Sinn Féin politicians, including Deputy First Minister Michelle O'Neill, over their attendance at the funeral.
Unionists have accused the PSNI leadership of facilitating the funeral and the breaking of the law, and Northern Ireland First Minister and DUP leader Arlene Foster has called on Mr Byrne to resign.
DUP MP Gregory Campbell said he hopes that there will be a collective call for calm from political leaders and to dial down the rhetoric and give leadership to the community at this time.
Also speaking on Morning Ireland, he reiterated the DUP's lack of confidence in Mr Byrne, adding that the violence can and must stop whether or not the Chief Constable resigns. 
DUP MP Gregory Campbell tells RTÉ's @MorningIreland violence in Northern Ireland 'can and must stop whether or not the Chief Constable resigns, but the Chief Constable ultimately has got to fall on his sword' | https://t.co/Q3VAFmsKG1 pic.twitter.com/cgaB0LDyQ6

— RTÉ News (@rtenews) April 8, 2021
On Tuesday, Mrs Foster said she had no plans to speak to the Chief Constable, however, Mr Campbell said he believes she will meet him, but added she will be pointing out the "uncomfortable truth that there isn't confidence in his ability to impartially discharge his duties".
Police Federation chair Mark Lindsay said the officers injured last night sustained injuries to lower limbs and some concussion.
"Obviously my thoughts are with them this morning, but we're probably going to see some more injuries documented as the day goes on."
Mr Lindsay said the violence was "disturbing" and escalated a "couple of notches" from the disorder witnessed over previous days.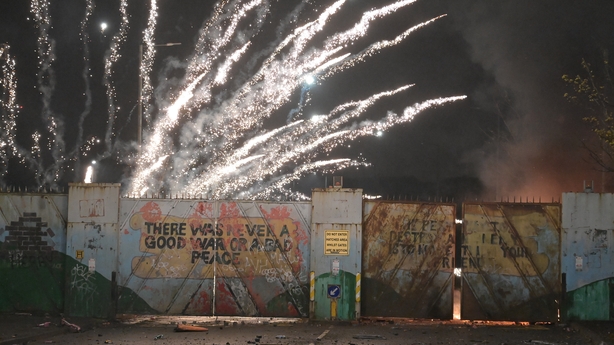 SDLP MP for South Belfast Claire Hanna said now is not a time for "finger pointing", but about bringing calm and clarity to Northern Ireland.
Speaking on RTÉ's Today with Philip Boucher Hayes programme, she said the sustained violence is designed to provoke a response, and a clear message needs to be given that lawlessness is wrong.
"There is an opportunity to take a grip and be honest and open with people about what needs to happen from here."
She said the conversation needs to be "reset" because of the worrying situation.
Speaking on the same programme, Progressive Unionist Party leader Billy Hutchinson called for "young people to desist in violence" in Northern Ireland.
He said the anger that has led to rioting and unrest stems "from a political problem which needs a political solution".
He called on unionist politicians in the North to "give the same single message".
"We don't want people to be hurt and we don't want young people to end up with criminal records."
Labour leader Alan Kelly described the statement as "dangerous, worrying and embarrassing all in one", and 
said it "encapsulates so much what the DUP priorities really are".
This tweet is dangerous, worrying & embarrassing all in one. Encapsulates so much what the @duponline priorities really are. https://t.co/f3et8C88YU

— Alan Kelly TD (@alankellylabour) April 7, 2021
The scenes of violence last night flooded social media and prompted Mr Johnson to appeal for calm.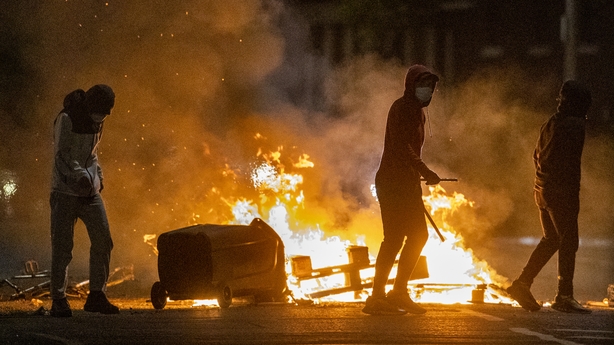 He tweeted: "I am deeply concerned by the scenes of violence in Northern Ireland, especially attacks on PSNI who are protecting the public and businesses, attacks on a bus driver and the assault of a journalist.
"The way to resolve differences is through dialogue, not violence or criminality." 
There have been fresh disturbances in Belfast, where police officers have come under attack from Loyalist youths in the Shankill Road area. A city bus was petrol bombed and hijacked and a press photographer was assaulted | Read more: https://t.co/RarqrMaDfX pic.twitter.com/8XZ6VXQd9T

— RTÉ News (@rtenews) April 7, 2021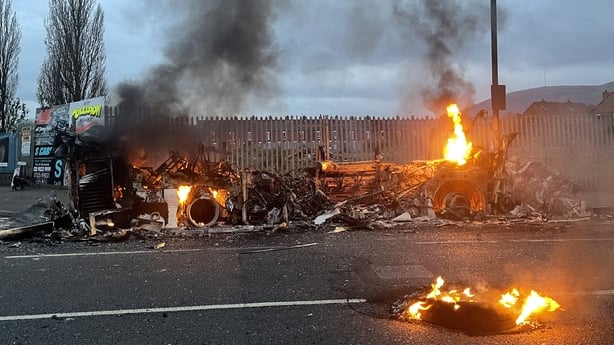 In an earlier, statement, the Taoiseach said the attacks yesterday evening on a journalist and a bus driver were "deeply concerning and in no one's interest".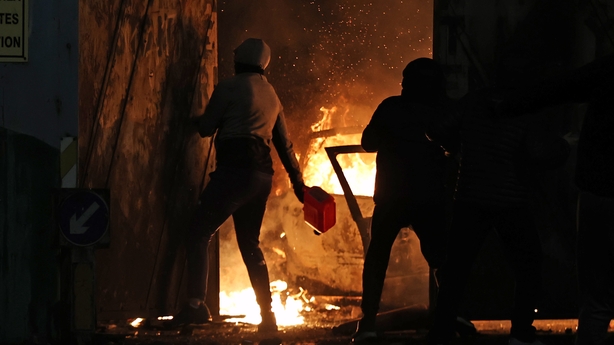 He said: "Now is the time for the two governments and leaders on all sides to work together to defuse tensions and restore calm.
"My Government has listened to and will continue to listen to and engage with the views of all communities in Northern Ireland. But the way to address genuine issues of concern is through peaceful and democratic means."
I utterly condemn the violent attacks on police, a journalist, and bus driver over recent days in The North.

Now is the time for the two Governments and leaders on all sides to work together to defuse tensions and restore calm.

— Micheál Martin (@MichealMartinTD) April 7, 2021
The European Commission has also called for an end to the violence in Northern Ireland.
Commission spokesman Eric Mamer told reporters in Brussels: "We of course condemn in the strongest possible terms the acts of violence that have occurred in Northern Ireland over the past days.
"Nobody has anything to gain from this.
"We call on all those involved to refrain immediately from these violent acts."
Former Taoiseach Bertie Ahern has said political parties in Northern Ireland need to "get their act together strongly" to stop the violence.
Speaking on RTÉ's Today with Philip Boucher Hayes he also said the Irish and British governments should hold a meeting as part of efforts to address the unrest.
He said a meeting should happen at leaders level between British and Irish governments as they are the co-guarantors of the Good Friday Agreement.
He said while both have issued statements on the violence, he believes "proper discussions" would help.
Mr Ahern said actions need to happen on a number of fronts to deal with the current unrest. 
He said the parties in the North need to come together and not only condemn the violence but find a pathway forward.
"Parties need to dial it down fairly fast and work together."
Meanwhile, the Northern Ireland Press Photographers Association (NIPPA) has condemned the attack on photojournalist Kevin Scott.
Mr Scott, visuals editor at the Belfast Telegraph, was assaulted and verbally abused by two masked men during the course of his work while covering the riots in west Belfast last night.
NIPPA chairman Liam McBurney said: "Our members want to send solidarity to Kevin Scott and condemn his cowardly attackers in the strongest possible terms.
"An attack on one of us is an attack on us all. Those behind this assault did so in the hope of silencing a hard-working journalist and hiding their own actions from the world.
"Any attempts to prevent journalists from doing their job are completely unacceptable. It has not worked in the past and it will not succeed now."