Northern Ireland's Deputy First Minister Michelle O'Neill will not be prosecuted for alleged breaches of Covid-19 restrictions at the funeral of senior republican Bobby Storey in west Belfast last summer.
The Sinn Féin vice president was one of 24 people interviewed as part of a police investigation into the conduct of the funeral. 
The decision not to initiate legal proceedings against any of them has been announced by Northern Ireland's Public Prosecution Service. 
Others interviewed during the five-month police investigation included Stormont's Finance Minister Conor Murphy. 
An estimated 2,000 people attended the funeral last June, when coronavirus regulations limited public gatherings to 30 people. 
Ms O'Neill has consistently said she did not breach public health guidelines, but did accept that the attendance of such a large crowd had undermined public health messaging on combating coronavirus. 
She said she would never apologise for attending the funeral of her friend, but regretted the controversy it caused.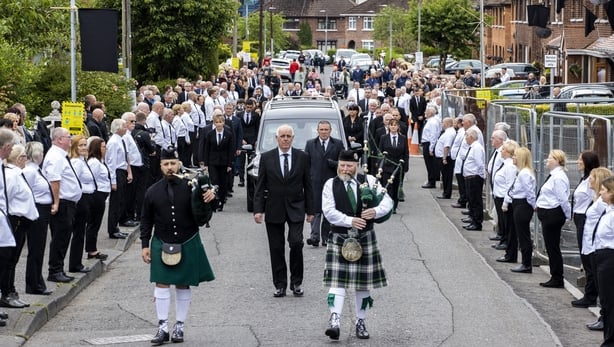 In a statement explaining the decision not to initiate legal proceedings, Director of Public Prosecutions Stephen Herron pointed out that by the time of the funeral, the original Covid-19 regulations of March 2020 had been amended on nine separate occasions.
He said organisers and police had "engaged" about the regulations "in an attempt to ensure that a balance was struck in the funeral arrangements between respecting the sensitivity of the occasion and minimising any risk to both public health and safety". 
He added: "Prosecutions can only be brought where the available evidence provides a reasonable prospect of proving, beyond reasonable doubt, a breach of the criminal law. 
"As a result of the factors considered we have concluded that the prosecution could not prove any breach of the regulations to the required standard.
"Whether considered alone or in combination, the two reasons outlined - that is the lack of clarity and coherence within the regulations and the prior engagement between organisers and police - would pose an insurmountable difficulty if any of the reported individuals were prosecuted. 
"This is because they could all avail of a defence of reasonable excuse in terms of their actual or reasonably perceived compliance with a complex set of regulations and/or their reliance on the prior engagement with PSNI. 
"The law as it applied to the Storey funeral was changed significantly on the evening before the funeral and further amended two days later." 
We need your consent to load this rte-player contentWe use rte-player to manage extra content that can set cookies on your device and collect data about your activity. Please review their details and accept them to load the content.Manage Preferences
PSNI recommended prosecution of Sinn Féin representatives
The PSNI has revealed that it recommended the prosecution of the 24 Sinn Féin elected representatives who attended the funeral.
In a statement, Chief Constable Simon Byrne made it clear that he did not agree with the decision not to initiate legal action.
"The PPS decision points to the ambiguity and changing nature of the Coronavirus Regulations in force immediately before and on the day of the funeral which, in their view alone, amounted to an insurmountable hurdle to a successful prosecution," he said in a statement.
He added that police "reported 24 people to the PPS with a recommendation for prosecution".
The Chief Constable welcomed a PPS finding that while police officers engaged with funeral organisers, they did not enter any agreement that there would not be prosecutions for any breaches of guidelines.
Mr Byrne added: "The decision not to prosecute does not change our view that what happened last summer when large numbers of people chose not to 'stay at home' at the height of a global pandemic was unnecessary, irresponsible and insensitive. It was wrong."
Chief Constable's position 'untenable' - Foster 
Northern Ireland's First Minister Arlene Foster said the position of the PSNI chief constable is "untenable" following the Public Prosecution Service decision.
In a statement the DUP leader said the organisation, attendance, policing and investigation of the Storey funeral "raise fundamental questions which require deeper examination if public confidence in the institutions of justice is to be maintained".
"Everyone must be equal under the law and equally subject to the law," she said.
"Sinn Féin have acted as though they were above the law. To claim ignorance of the law is no defence when you helped legislate those very same regulations. Hundreds lined the streets dressed in white shirts and black ties and attended a political rally in Milltown Cemetery when the limit on public gatherings was 30.
"There was a complete lapse of leadership and a public display of arrogance by Sinn Féin's elected representatives. Public health rules were undermined and irreparably damaged."
Mrs Foster said the engagement between police and the funeral organisers was a factor in no prosecution being made.
"If any senior officer is identified as having approved of or contributed to that decision-making process, then all those senior officers' positions are untenable. The position of the Chief Constable is now untenable and I am calling on him to resign. Sadly, it is now clear confidence cannot be rebuilt with him in post." 
The @PoliceServiceNI chief Constable @ChiefConPSNI Simon Byrne says he will not be resigning after call from @DUPleader Arlene Foster for him to step down + that to do so would undermine the organisation @rtenews pic.twitter.com/8QxPKRlEFZ

— Vincent Kearney (@vincekearney) March 30, 2021
Sinn Féin leader Mary Lou McDonald and former leader Gerry Adams also attended the funeral, but police did not seek to interview them. 
Ms McDonald later said she accepted that she and Ms O'Neill should not have attended the funeral. 
While the alleged offences are relatively minor and normally punishable by a fine, there were serious political consequences, with the other parties in the Stormont Executive accusing Sinn Féin of hypocrisy.