A large crowd of mourners gathered in west Belfast today for the funeral of veteran republican Bobby Storey.
The former leading IRA member died last week aged 64 following an unsuccessful lung transplant.
A native of North Belfast, he served two decades in prison for IRA offences and led the breakout from the Maze Prison in September 1983.
He was a leading member of Sinn Féin for the past 20 years.
Sinn Féin leader Mary Lou McDonald, along with deputy leader Michelle O'Neill and former leader Gerry Adams were among hundreds in the Andersonstown Road area as the cortege left Mr Storey's home and travelled to St Agnes' church.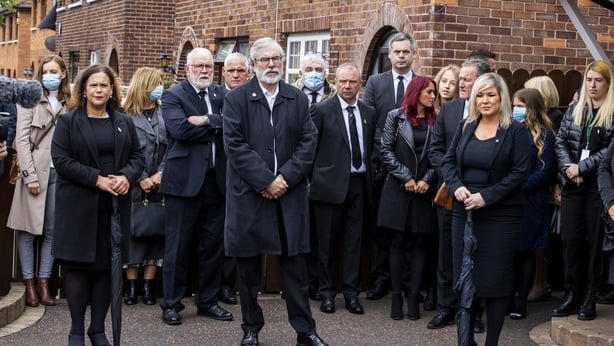 Mr Storey was a highly influential presence within his community throughout the Troubles and subsequent peace process.
Stormont finance minister Conor Murphy, North Belfast MLA Gerry Kelly and Donegal TD Pearse Doherty were among other high-profile Sinn Féin figures who attended.
Former Sinn Féin MEP and current Foyle MLA Martina Anderson was part of a guard of honour formed for Mr Storey outside the church.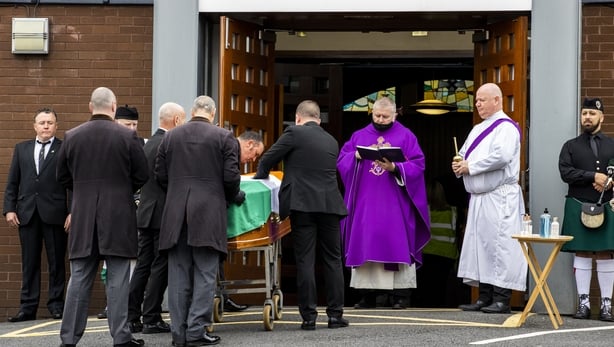 Mr Storey spent more than 20 years in prison during the Troubles.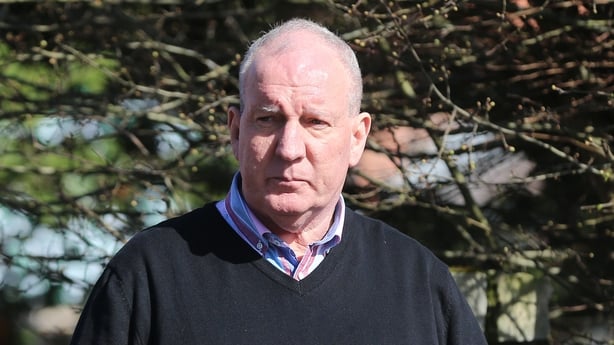 He was sentenced to 18 years for possession of a rifle in 1981 and also spent several periods behind bars remanded on other charges.
As a teenager, he had been interned without charge.
Mary Lou McDonald described him as a "champion of the peace process".
"Bobby was extremely committed to the pursuit of a United Ireland with equality and social justice for all," she said.
This afternoon, thousands of people attended a commemorative ceremony at Milltown Cemetery in Belfast where Gerry Adams delivered the oration at the Republican plot there.
Bobby Storey is survived by his partner, Theresa, their children and grandchildren.
We need your consent to load this rte-player contentWe use rte-player to manage extra content that can set cookies on your device and collect data about your activity. Please review their details and accept them to load the content.Manage Preferences
Meanwhile, senior Sinn Féin figures are being criticised for participating in commemoration ceremonies in Belfast, attended by thousands of people, despite the pandemic emergency restrictions.
Stormont's health minister has expressed concern about a potential "breakdown" in social distancing guidance in relation to Bobby Storey's funeral.
Robin Swann was asked about the funeral in west Belfast, and the attendance of Sinn Féin members, during an appearance before the Assembly's Health Committee this afternoon.
"I have concerns in regards to a breakdown, or people failing to observe the guidance that the Executive has given collectively over the past 14 weeks," he replied.
"My concern is that if there's anything that undermines the general public's confidence in the guidance that's coming out from the Executive, from the members of this health committee ... anything that undermines that advice and guidance does concern me."
"There's no person, there's no point of privilege that puts anyone above the guidance," he said.
Stewards wearing white shirts and black ties were on duty along the route but efforts to practice social distancing restrictions failed.
Sinn Féin's Deputy First Minister in the Stormont Executive, Michelle O'Neill, her Executive colleague, Conor Murphy and several Assembly members and Westminster MPs attended.
The party president, Mary Lou McDonald and a number of Sinn Féin TD's including Pearse Doherty, Rose Conway-Walsh, Matt Carthy and Ruairí Ó Murchú crossed the border to join the mourners.
In a tweet Northern Ireland's Justice Minister and Alliance Party leader Naomi Long said "many families have endured burying a loved one alone, to help save lives.When others ignore the rules, that compounds their hurt and pain. And when those who make the rules break the rules, it is more hurtful still for all who make huge sacrifices to obey the regulations".
When asked about what happened Northern Ireland's Health Minister, Robin Swann, said no-one is exempt from the regulations.
The PSNI said it would review footage of the funeral and consider any suspected breaches of the Health Protection (Coronavirus Restrictions) Regulations NI 2020.
The recently updated Northern Ireland guidelines advise an increase in the size of a funeral party to a maximum of 30 people. 
In recent months, a number of times Sinn Féin ministers urged caution and referred to the scientific advice when a number of sectors sought to ease some of the social distancing regulations.
The DUP Leader and Northern Ireland First Minister, Arlene Foster and Deputy First Minister, Sinn Féin's Michelle O'Neill are due to answer questions at an Executive Office Committee meeting at 2pm tomorrow.
It is expected that the West Belfast funeral controversy will be raised.
Current guidance from the Northern Ireland Executive states funerals should be private up to a maximum of 10 people, including members of the person's household and close family members.
Mr Swann has said: "I am concerned with what I saw in west Belfast. We cannot afford any part of Northern Ireland to become another Leicester - where we have to look at regional lockdowns. In regards to a breach, I believe the PSNI have been asked to investigate that."