Northern Ireland's First Minister has reiterated her call for the Chief Constable of the PSNI to resign, while also repeating her call for an end to attacks on police officers.
Ten people have been arrested and 41 police officers injured in rioting in recents days in Belfast, Derry and Co Antrim.
The DUP leader said she has spoken to Mark Lindsay, chair of the Police Federation, which represents rank-and-file officers.
"I felt it was very important that I expressed to him my outrage that 41 of his officers have been the subject of violence and Injury," she told a press conference in Co Fermanagh.
"I just wanted him to know that I stand foursquare with those officers."
But Ms Foster said she has no plans to speak to Chief Constable Simon Byrne, who she last week said should resign.
She made that call after a decision not to prosecute 24 Sinn Féin politicians, including Deputy First Minister Michelle O'Neill, for alleged breaches of Covid-19 regulations at the funeral of senior republican Bobby Storey in west Belfast last June.
Unionists have accused the PSNI leadership of facilitating the funeral and the breaking of the law.
"No, I won't be meeting the Chief Constable, I think the Chief Constable needs to resign, and I think he needs to resign very quickly," the DUP leader said.
"He needs to take responsibility for the actions that were taken by his senior command team because confidence has gone in his leadership, and I think confidence has gone in the senior management team actually.
"And when I think of all those officers out facing the violence over the past few nights I really feel for them, because their leadership team has let them down, and let them learn really badly."
We need your consent to load this rte-player contentWe use rte-player to manage extra content that can set cookies on your device and collect data about your activity. Please review their details and accept them to load the content.Manage Preferences
The First Minister rejected claims that she and her party had undermined the police and the rule of law.
"I think the Chief Constable undermined himself by agreeing to allow a funeral and political rally to take place for what can only be described as an elite bunch of people, Sinn Féin.
"There now seems to be a special category for Sinn Féin politicians, so that they can do what they're like and the rest of us all have to abide by the rules, not wrong, that's very, very wrong, and it needs to be called out."
Ms Foster said those involved in the violence were hurting their own communities, and their own future prospects.
"It has to stop, and it has to stop immediately," she said.
"If the rule of law is to mean anything, it is that everybody is equal under the law and everybody has to be equally subject to the law.
"So I say to young people who are angry at this moment in time, 'Do not get yourself a criminal record, it will blight your life for the rest of your life. You won't be able to go on holiday where you place to go.'
"So please, please, desist from this violence, there is a better way and the way through politics."
It comes as the Stormont Assembly is set to be recalled for an emergency debate following the violence and disorder.
Alliance Party leader Naomi Long had called for MLAs to debate a motion condemning the recent attacks on police in loyalist areas.
The party secured the required support of 30 MLAs for the Assembly to be recalled from Easter recess, with a sitting likely to take place on Thursday.
Nine officers were injured in Ballymena overnight, taking to 41 the number injured in disorder across Northern Ireland since Friday night.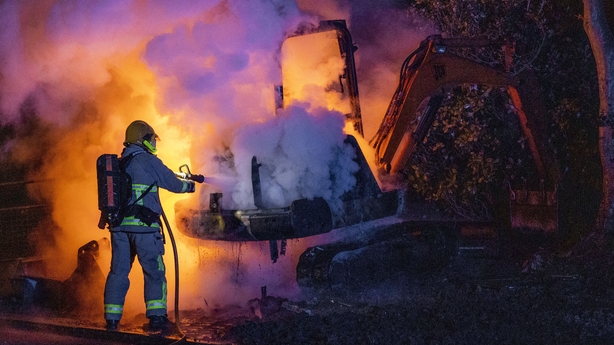 During the unrest, debris, including a wheelie bin, was thrown onto the M2 motorway, forcing its closure.
Disorder also flared in parts of Carrickfergus, Newtownabbey and Derry yesterday, with petrol bombs and other missiles thrown at officers.
The violence comes amid soaring tensions within the loyalist community over post-Brexit trading arrangements, which have created new regulatory and customs barriers between Northern Ireland and the rest of the UK.
Anger ramped up further last week following a decision not to prosecute 24 Sinn Féin politicians for attending a large-scale republican funeral during Covid-19 restrictions.
All the main unionist parties have demanded the resignation of Chief Constable Byrne, claiming he has lost the confidence of their community.
Children as young as 12 have been involved in some of the violence that has been witnessed in recent days.
Cars, a JCB digger, a phone box and bins were set alight in the Waterside area of Derry yesterday.
Police said that a brick was thrown at a taxi, which was carrying a passenger at the time, on the Limavady Road.
Officers from the PSNI Tactical Support Group (TSG) attended the loyalist Nelson Drive Estate, where a group of youths clashed with police.
The surrounding roads were blocked with fires and barricades. It marked the seventh night police came under attack in Derry.
Additional reporting: PA