A Dublin designer has landed a collaboration with Lego after he came to the attention of the toy giant for building replicas of Dublin pubs. 
Gianni Clifford started building miniature versions of pubs a year and a half ago in his spare time and developed the interest during Covid-19 lockdowns.
What started as a Lego ode to his favourite watering holes has led to the development of an online business, projects with a number of artists and engagement with the Lego corporation.
He has immortalised some of Dublin's best-known bars in the famous plastic bricks, including the Long Hall, Grogans and the Lord Edward.
"I've always been a big fan of Lego, and I've constantly been building, I obviously started when I was a kid.
"About a year and a half ago I built The Long Hall on George's Street. I really enjoyed doing that and afterwards I kind of thought to myself what what kind of custom build what I do next. It was a no brainer. I was able to combine two things I love a lot - Dublin and Lego".
But why the focus on Dublin pubs? 
"It's obviously something we're all particularly missing now. I think pubs symbolise a lot, they symbolise the place where you go and meet your friends.
"And I think I speak for myself and many others probably, in that I would do anything to be in a pub and see some of those friends and have some hugs and some cheers as well."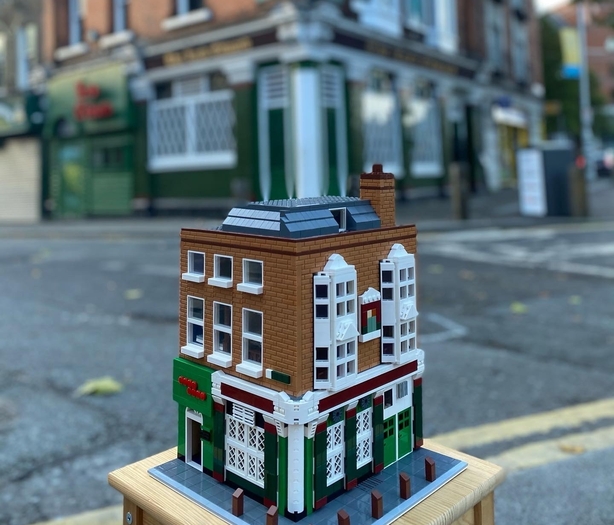 Thousands of bricks and hundreds of hours went into the building of the bars which also include O'Connell's in Portobello, the Harold House in Harold's Cross, The Big Romance, The Bernard Shaw and Anseo. 
Leo Burdocks chipper and Green 19 restaurant, complete with replica flower sellers outside, also form part of the miniature Dublin streetscape. 
Inside the pubs also have some of their unique features, such as DJ decks in the Bernard Shaw, a dart board in the Harold House, a toastie in Grogans and there are also some replica packets of Tayto. 
Gianni has now moved on replicating other Dublin icons such as the Poolbeg towers and the first floor of the National History Museum, and has established a company called Dublin Bricks which he used to display and sell Lego collections. 
I was able to combine two things I love a lot - Dublin and Lego
But the project has always been about the love of Lego and a way to get through lockdowns. 
"It's the sense of kind of escapism it gives you. I think it's a really, really positive thing. I'm fortunate to have a job that I really enjoy but even at the end of the day, you need a break at the weekends.
"To be able to do a hobby like this, where you're being creative, you're trying to figure some things out but you're also getting a lot of escapism from your day to day.
"It's really positive and it's definitely a positive towards mental health and being able to get that separation."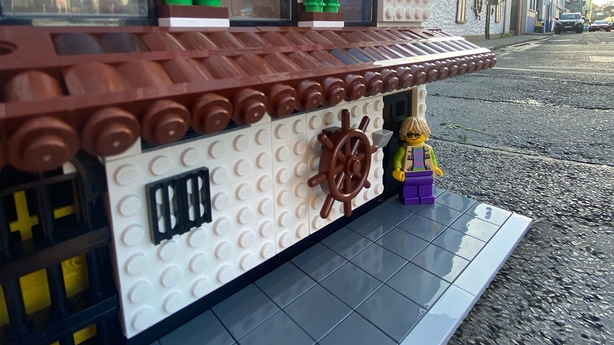 One of those immortalised in Lego was Shay Duignan, the owner of the Hacienda Bar on Little Mary Street off Capel Street.
Shay, who has had his doors closed since last March, said he was honoured to have been among those featured in the creation
"He got absolutely everything in. From the wheels, to the wrought irons, to the flowers. Everything was perfect and I was really honoured that he should do such a fantastic job."
Lego Shay sports the same blonde hair, sunglasses and colourful attire worn by the Hacienda's proprietor. 
Asked if it did him justice, Shay replied: "I actually think he made me look too well."