The Government is to impose a 48-hour ban on flights from Britain following fears over the spread of a new strain of Covid-19, while ferries will be limited to freight travel.
The move was agreed by the three coalition party leaders who held discussions this afternoon, and an announcement was made by Minister for Transport Eamon Ryan this evening.
The ban is in place for tomorrow and Tuesday and the measures will be reviewed by the Cabinet on Tuesday.
Ferry crossings between Ireland and the UK will continue in order to keep essential supply chains moving.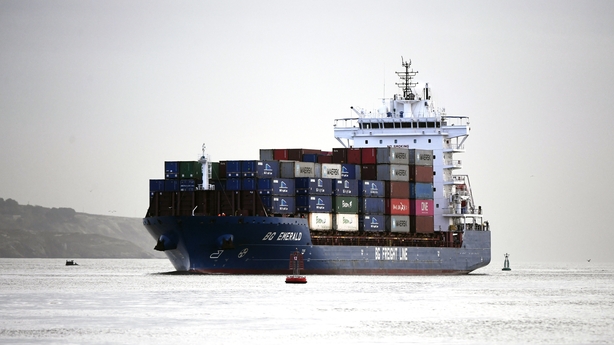 In a statement, the Government said: "Ministers have engaged with the UK authorities and the Department of Transport has advised airlines of the ban.
"There will be close coordination with the Northern Ireland authorities as these arrangements are put in place."
Arrangements are being put in place to facilitate the repatriation of Irish residents on short trips to the UK and planning to return in the coming days, as well as international travellers to Ireland who are transiting through the UK.
We need your consent to load this rte-player contentWe use rte-player to manage extra content that can set cookies on your device and collect data about your activity. Please review their details and accept them to load the content.Manage Preferences
Speaking at Government Buildings in Dublin today, Mr Ryan said: "We need haulage coming in to keep our shelves full but other passengers will be restricted.
"I talked to the UK minister this morning and have been talking throughout the day with the Taoiseach (Micheál Martin) and the Tánaiste (Leo Varadkar), the health minister, foreign affairs minister and others involved.
"We have to do this because the UK government themselves has put in place very strict restrictions on movements.
"This new strain of coronavirus, which they have identified, seems to have a much higher transmission rate.
"We have put it [ban] in place for 48 hours but there will be changing developments, we will assess how it works and how we manage it from there.
"It's not as if after 48 hours there will be a loosening but it's right to do it on a phased, test basis to restrict traffic now on a precautionary principle and then review it in 48 hours' time," said Mr Ryan.
Aer Lingus, Ryanair offering refunds or 'free moves' over cancelled flights
In a statement released this evening, Aer Lingus said it "will not operate flights from the UK to the Republic of Ireland" tomorrow or on Tuesday.
However, Aer Lingus said it "is operating flights from the Republic of Ireland to the UK in order to facilitate the repatriation of customers to the UK and [for] those with connecting flights in the UK".
"Customers whose flights have been cancelled will be contacted by Aer Lingus directly, and are entitled to a refund, voucher or rerouting at a later date," said Aer Lingus.
Ryanair said: "All affected customers will receive an email notification and they will be offered practical alternatives including free moves or refunds if they so wish.
"In the case of all other flights to/from the UK which are permitted to fly, Ryanair will operate these flights to facilitate all passengers who need to travel for business reasons, and are booked on them or wish to move to these flights.
"If any such passengers (booked on operating flights) do not wish to travel during the next five days prior to Christmas, then Ryanair will facilitate a free move of their booking to any date up to 15 March."
The daa is advising all passengers to check the latest flight information with their airlines before travelling to the airport. 
A spokesperson from Stena Line said that the last ferry to carry passengers from the UK to Ireland for the next couple of days left from Holyhead at 8.30pm. 329 passengers were booked to travel on the sailing. 
Passengers affected by cancellations will be refunded, said the spokesperson.
The spokesperson confirmed that essential supply chain workers, including maritime workers and truck drivers, may continue to travel by ferry and that services would continue to carry freight. 
A spokesperson for Irish Ferries said that it is continuing to liaise with the Department of Transport this evening, and advised customers to contact it directly.
A number of European countries have also announced bans on passenger flights from Britain.
An emergency meeting of the Stormont Executive to discuss implications of the new variant of Covid-19 is taking place tonight.
Earlier, Minister for Health Stephen Donnelly said everything needed to be done in order to protect the health service.
Speaking on RTÉ's This Week programme, Mr Donnelly said that Irish people who cannot come from the UK due to the new restrictions are in an awful situation.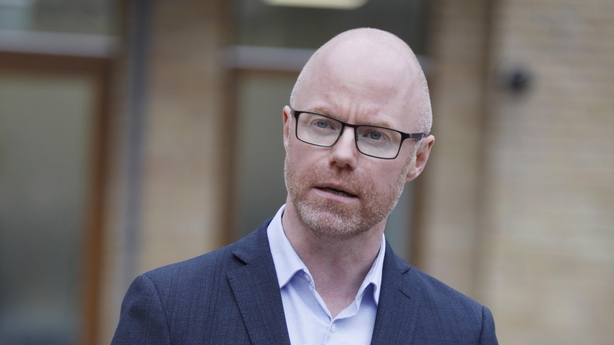 Mr Donnelly said the vast majority of Irish people abroad had decided not to travel due to the virus, but a small number had planned to come home and he said his "heart went out to them".
He said the Government was taking the situation very seriously, as the new strain is up to 70% more transmissible.
Sinn Féin's Lynn Boylan said: "Instead of a flight ban we need to fix what we haven't actually done in the pandemic which is monitoring people coming into the country and having proper contact tracing and testing as opposed to what it is.
"I think we need to have a system where people are going to restrict their movements and they are followed up.
"It is a huge concern about people coming home from Britain over Christmas and if they are carrying that strain.
"I find it more concerning that we've had nearly a year now and never actually cracked that nut of tracking the people coming in and leaving the country," said Ms Boylan.
---
Read more:
New Covid-19 strain 'out of control' in UK, says Hancock
Q&A - What is the new coronavirus variant?
---
The Labour Party has said it supports the decision to suspend travel from Britain, but that it will be devastating for many families. 
It is calling on the Government to bring Tuesday's Cabinet meeting forward to give people clear guidance for the Christmas period.
The party's spokesperson on transport, Duncan Smith, said the latest developments show "the urgent need for mandatory Covid-19 testing at our airports and seaports for visitors arriving into Ireland over the coming days and weeks". 
The World Health Organization has said its members in Europe should strengthen measures against the new strain.
Outside Britain, nine cases of the new strain have been reported in Denmark, as well as one case in the Netherlands and another in Australia, according to the WHO.
"Across Europe, where transmission is intense and widespread, countries need to redouble their control and prevention approaches," a spokeswoman for WHO Europe said.
Additional reporting: PA, AFP