The Department of Health has confirmed 764 new cases of Covid-19, bringing the total number of cases to 79,542.
Four more deaths have occurred, bringing the total number of deaths to 2,158.
As of 2pm today, 233 Covid-19 patients are in hospital. The number of people in ICU is up one to 29.
Of the cases notified today, 403 are men and 355 are women, while 67% are under 45 years of age and the median age is 34 years old.
The breakdown of today's cases is: 284 in Dublin, 70 in Limerick, 52 in Donegal, 44 in Cork, 37 in Wexford and the remaining 277 cases are spread across another 20 counties.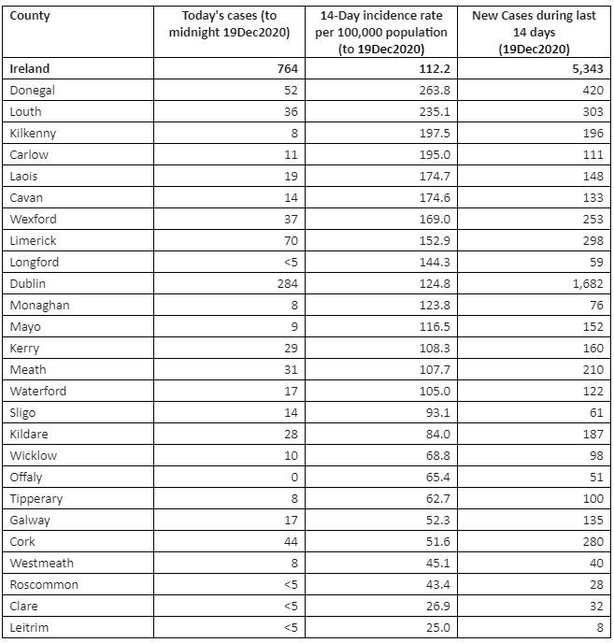 Chief Medical Officer Dr Tony Holohan said: "Every indicator of disease severity is moving in the wrong direction, more rapidly than we had anticipated.
"We have particularly strong concerns about the prospect of inter-generational mixing around the festive season.
"On 11 December, the seven-day incidence rate for people aged 19-44 was 106 per 100,000 population, by yesterday this rate had more than doubled to 217 per 100,000.
"If you have been socialising in the past few weeks or over this weekend, consider your Christmas plans carefully.
"Is it responsible to meet with your family over 65 later this week, if you have not kept your contacts low? Should you cancel your plans?
"As difficult as it may seem, staying away from older family this Christmas will protect them."
Dr Holohan's comments come as the Government imposes a ban on all flights and many ferry services from Britain following fears over the spread of a new strain of Covid-19 in parts of England.
Earlier, he asked people to cut down their contacts and avoid crowds as we enter Christmas week, saying they should "stay away from pubs and restaurants".
Cases rising quickly. We have low cases and deaths compared to EU/UK/US. This is at risk now- just as vaccines arrive. To protect yourself & those you love: Stay home. Don't meet up. Stay away from restaurants/pubs. Avoid crowds. Use masks. Follow health advice. @roinnslainte

— Dr Tony Holohan (@CMOIreland) December 20, 2020
Hospitals must be protected, says Donnelly
Minister for Health Stephen Donnelly has said that everything needed to be done to ensure that hospitals were protected.
Speaking on RTÉ's This Week programme, Mr Donnelly said nothing was inevitable, but he would be "pleasantly surprised" if the new strain was not in the country given the amount of travel that has taken place.
However, he said there have been no positive tests indicating the strain from the National Virus Reference Laboratory.
The minister also said it was the right thing to do to take the weekend to consider the advice from NPHET on an earlier end to the eased Christmas restrictions.
He said the Government had more information now to take into consideration, which had given them a better understanding about the situation.
Mr Donnelly said he understood that businesses wanted clarity around the measures for Christmas, but that there were unfortunately a lot of variables to consider when it comes to the virus.
He said regardless of any specific measure, the unambiguous message for people around Christmas was for people to reduce their social contacts.
Britain's Health Secretary has said that the new variant coronavirus is "out of control" as a series of strict measures to slow the spread of the virus have come into effect in parts of Britain.
New strain may be in Ireland, says Prof O'Neill
A leading immunologist has said the new strain of Covid-19 may already be in Ireland in small numbers.
Speaking to RTÉ News, Professor Luke O'Neill said the new strain of the virus emerged in September, and so has been circulating for a few months.
He said the good news is that the new strain is not making people any sicker than the normal one, and that the vaccines should protect against it as they would against the usual strain.
Prof O'Neill said the main concern regarding the new strain lies in that it spreads more readily and is more transmissible.
When asked about the rolling back of the newly eased restrictions towards the New Year and how effective they would be in stemming the rise in cases, Prof O'Neill said "it would help" and it was necessary given the numbers.
He said: "The central message is to limit your contacts with people, that's the number one message in the coming days, especially if you're having Christmas with a vulnerable person, such as your grandparents.
"Be really careful in the coming days, because you might pick up the virus tomorrow, say shopping somewhere, you may bring it to your home on Christmas Day."
Additional reporting Sinéad Crowley and Mary Regan
---