Britain's Health Secretary has said the new variant coronavirus is "out of control" and that he is "really worried" about how the country's health service will cope.
Matt Hancock said the UK faces an "enormous challenge" controlling the new strain after scientists found it was able to spread more rapidly.
"It is out of control and we need to bring it under control," he told BBC1's The Andrew Marr Show.
"I am really worried about the NHS. There are currently just over 18,000 in NHS hospitals with coronavirus.
"That is only just below the number there were at the first peak. It is another reason why everybody needs to follow the new rules and take that personal responsibility."
A series of strict measures to try to slow the spread of the new strain of Covid-19 have come into effect in parts of Britain.
London and much of south-east England, as well as all of Wales, have entered a new Tier 4 set of restrictions.
Movement into and out of these areas has been restricted and foreign travel for all, but work reasons is effectively banned.
Scotland has also banned all travel into and out of the country from other parts of the UK, with police doubling their presence along the border.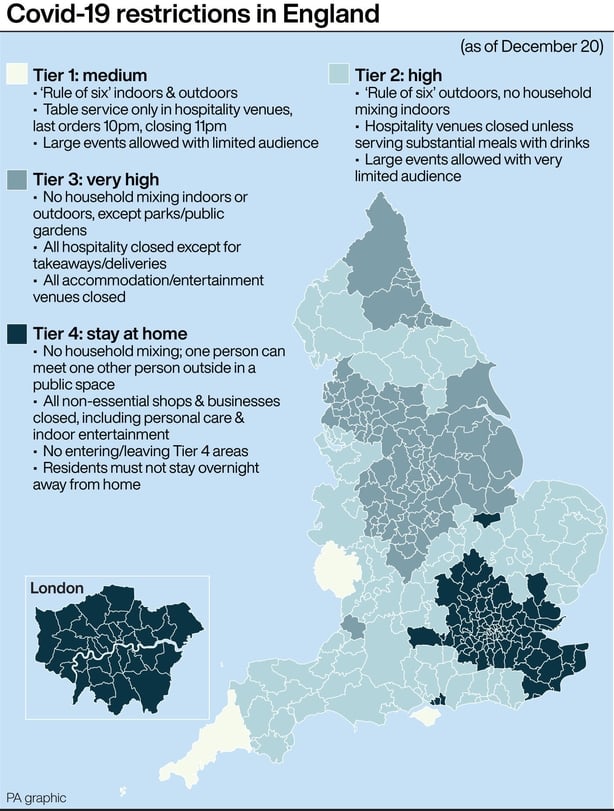 In Northern Ireland, an emergency meeting of the Stormont Executive to discuss implications of the more aggressive variant of Covid-19 will take place late tonight.
Scotland and Wales are restricting Christmas "bubbles" to a single day, while people in Northern Ireland have been asked to consider forming a bubble for Christmas Day only.
Wales has also mirrored the Tier 4 restrictions in England by bringing forward tougher measures to today, while Scotland has said its travel ban with the rest of the UK will now remain in place right throughout the festive period.
Mr Hancock suggested that the additional restrictions for England announced by Boris Johnson yesterday may have to remain for "the next couple of months" while a vaccine is rolled out.
---
Read more: 
48-hour restriction on flights and ferries from Britain
Stormont to hold emergency meeting over new Covid strain
Q&A - What is the new coronavirus variant?
---
"What is really important is that people not only follow them (the new rules) but everybody in a Tier 4 area acts as if you have the virus to stop spreading it to other people," he told Sky News's Sophy Ridge on Sunday programme.
"We know with this new variant you can catch it more easily from a small amount of the virus being present.
"All of the different measures we have in place, we need more of them to control the spread of the new variant than we did to control the spread of the old variant. That is the fundamental problem.
"We know that because we know that in November that in the areas where this new variant started, in Kent, the cases carried on rising whereas in the rest of the country the November lockdown worked very effectively.
"It is an enormous challenge, until we can get the vaccine rolled out to protect people. This is what we face over the next couple of months."
#Marr: Is the coronavirus under control?

Health Secretary Matt Hancock: "No. It's not. The new variant is out of control"https://t.co/gxUy3acCro pic.twitter.com/IWYQ2fKVOW

— BBC Politics (@BBCPolitics) December 20, 2020
Mr Johnson effectively cancelled Christmas for almost 18 million people in London, south-eastern and eastern England as the region was put into a new two-week lockdown from today.
He said people should "lift a glass to those who aren't there", knowing that celebrating Christmas apart this year meant there would be "a better chance that they'll be there next year".
Under the new Tier 4 rules non-essential shops, as well as gyms, cinemas, casinos and hairdressers, have to stay shut and people are limited to meeting one other person from another household in an outdoor public space.
Those in Tier 4 were told they should not travel out of the region, while those outside were advised against visiting.
In the rest of England, Christmas easing has been severely curtailed, with households allowed to gather for just one day - Christmas Day itself - rather than the five days previously planned.
British Prime Minister Boris Johnson has announced new restrictions around Christmas as parts of England move to Tier 4. | https://t.co/rVZDlQqJgl pic.twitter.com/DSPAk0ejML

— RTÉ News (@rtenews) December 19, 2020
At a No 10 news conference yesterday, Mr Johnson said he was taking the actions with a "heavy heart", but the scientific evidence, suggesting the new strain was up to 70% more transmissible than the original variant, had left him with no choice.
The announcements prompted a rush to the London train stations and by 7pm on yesterday, there were no tickets available online from several London stations including Paddington, Kings Cross and Euston.
Footage posted on social media showed large crowds at St Pancras station waiting to board trains to Leeds.
If they didn't want this new variant to get out of London, it's just found a possible new route. It's called the train line to the East Midlands from St Pancras station tonight ... 👇 pic.twitter.com/hIPOMG7Bex

— Chris Ship (@chrisshipitv) December 19, 2020
The dramatic move came after scientists on the Government's New and Emerging Respiratory Virus Threats Advisory Group (Nervtag) concluded the mutant strain identified by the Public Health England laboratories at Porton Down was spreading more quickly.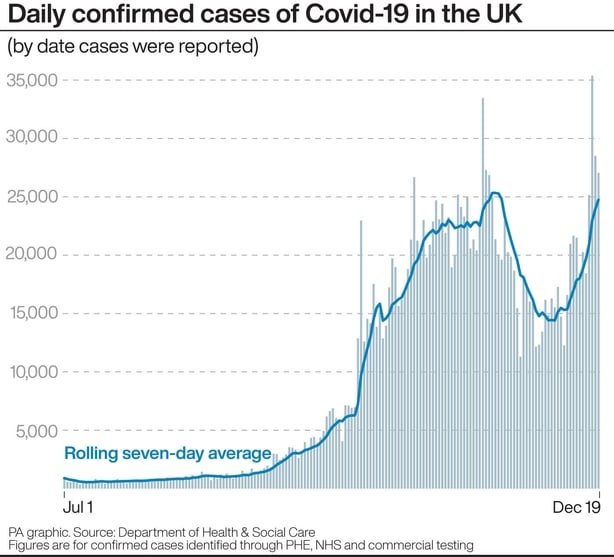 Patrick Vallance, the government's chief scientific adviser, said the new variant, known as VUI 202012/01, was thought to have originated in either London or Kent in September.
By November, it was accounting for 28% of new infections in the region and by early December that had risen to 60%.
"This new variant not only moves fast but it is becoming the dominant variant," he said.
He said, however, there was no evidence it causes a more severe illness than the original virus, while the "working assumption" of scientists was that the vaccines that had been developed should be able to deal with it.