The funeral of former SDLP leader and Nobel Laureate John Hume, the politician widely regarded as the most influential figure in the peace process, has been held in St Eugene's Cathedral in Derry.
President Michael D Higgins, Taoiseach Micheál Martin and Northern Ireland's first and deputy first ministers Arlene Foster and Michelle O'Neill were among the mourners at the requiem mass.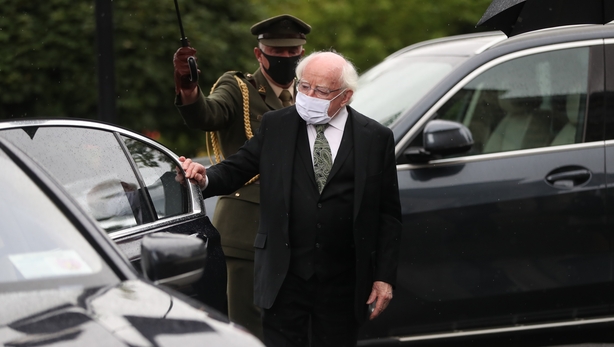 Thousands would have wished to pay their respects to Mr Hume, but at the request of his widow, Pat, and the family to adhere to Covid-19 restrictions, only small numbers attended the ceremony.
To comply with those measures one of Mr Hume's two sons, Aidan, did not return from the United States for the funeral but a poem written by him was read during the mass.
John Hume Junior addressed the congregation saying that summing up their father's life in a few minutes was not an easy task.
He said his dad made them "laugh, dream, think and sometimes look at him and scratch our heads in amazement.
"He also kept the Irish chocolate industry in healthy profits for many years. Yorkies, Crunchies, Creme Eggs, Double Deckers, Wispas, you name it, he loved them all.
"We often found it odd how a man with the intelligence to win a Nobel Prize could seriously believe that Crunchies were less fattening because they are full of air."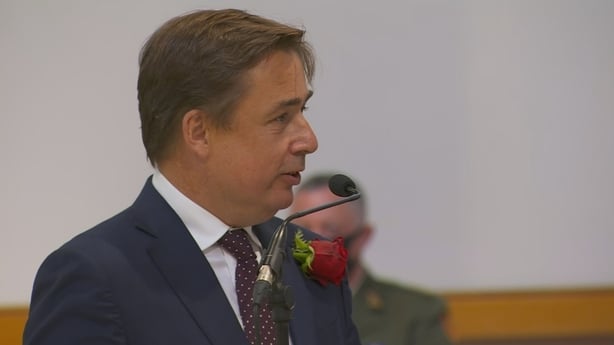 He told mourners that his father was a Derryman to his core.
"If dad were here today, in the fullness of his health, witnessing the current tensions in the world, he wouldn't waste the opportunity to say a few words.
"He'd talk about our common humanity, the need to respect diversity and difference, to protect and deepen democracy, to value education, and to place non-violence at the absolute centre.
"He might also stress the right to a living wage and a roof over your head, to decent healthcare and education."
We need your consent to load this rte-player contentWe use rte-player to manage extra content that can set cookies on your device and collect data about your activity. Please review their details and accept them to load the content.Manage Preferences
"For a man who supposedly had only one single transferable speech, dad did a lot of different things in his life," Mr Hume Jnr said.
John Hume Jr remembers his father as someone who 'did a lot of different things in his life'. If he were here today, he would speak about the need to respect diversity, to value education, a living wage and the right to healthcare and education. | Read: https://t.co/4qDT7erQyl pic.twitter.com/xi7RwQDoI8

— RTÉ News (@rtenews) August 5, 2020
He said that his father marrying his mother, Pat, was without doubt his greatest achievement. He said that she enabled him to reach his full potential.
He said along with his mother, his father taught his family their values and gave them all their moral compass and for that they would be forever in their debt.
One of Mr Hume's three daughters, Therese, and close political ally and friend, Mark Durkan, provided the readings.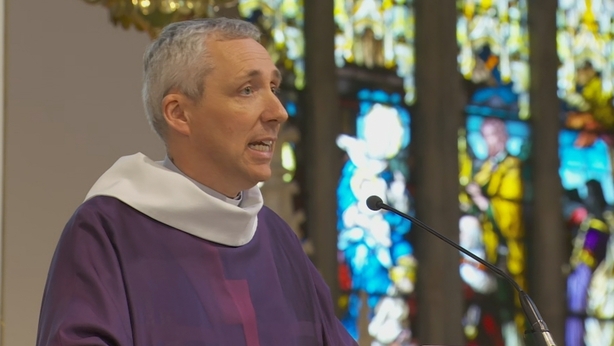 John Hume made peace visible for others even in the darkest moments, the administrator of St Eugene's Cathedral, Fr Paul Farren, said.
"He focused on unity and peace, and giving that dignity to every person.
"We should never underestimate how difficult it was for John to cross the road and do what was intensely unpopular for the greater good," Fr Farren said.
"Even in the darkest moments, when people would have been forgiven for having no hope, John made peace visible for others.
"His vision revealed what could be, and with time and determination and single-mindedness and stubbornness he convinced others that peace could be a reality.
"He never lost faith in peace and he never lost faith in his ability to convince others that peace was the only way.
"If ever you want to see a man who gave his life for his country, and his health, that man is John Hume. The world knows it."
Fr Farren paid tribute to John's children and grandchildren and said: "There is an old comment that says behind every good man there is a good woman. In Pat's case this is one quarter of the truth. Pat stood behind John to defend him and support him. 
"She stood beside him to love him and accompany him even in the most difficult times and when his health failed and his mind got weaker, she walked in front of him to lead him.
"Pat encircled John with love, compassion and support and it was your presence that made his work possible.  When the history of Ireland is written if Pat Hume's name is not beside John's it will be an incomplete history."
---
Read More:
People light candles for peace in tribute to John Hume
John Hume 'redefined' Irish nationalism, says Bruton
A politician blessed with all the gifts 
---
Pope Francis paid tribute to Mr Hume, in a message read out at the mass by Bishop of Derry Donal McKeown.
"His Holiness Pope Francis was saddened to learn of the death of John Hume, and sends the assurance of his prayers to his family and to all who mourn his loss.
"Mindful of the Christian faith that inspired John Hume's untiring efforts to promote dialogue, reconciliation and peace among the people of Northern Ireland, his Holiness commends his noble soul to the loving mercy of Almighty God."
"We were looking for a giant and found a man whose life made all our lives bigger"
A message from the Dalai Lama was also read out.
"I was pleased to be able to meet John during one of my several visits to Northern Ireland," he said.
"Indeed, his deep conviction in the power of dialogue and negotiations in resolving the problem in his homeland has been an example of non-violent resolution of issues.
"It was his leadership and his faith in the power of negotiations that enabled the 1998 Good Friday Agreement to be reached. His steady persistence set an example for all of us to follow.
"Although my fellow Nobel laureate is no longer with us, his message about peace and nonviolence in the resolution of conflict, no matter how protracted or difficult it may seem to be, will long survive him. He lived a truly meaningful life."
"He focused on unity and peace and giving that dignity to every person." 
Messages were also read from former US president Bill Clinton and British Prime Minister Boris Johnson.
A message from U2 singer Bono said: "We were looking for a giant and found a man whose life made all our lives bigger.
"We were looking for some superpowers and found clarity of thought, kindness and persistence.
"We were looking for revolution and found it in parish halls with tea and biscuits and late-night meetings under fluorescence.
"We were looking for a negotiator who understood that no-one wins unless everyone wins and that peace is the only victory.
"We were looking for joy and heard it in the song of a man who loved his town so well and his missus even more.
"We were looking for a great leader and found a great servant.
"We found John Hume."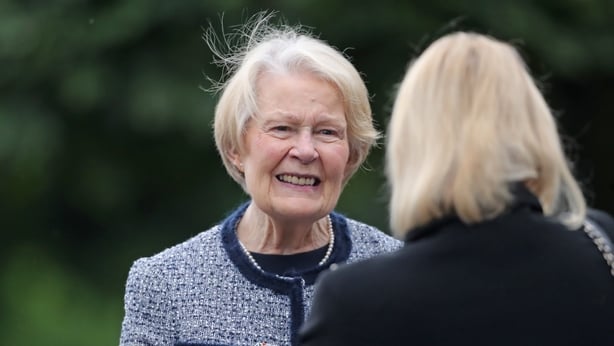 Also among the mourners was Derry musician Phil Coulter, who played 'The Town I Loved So Well' at the end of the service.
People gathered outside the church and applauded as his coffin left the church grounds and taken for burial. 
In 1998, John Hume and then UUP leader David Trimble were awarded the Nobel Peace Prize for their efforts to end violence in Northern Ireland.
In 2001, Mr Hume resigned as leader of the SDLP, citing ill health. He gave up his seat in Brussels in 2004 and at Westminster in 2005.