Former taoiseach John Bruton has said he will remember John Hume as "the man who redefined the goals of Irish nationalism" and removed the justification for violence.
Speaking on RTÉ's Morning Ireland, Mr Bruton said the former SDLP leader intellectually deconstructed the case that had been made for violence in the past so when he engaged with the IRA, it was his argument that prevailed and they came to recognise that their path of violence was "a cul de sac leading nowhere".
He said that at all times, Mr Hume was an advocate of solely peaceful methods and recognised the validity of the Irish Constitution.
Mr Bruton said that Mr Hume succeeded because he understood the importance of repetition and he succeeded by working out a coherent message that he repeated over and over again, and changed "not just the mind of Irish nationalists, not just the mind of the IRA but also the mind of Irish America''.
This is why all the forces came together to build the peace process, he said.
---
Read More: 
Hume family ask people to 'light a candle for peace'
A politician blessed with all the gifts
Finding a way out of the darkness was Hume's mission
Former SDLP leader and Nobel laureate John Hume dies 
---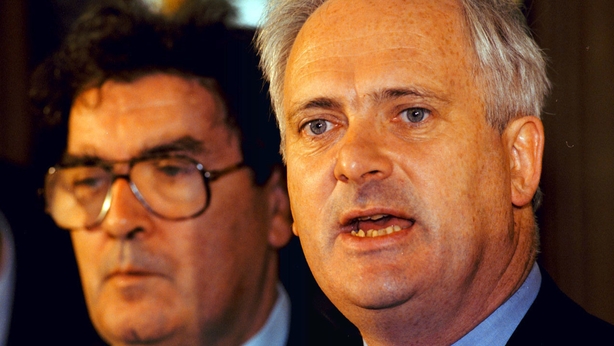 One of the founders of the Northern Ireland Women's Coalition, which took part in the Good Friday Agreement talks, said Mr Hume lit a candle "in so many different ways".
Professor Monica McWilliams said that when candles are lit tonight at 9pm, we must all remember "just how many candles he helped us to light along a very dark road".
Speaking on the same programme, the emeritus professor at Ulster University, said Mr Hume should be remembered for his inclusive spirit.
He reached out his hand to create peace when "others were reaching fists and worse, reaching guns", she said.
She said such a fight takes a toll on your health and it took a toll on his, describing him as a good, kind and funny man.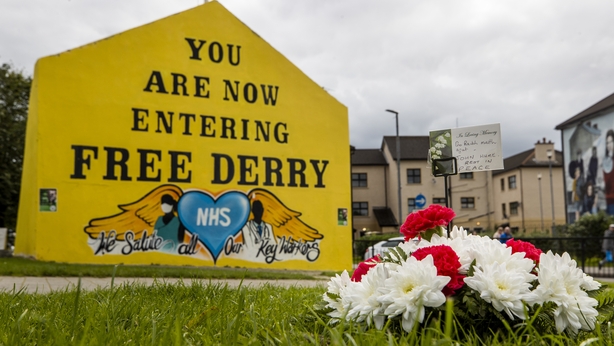 Prof McWilliams also said it was like second nature to Mr Hume to be called up to give a song on the stage in the White House, and "of course the Americans loved that".
She added that it must be remembered that Mr Hume was attacked, and not applauded, for the work he did and being in public life in Northern Ireland at the time meant your safety was in danger every day.
The changes we have now, we must hold on to, she said, adding that she admired him greatly and that every time she passes the Credit Union in Coleraine, she thinks of him.
John Hume's message of peace is still relevant to young people. That's what Jayden Nixon, aged 12, told @lisa_pereira outside the Guildhall in Derry.

And you can hear more from Jayden and others in @AengusCox reports from 7am.@rtenews @RTERadio1 @rtepolitics pic.twitter.com/Eo33mgNtR6

— Morning Ireland (@morningireland) August 3, 2020
Mr Hume founded Derry's Credit Union and went on to become national president of the Irish Credit Union movement aged 26.
Denis Bradley, a friend and former pupil of Mr Hume's, said the years of teaching served Mr Hume well because it taught him how to understand his audience and use language his audience could relate to.
Mr Bradley recalled how Mr Hume became very vulnerable in his later years and this endeared him to the people of Derry even more.
He said even when John Hume's memory became poor and he went walking around the town "he was as safe as anything" because he was one of the people of Derry and important to them.
Mr Bradley told RTÉ's Today with Sarah McInerney that sometimes we forget that politicians, no matter how important they are, are human beings.
He said the lighting of the candle tonight and a quiet reflection is almost another statement of the "decency of that whole family".
He added the fact that John Hume and his family never left their home on the Bogside, even when it was petrol bombed, added to his authenticity and gave him an authority when it comes to real change. 
Mr Bradley said sometimes we forgot those years when things were so difficult and violence dominated everything. When the important moment came, he said, John Hume's priority was for peace and the end of violence, while the IRA's was to look after the constituency of the IRA and ensuring the cause was not damaged.
Meanwhile, a founder member of the SDLP and former deputy leader, Bríd Rodgers, said Mr Hume always had a calming effect when he spoke and people listened to him.
She said he was inspirational and she remembered the calm, reasoned way that he debated with unionist politicians and "in a sense demolished them with almost a smile on his face".
Ms Rodgers said he was a man of immense talent who reached people. The big thing about John, she said, was that he was able to communicate simply and people trusted him.
'I lost a dear friend'
US Senator George Mitchell, who chaired the talks that led to the Good Friday Agreement, said Mr Hume was a great man and one of the great heroes of Irish history who was "rightly recognised as a fearless leader" and who devoted his life to the cause of peace in Northern Ireland.
Senator Mitchell said Mr Hume was well-known in the US and throughout Europe because he was a leader for peace through peaceful means who opposed violence from any side or any source.
"I lost a dear friend that I admired greatly," Mr Mitchell said.
Senator Mitchell said he believes one of the reasons Mr Hume will go down in history is because he conceived the architecture of the peace talks, which made it possible for the two sides to sit down and advance on all issues.
Mr Mitchell said Mr Hume was a visionary who could look into the future and see how the talks could be brought to a successful conclusion, which was "very hard to do, given the tremendous amount of violence, hostility and fear that existed at the time," he added.
He also said Mr Hume was a forceful leader who disagreed with him on several occasions but did not carry a grudge.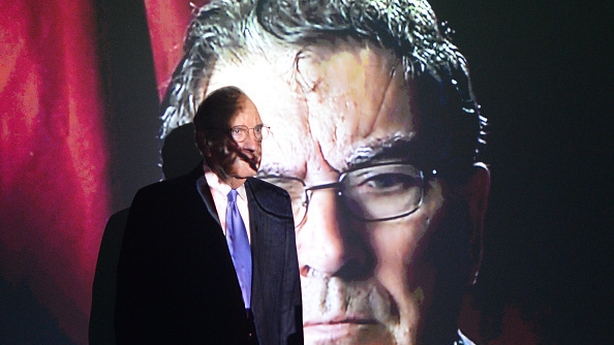 John Hume had a way of being able to banish the bad feelings that existed and bring a smile to your face, Mr Mitchell said, adding: "I couldn't tell you how many times I heard John sing the 'Town I Loved So Well'".
It was the combination of all of these effects of his personality that made him such a great leader, he said.
Former US Vice-President and Democratic presidential hopeful Joe Biden said Mr Hume committed his life to the principles of non-violence, and through his statesmanship and perseverance "helped bring Northern Ireland through the Troubles to a better tomorrow".
In a statement, Mr Biden said: "We have lost another great man of peace."
"He saw the power of political leadership to bring a divided people together around a common purpose, without which the Good Friday Agreement would never have come to pass," Mr Biden said.
US Secretary of State Mike Pompeo described Mr Hume as a leader "whose integrity and courage" played a crucial role in Northern Ireland's transition from violence to peace.
As a "central architect" of the Good Friday Agreeement, he said Mr Hume worked tirelessly to make the aspirations of "just and lasting political solutions" a reality.
Mr Pompeo also said Mr Hume's influence "extended far beyond the shores where he lived", adding that he had "won the friendship and respect of countless Americans".