'King Kenny' is the phrase used to describe Kenny Dalglish, that once-in-a-generation footballer with all the gifts who will be forever loved in Celtic Park and Anfield.
John Hume was another of that rare group of individuals who was blessed with an extraordinary mix of talents. For huge periods of his eventful life, to the detriment of his own well-being, John Hume pushed himself, exercising those special gifts.
Without him, Ireland's peace process would not have happened as it did.
The killing, the awful cycle of violence - death, condemnation, funerals, retaliation and more death - would not have stopped when it did.
Relentlessly, remorselessly, Hume pursued the cessation of violence and argued that division did not have to be accompanied by blood-letting.
He won the argument.
He stopped the war.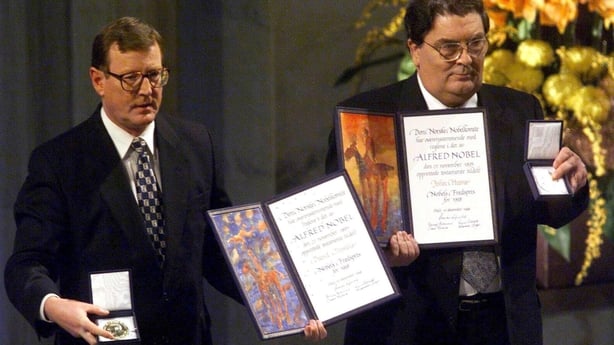 Uniquely, he won the Nobel Peace Prize (with David Trimble) in 1998, the Martin Luther King Peace Award (1999) and the International Gandhi Peace Prize in 2001.
Appropriately, members of the general public voted him 'Ireland's Greatest' in the RTÉ television 2010 series (when Miriam O'Callaghan sketched his working life).
A far from wealthy father-of-five, with the support of his most steadfast influence, his wife, Pat, he gave all the money that came with the Nobel Award to charity. It was one of the many practical gestures that gave a sense of the man.
Early Life
His great-grandfather, Sam Hume, was a Scottish Presbyterian, a stonemason who settled in Donegal in the mid 19th century, married a Catholic girl and raised their family in his wife's faith. They later settled in Derry's Lower Nassau Street.
After they married, John Hume's parents had a room in the small, terraced house and that's where he was born, the first of seven children, in 1937.
His father, also Sam, was a former British soldier, clerk and riveter in what was then Derry's thriving docks. His mother, 14 years younger, was Annie Doherty, whose family came from over the border at Fahan in Co Donegal.
By the time John was four, the family had moved to their own rented terraced house in Derry City with a toilet in the back yard. In this modest home seven children were reared. Sam slept with his four sons in one room while Annie and her three daughters were in the other.
It was the life of Phil Coulter's 'The Town I Loved So Well'.
And when times got tough there was just about enough
And they saw it through without complaining
For deep inside was a burning pride
In the town I loved so well
Later in his life John Hume would recall how it was his father who regularly warned his children about the limitations of extremism. "You can't eat a flag", Sam Hume would sometimes say. (When John Hume founded the SDLP, he adopted as its emblem the European Socialist symbol – the rose).
In 1950s nationalist Northern Ireland, education was recognised as a possible escape route from struggle and a facilitator of ambition. Like Seamus Deane, Edward Daly, Seamus Heaney, Jim Sharkey, Paul Brady and Eamonn McCann, John Hume went to Saint Columb's College.
After secondary school he progressed to the Catholic Seminary in Maynooth, Co Kildare where French and history were his degree subjects. But a meeting with Pat Hone, the daughter of a handyman from Derry's Waterside area, dealt with his misgivings about celibacy. They were married after a three year courtship in 1960.
Part of the chemistry between the newly-weds was their shared interest in community. Two young teachers – Pat encouraged John's interest in a Derry Housing Association, campaigning for better housing for nationalists and in the Derry Credit Union.
We need your consent to load this rte-player contentWe use rte-player to manage extra content that can set cookies on your device and collect data about your activity. Please review their details and accept them to load the content.Manage Preferences

In 1964, aged 27, he became the youngest ever president of the Irish League of Credit Unions and served a five-year term.
He was a born communicator – articulate, imposing, empathetic, with a twinkle in his eye and ready to sing without being asked a second time. In 1965, he was chair of the University of Derry committee that sought and failed to have Northern Ireland's planned second university located in its second city.
He was one of the key figures in the Derry Citizens Action Committee, formed following the clashes between police officers and protesters on Derry's streets on 5 October 1968 – the civil rights march that is often seen as the official start of 'The Troubles.'
Political career
His formal political career began on 24 February 1969 when he won the Foyle seat to the 52 Seat Northern Ireland House of Commons (Stormont). He ran as an Independent and caused a surprise by ousting the leader of the Nationalist party, Eddie McAteer. (It was the last such election before Stormont was closed and direct rule introduced, six weeks after Bloody Sunday in March 1972).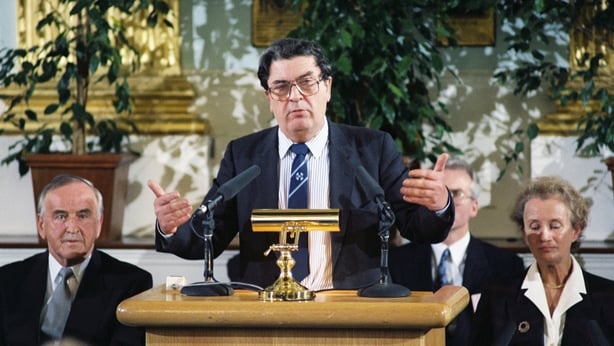 The following year in 1970, with Gerry Fitt, Seamus Mallon, Austin Currie, Paddy O'Hanlon, Ivan Cooper and Paddy Devlin, John Hume was one of the founder members of the SDLP. He served as minister for Commerce in the short-lived Stormont power-sharing administration in 1974.
But three separate developments advanced his career, profile and influence to new levels
- succeeding Gerry Fitt as SDLP leader in May 1979
- winning a Northern Ireland seat in the European Parliament in June 1979
- winning a Foyle Westminster seat in 1983.
Hume's ability, ideas and self-belief advanced to significant new levels as his work took him outside Northern Ireland. South of the border, he was liked and respected across a wide political spectrum. The same applied in Westminster.
But it was the traction he achieved in the United States and the political philosophy nurtured by his experiences in mainland Europe that shaped him in a decisive way.
Massachusetts Senator, Ted Kennedy was, according to journalist and writer, Conor O'Clery, the first of the 'Four Horsemen', to recognise the potential of John Hume's analysis of Northern Ireland. On a trip to Europe, Kennedy phoned Hume and sought his advice. Hume travelled to Bonn to meet him in November 1972.
The relationship brought Hume into the orbit of the other members of the quartet - Tip O'Neill, speaker of the US House of Representatives, Senator Daniel Patrick Moynihan of New York State, and New York governor Hugh Carey.
Hume helped to challenge the influence and access London enjoyed in Washington and the analysis it provided of "The Irish Question." For Irish diplomats, he was the gift that kept on giving.
Seven people held the role of Taoiseach during John Hume's career (Jack Lynch, Liam Cosgrave, Garret Fitzgerald, Charles Haughey, Albert Reynolds, John Bruton and Bertie Ahern) and all held him in high regard.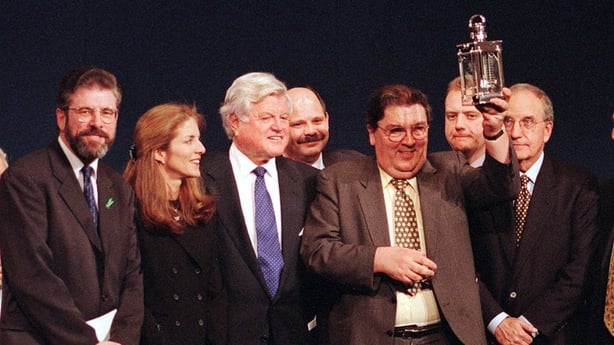 In the US, Hume also confronted the "armed struggle" and "Brits Out" message of Irish republicans and the "for the cause" fund-raising activities to finance the IRA campaign. He became the most credible and most liked Irish presence in immensely powerful Irish-American circles.
The US link provided Hume with the tools of political heft and the possibility of private as well as government investment in Northern Ireland.
But Europe offered a different, vital dimension. It shaped his faith in the value and effectiveness of non-violence democratic values.
The very building where he participated in the plenary session of the European Parliament for a week of every month is in Strasbourg, a city with centuries of dark history among warring tribes, now an example of reconciliation.
Time and time again when he arrived from Northern Ireland, depressed by the latest atrocity, Hume was renewed by his experiences in EU politics.
Europe became his well.
In time, Bordeaux in France became a bolthole of sorts. He became an authority of the story of the Irish 'Wild Geese' families of the 17th and 18th centuries who became significant vineyard owners, merchants and traders in south-west France.
His political challenges and his gifts were recognised by many of those around him. He was fortunate that in the summer of 1979 when he started his career as an MEP, Frenchman Jacques Delors was doing likewise. In 1985 Delors became president of the European Commission and would hold the position for a decade. The most significant person to hold the role, Delors had enormous respect for Hume's values.
Helmut Kohl served as German Chancellor from 1982 to 1998. He was the most influential EU head of government during John Hume's 26 years in the European Parliament. His older brother was a soldier killed during World War II; on his watch German reunification took place and like Delor, Kohl had a deep respect for the principles Hume was seeking to apply in Ireland against the odds.
Another critical, recuperative aspect of Hume's EU years was how it facilitated a pragmatic healing relationship with unionism. Routinely, away from the battlefield that was Northern Ireland, DUP leader Ian Paisley, Ulster Unionist representative Jim Nicholson and John Hume successfully lobbied as one for "their people." The novelty factor of the unlikely triumvirate regularly allowed them to depart from bemused parties on the other side of the bargaining table with an extra 10% intact.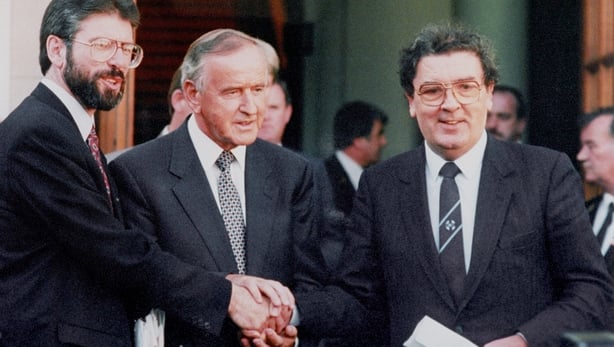 Hume's legacy
Stopping the killing was Hume's obsession throughout his political life. He concluded that nothing was more important than bringing an end to the taking of life. His key arguments were irrefutable: we should spill our sweat, not our blood.
His decision to begin secret discussions with Sinn Féin's Gerry Adams created the means to bring republicans inside the tent. It also had profound implications for the party he helped to found. The SDLP had remained steadfast to its non-violent principles throughout extremely difficult decades and its party leader was now offering contested political space to its enemies.
Hume deliberately and effectively put peace before party.
One morning in the 1990s, I was standing talking to him on the brightly-coloured carpeted floor outside the Strasbourg hemicycle. He seemed distracted, he was complaining about his health and he suddenly became ill. Medical assistance was sent for, a stretcher quickly arrived and he was brought downstairs to the Parliament's infirmary.
I followed the team and while doing so phoned RTÉ's Joe Mulholland in Donnybrook, a close friend of the Hume family. "Joe", I said, " John Hume has taken ill. Should I phone Pat?"
Joe advised me to keep close to events and then make a judgement call.
When we arrived at the infirmary, the awaiting personnel greeted John Hume with welcoming and calm familiarity. It soon became clear that he had been there before. After a number of checks, he quickly improved.
That was the first time when I saw, close up, the toll that decades of working in Northern Ireland, Westminster, the United States and the EU had taken on John Hume's health. He had, in ways, carried The Troubles like a cross. He had refused to abandon his journey because he knew the consequences of the work not being done.
Strasbourg was also the city where I saw him in his most sociable mode. He had a favourite restaurant, Maison Des Tanneurs, a family-run business at 42, Rue du Bain aux Plante. Religiously, Hume would invite the quota of visiting journalists from Dublin, the Brussels-based Irish crew and any other waifs and stragglers to a meal.
He'd tell his party-piece joke about Mickey Doherty from Derry, he would insist on his visitors having Dame Blanche for desert, he would order more bottles of gewürztraminer and he would pay the bill. Before the fun broke up in the small hours, he would insist on singing 'The Town I Love So Well' in the nearby bar, The Aviator.
Those memories often came back when our paths crossed after his retirement in 2004. At close up range, his eyes would clock some form of familiarity. "What's your name?" he would say. I'd tell him who I was and give an account of some of our past adventures. Sometimes the anecdotes would register and he'd break into a smile.
His wife, Pat, spoke publicly and honestly about the routines of living with someone with dementia. For two decades her steel and her affection have been as important for her ailing soulmate as he was for Ireland's peace process.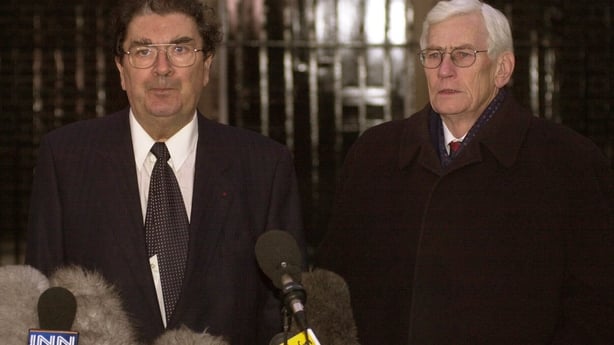 The early days of January 2020, miraculously provided a chance to have a farewell visit to Seamus Mallon. He was at home in Markethill, confined to bed but comfortable, watching a match on TG4.
Forty one years before, he heard the news that Gerry Fitt planned to step down as leader of the SDLP. Mallon recognised immediately that not him but John Hume would be the replacement.
The Hume/Mallon relationship was often feisty. Mallon was frequently annoyed by the way Hume did things instinctively, sometimes secretly or unilaterally without bringing him into the loop. Yet the bond between them survived all the strains.
In that final conversation I had with him, Mallon smiled wistfully at that notion that despite years of ill-health, Hume was going to outlive him.
And that's what happened.
Pat Hume and one of her daughters went to Seamus Mallon's funeral in Armagh while John remained in the Derry care home.
If there is another life at a different address, the Mallon-Hume reunion would make for a box office attraction.
Status or rank could not be an issue.
Mallon, honest and generous, always acknowledged John Hume was Ireland's key peacemaker.