It is a day and a moment I will never forget. A cold and dark winter's morning in October 1993, and the world's press found itself once again as uncomfortable bystanders in the beautiful old graveyard in Greysteele in Co Derry.
Another victim of the Rising Sun pub massacre was being buried.
All funerals are sad, but there was something particularly upsetting and poignant about this one. All around the graveyard women and men were crying.
Even by the standards of Northern Ireland, it had been a dreadful few weeks. Just days before the Greysteele massacre where seven men were murdered by the loyalist UDA, the Frizzell's fish shop atrocity took place where an IRA bomb blew up ten people.
The tit-for-tat sectarian killings were pushing the North slowly but surely back into hell, and all hope in the fledgling peace process seemed at that moment to be lost forever.
Suddenly I saw him.
I spotted John Hume across the graveyard. His wife Pat was standing beside him.
I could not stop looking at him wondering what was going through his mind at that moment.
Then I noticed a woman go up to him and start to speak to both John and Pat. Within moments, John started to weep uncontrollably and the woman immediately comforted him in her arms. I always remember how she touched the side of his face to try to ease his pain. But John continued to cry.
I found out later that the woman was a relative of one of the victims and that she had gone up to John to ask him to not give up, to keep on going, to not lose heart. She explained that the night before as they had prayed around the coffin, they had prayed for John, and prayed that he would continue his work for peace.
Like all great peacemakers, even through those darkest days, he did not turn his back on peace, he did not give up.
Shortly after this funeral, John Hume was hospitalised for stress.
Pat Hume has since told me that around this time she asked John to stop, to give it all up, to step away, as the toll it was taking on them and their young family was simply too much. This was her breaking point.
Pat Hume, one of the finest women I have ever had the privilege to meet, had been enduring years of abuse and intimidation from both sides as her husband had been pursuing peace - their home in Derry was firebombed and she told me once how she regularly had to go out and scrub off the graffiti 'Traitor Hume' from the side of their house.
John, of course, did not give up. He listened to the woman in the graveyard and as soon as he got out of hospital, he kept on going. Like all great peacemakers, even through those darkest days, he did not turn his back on peace, he did not give up. He would find a way out of the darkness.
It continued though to be a very long, lonely and difficult journey. Making peace is never easy, as he often told me. From his early days as a civil rights activist, he knew this was never going to be an easy task - but he made it his life's mission to bring peace to this island of ours.
When I think back now, I often feel guilty as it was made all the more difficult by journalists like myself, who constantly questioned and undermined his motives and his methods.
When it became public knowledge that he was in secret talks with Gerry Adams, he was attacked and vilified from all sides, including all of us in the media. But he never wavered from his path to peace - his absolute belief that it was worth talking to anyone and everyone, if the ultimate prize was peace.
Friends of his have often told me that that doggedness, that 'stickability' as they call it, that unflinching logic and determination to pursue his mission towards peace - truly infuriating they say at times - was honed during his days as a young man training to be a priest in Maynooth.
Also the fact that his great-grandfather Willie Hume was a Scottish Protestant stonemason and came to help build the Derry rail line through Donegal and fell madly in love with John's Catholic great-grandmother and never left, meant that deep rooted in John's DNA, was a belief passionately held, that difference needs to be respected and not feared.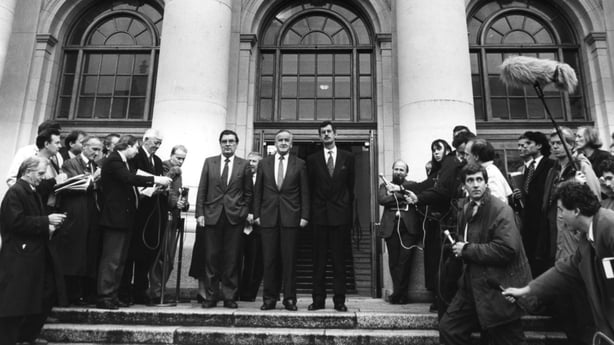 Years later, the three strands approach to peace on this island, that was eventually enshrined in the Good Friday Agreement, was really all about that. It was rooted in equality, agreement and respect for difference.
I remember so well the day of the Good Friday Agreement - I was presenting Prime Time from Belfast, and it was such an emotional moment for all of us working that day on the team.
Historic is a word that is abused, misused and overused, but this was the most historic moment any of us had ever witnessed. We knew this was a moment that would change not just the course of Irish history, but also all of our lives forever. My first guest in studio that night was John Hume - what a privilege.
So when I was asked to champion John Hume years later for a public vote on Ireland's greatest person, living or dead, I - of course - jumped at the chance.
It was in 2010, that John Hume was voted Ireland's Greatest by the Irish public. It really should not have mattered, but it did.
The man who had achieved so much in his life and had rightfully received endless plaudits and awards including the Nobel Peace Prize, surely did not need any more confirmation of his importance to this small but proud nation?
But this award did matter and it mattered greatly to him and to his family because this was a public vote. This was a chance for all of us Irish to tell John Hume just how we felt about what he had done for all of us, and in a very small way, for the people of Ireland to say thank you John, thank you.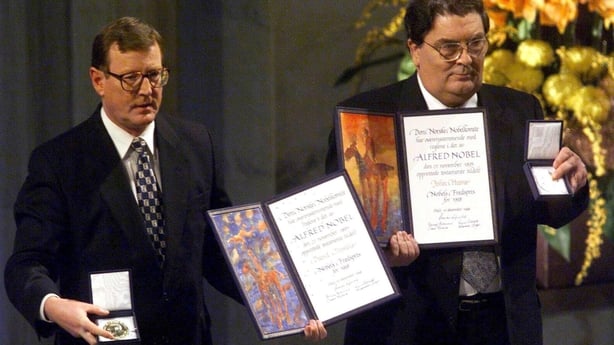 I think back today on how lucky and privileged I was to know John Hume, even just a little. As a reporter covering the peace process in the 1990s, I regularly interviewed him along with many other political leaders involved in the attempts to broker a lasting peace deal on this island.
John Hume though, for me anyway, always stood out from the crowd. Like his hero Martin Luther King, he championed civil rights and was a life long believer in non violence.
John Hume set it as his life's mission and ambition to achieve peace in our country, and he never gave up. He sacrificed almost everything for us.
He always believed that the root of the problem was not a divided island, but rather a divided people, and through dialogue and agreement, he changed not just the course of Irish history, but all of our lives forever. We should all be eternally grateful and in a small way, I think the Ireland's Greatest public vote, was our way of showing that.
I leave you with the words of John as he collected the Nobel Peace Prize in 1998: "All conflict is about difference, whether the difference is race, religion or nationality.
"Difference is an accident of birth and it should therefore never be the source of hatred or conflict. The answer to difference, is to respect it. Therein lies the most fundamental principle of peace - respect for diversity."
Codladh sámh John. Ní bheidh a leithéid ann arís.