The Department of Health has announced that one further person previously diagnosed with Covid-19 in Ireland has died.
It brings the number of deaths linked to the virus in Ireland to 1,744.
The department has also confirmed an additional 25 confirmed cases of the virus, bringing the overall number of cases here to 25,589.
Acting Chief Medical Officer Dr Ronan Glynn has urged people to follow the public health guidance this weekend.
He said: "This weekend, we all have an opportunity to exercise, socialise and enjoy life in a safe and responsible way.
"Continue to protect each other using public health advice and encourage each other to make safe choices as we work together to limit the spread of Covid-19.
"We have all achieved so much through solidarity over the last few months, that effort must not be in vain.
"Please follow public health advice and refer to the guidance if unsure about your environment or plans."
---
Read more:
Latest coronavirus stories
---
Health chiefs urge public to continue social distancing
Health experts have expressed concern about people gathering in social settings this weekend without adhering to social distancing guidelines.
Gardaí will be continuing to monitor compliance with public health measures in the 2,785 licenced premises that were found to be open around the country.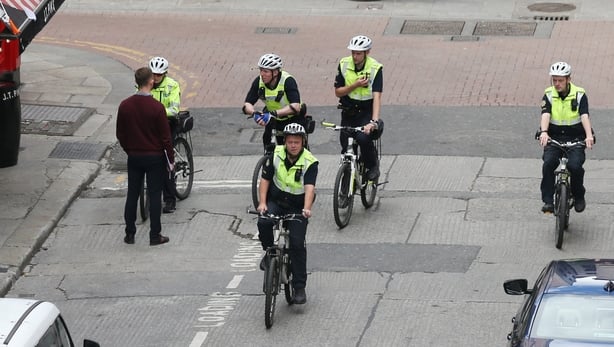 Professor Phillip Nolan, chair of the National Public Health Emergency Team's Epidemiological Modelling Advisory Group, said that while people can still socialise, it is about doing the things we love safely.
Speaking earlier today, he said he is not trying to scare people about the threats of the coronavirus, but they should heed the advice.
"I don't think this is scaremongering at all. Every new case represents a risk to the individual and the people around them," he said.
"The numbers are the numbers. These are confirmed cases with a clear pattern. This is simply a case of informing the public that they need to be careful."
Yesterday, it was confirmed that the R number, the rate at which the coronavirus is passed on, had risen to 1 or above.
Prof Nolan said he does not fear Ireland is going backwards in combating the virus and he has admiration for how the public has dealt with this.
"It has been very challenging, especially for young people," he said.
With fine weather forecast for this weekend, many people may be heading out to a pub or a restaurant. Publicans and customers alike are being urged to avoid crowded scenes similar to those witnessed in some pubs last weekend. Here's what to expect. | Read: https://t.co/tWiBpvVQP9 pic.twitter.com/NgUCIn0AAc

— RTÉ News (@rtenews) July 10, 2020
He commended the actions of people so far in reducing the threat of the virus and said it is now about trying to influence those habits of social distancing and other measures on others.
Minister for Justice Helen McEntee has urged the public and businesses to adhere to public health guidelines this weekend.
Ms McEntee expressed concern that numbers are starting to increase, particularly among those under the age of 44.
She asked people to be personally responsible and if they feel that public health guidelines are not being implemented in a certain place - not to stay there.
The minister added that nobody wanted to see measures re-imposed considering "the country has done so well and has come so far".
Minister for Health, Stephen Donnelly said that no area or type of pub is going to be targeted.
He said that there are very clear laws and public health guidelines in place and they just need to be complied with.
The Minister urged people to go out and have a good time over the weekend, but he appealed to people to maintain social distancing and to download the Covid tracker app.
He said more than 1.1 million people have already downloaded it and it was already being used to assist contact tracing.
Health Minister Stephen Donnelly tells people ahead of the weekend: 'Go out and have a good time'. But please maintain social distancing, he says. Mr Donnelly is also appealing to people to download the Covid-19 tracker app. | More: https://t.co/OYw1tdxWcF pic.twitter.com/Nu7BxJRR6s

— RTÉ News (@rtenews) July 10, 2020
Speaking after a meeting with the CEO of the HSE, Paul Reid, the Taoiseach, Mícheál Martin said public health doctors were concerned, in particular, about indoor gatherings causing an increase in the prevalence of the disease, and were also concerned about travel related incidents.
The Taoiseach said overcrowded house parties were a problem, and no one was invincible.
He said this issue was worrying public health doctors and he expected public health advice on it to strengthen during the week. It was an issue they would have to look at very carefully he said.
Mr Martin said the "over-arching priority" of the Government was to get schools open again at the end of August as well as getting non-Covid related health services up and running again.
He said for the sake of children's development and life chances, the country needed schools to be reopened.
The Taoiseach said these objectives could not be achieved if community transmission was not kept down.
Mr Martin said the Government would take advice from the National Public Health Emergency Team (NPHET) about the commencement of Phase 4 of the reopening of the economy, which is due to begin on Monday July 20th.
He said Ireland's approach to travel had been very cautious to date.
He said the Government would take further advice and was working on a range of measures before announcing any green list of countries to which Irish people could travel without needing to quarantine on their return.
Dublin accounts for more than half of deaths
Meanwhile, the Central Statistics Office said the number of people to have died from Covid-19 is fewer than ten for the last three weeks.
However, it also said the number of people who have been diagnosed as a confirmed case has risen for the first time in ten weeks.
Dublin is the worst affected county, accounting for 51% of all confirmed deaths.
In terms of cases, the CSO said Dublin was the only county to record more than 20 new cases, in each of the past five weeks, up to and including the week ending 3 July.
This is the third week in a row that counties Clare and Offaly recorded no new cases.
It is the eighth week in a row that Clare, Leitrim, Longford, Tipperary and Wexford have recorded less than ten new cases.
The CSO said it is the ninth week in a row that Donegal, Laois and Kerry have recorded less than ten new cases and the tenth such week for Waterford.