The National Public Health Emergency Team has said there is an "immediate need to take care and caution", as the reproductive rate of Covid-19 in Ireland now stands at, or above, 1.
The reproductive rate, or 'R number', indicates the number of people on average that an infected person will pass the virus on to.
It comes as the Department of Health announced that a further six people diagnosed with Covid-19 in Ireland have died.
It brings the total number of deaths linked to the virus here to 1,743.
A further 23 cases of the virus have also been confirmed, bringing the overall number to 25,565.
Chair of NPHET Epidemiological Modelling Group Professor Philip Nolan has said the reproductive rate of Covid-19 in Ireland now stands at or above 1 | More: https://t.co/V2jTAHChGO pic.twitter.com/WVBqscw0HQ

— RTÉ News (@rtenews) July 9, 2020
Speaking at this evening's department briefing, Chair of the NPHET Epidemiological Modelling Advisory Group, Professor Philip Nolan, said: "We are seeing an increase in the number of reported cases over the last two weeks and the R number is now at or above 1.
"There is an immediate need for all of us to take care and caution in our decisions and actions."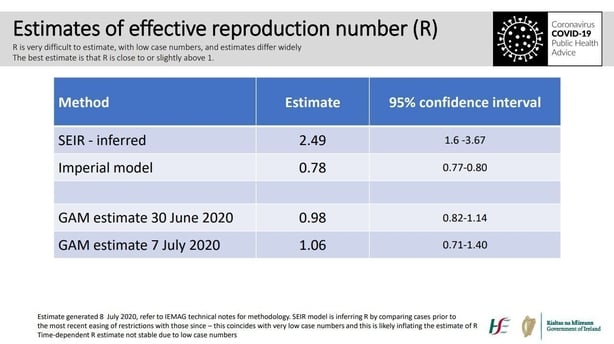 He said that was the best estimate of the current reproductive rate.
Prof Nolan said an increase in this rate would be expected when the number of cases of the virus was rising.
He said three weeks ago there had been no outbreaks of the disease, but he said we were now starting to see outbreaks, mostly related to travel and isolated households.
He said there were now more cases being detected in younger people and that 15-20% of cases were travel-related.
Acting Chief Medical Officer Dr Ronan Glynn says all cases reported today are under the age of 44. He adds that if people try to go back to living as if it were January, it is "only a matter of time" before there is a significant problem | More: https://t.co/V2jTAHChGO pic.twitter.com/Qlpu2CfO0I

— RTÉ News (@rtenews) July 9, 2020
Also speaking at this evening's briefing, Acting Chief Medical Officer Dr Ronan Glynn said that NPHET has also recommended that "all visitors to healthcare settings including hospitals, GP practices and pharmacies", should wear face coverings.
Dr Glynn added: "In addition, 77% of cases reported today are under 25 years of age. Covid-19 is extremely infectious and none of us are immune.
"It is important that we all continue to follow public health advice and risk assess our actions."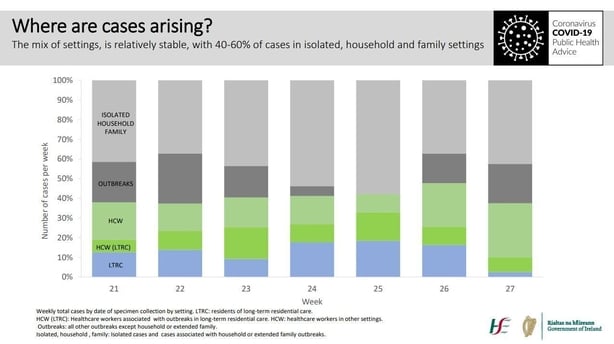 Dr Glynn said he did not want to target a particular age group, but wanted to reiterate the point that people needed to be safe.
He said over the past 14 days, 187 cases have been notified, of which 140 have arisen during that period.
Of these cases, the median age was 34. He said there were currently 13 cases in hospitals, of which nine are in critical care units.
He said if cases increased, the country could be back to a situation that he would be very concerned about.
Dr Glynn said that we would only begin to see any bounce in numbers from the most recent easing of restrictions around now.
---
Read more:
'Inaccurate' information given to Tánaiste over reopening of créches
Quarantine requirements end for some travellers to Northern Ireland
Latest coronavirus stories
---
Prof Nolan said there had been an average of 14 confirmed new cases of Covid-19 per day this week.
He said this figure was higher for the last two weeks than it had been in the previous week.
Prof Nolan said all other indicators were "stable or declining", including the number of people in hospital and in intensive care. He said there was an average of one death per day this week.
In terms of testing, he said there was targeted testing going on in some healthcare facilities.
Prof Nolan said that more than 6,000 tests had been carried out over the past week, and described the testing regime as "robust and intensive".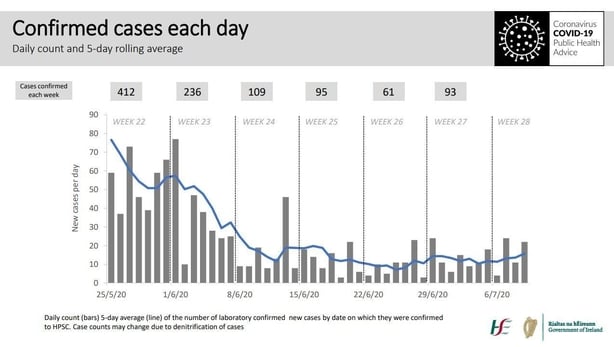 He said he was confident that the disease was being detected as it occurred in the community.
Dr Glynn said that recommendations regarding the reopening of pubs would be considered by NPHET next week.
He said the group would be "watching very closely what happens this weekend".
Dr Glynn said he was "concerned that we might see similar scenarios to what we saw last weekend", and said that people needed to learn to live with the virus.
He said he was confident that the vast majority of people wanted to do the right thing.
Dr Glynn said that gatherings of people who were not socially distancing were leading to clusters of the disease.
He also said that on Monday he would give a breakdown of countries that had led to recent travel-related cases of Covid-19.
We need your consent to load this rte-player contentWe use rte-player to manage extra content that can set cookies on your device and collect data about your activity. Please review their details and accept them to load the content.Manage Preferences
Meanwhile, the number of people to have downloaded the Covid-19 tracker app, aimed at improving the contact tracing process, has reached over 1,071,580.
We are at 1,071,581 downloads of the #CovidTrackerApp. That's 29% of the adult population over 16 in Ireland. With your help, we will get over 30% today. Let's keep it going. Download the app here➡️ https://t.co/sq3sb5PGj1 pic.twitter.com/ZdNJVEc8lu

— HSE Ireland (@HSELive) July 9, 2020
The HSE says this represents 29% of the adult population over 16 in Ireland.
The HSE is to run an information campaign over the coming weeks about the app and how to use it.
Speaking at a Government briefing this morning, Assistant Secretary at the Department of the Taoiseach Liz Canavan also said work is under way to reintroduce health services that were reduced or suspended as a result of pandemic.
However, she said there are risks of a second surge and local outbreaks are being taken into account as part of the HSE's plans.
Meanwhile, no new coronavirus-related deaths have been recorded in Northern Ireland for the sixth consecutive day and the death toll remains at 554.
There are three new cases of Covid-19, taking the total to 5,768.
For the 13th day in a row there are no patients with the virus being treated in intensive care in Northern Ireland.
The Department of Health in Northern Ireland also announced that the current estimate for the reproductive rate of the virus there is between 0.5 and 1.
The World Health Organization says data to date suggests 80% of Covid-19 infections are mild or asymptomatic; 15% are severe infection, requiring oxygen and 5% are critical, requiring ventilation.
Generally, you need to be 15 minutes or more in the vicinity of an infected person and within two metres of them, to be considered at-risk, or a close contact.
Additional reporting: Fergal Bowers, Maggie Doyle & Vincent Kearney