The World Health Organization's Special Envoy on Covid-19 has said the agency does not believes airborne transmission is a major cause of virus spread.
Dr David Nabarro repeated that the WHO believes the vast majority of cases are transmitted by droplets that come from the lungs and throat of an infected person when they cough and sneeze and this can be prevented by the two-metre physical distancing rule.
However, Dr Nabarro told RTÉ's News at One that the agency is keeping an open mind as to whether, in some circumstances, further transmission is possible through airborne particles.
He said that there is not a categorical body of work to say that airborne transmission is really important.
Dr Nabarro said it is right for the technical teams in the WHO to be "super careful" in what they say and the advice and guidance that comes from the agency should be as "as good as we can possibly make it".
He added that the teams should always be open to revising that guidance, if new evidence comes their way.
Dr Nabarro said there were some outbreaks of Covid-19 that were hard to explain, including cases among members of a choir in the United States, where members were practising the two-metre rule.
He said it was important that cases that are strange in terms of transmission pattern are reported.
If it turns out that airborne transmission is an important mode of transmission, he added, then more attention will need to be paid to measures aimed at reducing the spread of the virus, including ventilation and increased wearing of face coverings.
---
Read more:
WHO studying evidence on airborne Covid transmission
WHO urged to update guidance over virus transmission
Latest coronavirus stories
---
The World Health Organisation has said that data to date suggests that 80% of infections are mild or asymptomatic, 15% are severe infection, requiring oxygen and 5% are critical, requiring ventilation.
AFP graphic on how particles from our respiratory system can become airborne, as scientists warn of the risk of COVID-19 infections through aerosols@AFPgraphics pic.twitter.com/r85fg18qGa

— AFP news agency (@AFP) July 8, 2020
Nabarro 'disturbed' by global virus spread
Dr Nabarro said he is "disturbed" by the spread of Covid-19 around the world, and is "really worried" about the next six months.
He said that while some western European countries have "done remarkably well" in curbing the spread of the virus, in many other parts of the world it is "advancing".
It is critical that each government is consistent in what they are saying to citizens, the WHO envoy said.
He added that there is "an absolute need" for the citizens of every country in the world to be doing "all they can" to suppress the virus to prevent big lockdowns.
Dr Nabarro described the decision by US President Donald Trump to withdraw from the WHO as "almost incomprehensible, during the biggest health crisis any of us have ever known".
He called on "every citizen to send a message to the US President to rethink this. We need America badly right now. You are weakening the world's response to Covid-19 if you pull the US out".
Dr Nabarro's comments come as the WHO launched an independent panel to review its response to the pandemic.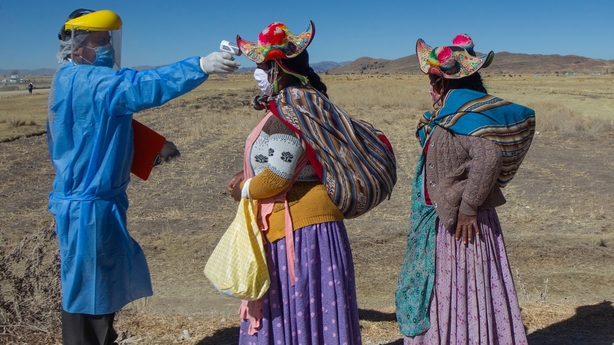 The Independent panel for Pandemic Preparedness and Response will be headed by former New Zealand prime minister Helen Clark and former Liberian president Ellen Johnson Sirleaf.
"Through you, the world will understand the truth of what happened and also the solutions to build our future better as one humanity," World Health Organization chief Tedros Adhanom Ghebreyesus said at the UN agency's headquarters in Geneva.
At their annual assembly in May, WHO member states agreed to an independent probe into the UN agency's coronavirus response, following repeated US attacks.
President Trump had accused the WHO of botching its handling of the pandemic and of being a "puppet of China".
The resolution, tabled by the European Union, called for an "impartial, independent and comprehensive evaluation".
It said the investigation should investigate "the actions of WHO and their time-lines pertaining to the COVID-19 pandemic".