US President Donald Trump has formally started the withdrawal of the United States from the World Health Organization, making good on threats over the UN body's response to the coronavirus.
The US is the largest financial contributor to the WHO - which leads the fight on global maladies from polio to measles to mental health - but it has increasingly been in Mr Trump's cross hairs as the coronavirus takes a heavy toll.
After threatening to suspend the $400 million in annual US contributions and then announcing a withdrawal, Mr Trump has formally informed UN Secretary-General Antonio Guterres that he has started the US pullout, a State Department spokesperson said.
The withdrawal is effective in one year – 6 July 2021 - and Joe Biden, Mr Trump's presumptive Democratic opponent, is virtually certain to stop it and stay in the WHO if he defeats Mr Trump in the November presidential election.
Stephane Dujarric, the spokesman for Mr Guterres, confirmed that the United States gave its notice.
Under conditions set when the US entered the WHO in 1948, Washington has to give a one-year notice to pull out - and meet its remaining assessed financial obligations, Ms Dujarric said.
"To call Trump's response to Covid chaotic and incoherent doesn't do it justice," said Senator Robert Menendez, the top Democrat on the Foreign Relations Committee, who said that Congress was notified.
"This won't protect American lives or interests - it leaves Americans sick and America alone," he said.
Mr Trump has accused the World Health Organization of bias towards China, saying it ignored early signs of human-to-human transmission of the deadly virus.
While many public health advocates share some criticism of the WHO, they question what other powers the world body had other than to work with China, where Covid-19 was first detected late last year.
Critics say Mr Trump is seeking to deflect criticism from his own handling of the pandemic in the US, which has suffered by far the highest death toll of any nation.
The US, the world's hardest-hit country, both in confirmed cases and deaths, has experienced a resurgence of the virus since June that has forced several states to suspend their phased economic reopenings.
More than 130,000 Americans have died from the illness - about a quarter of the global total.
A widely cited model from the University of Washington's Institute for Health Metrics and Evaluation has projected that US deaths would reach 208,000 by 1 November.
When the death toll passed the 100,000 mark on 27 May, President Trump expressed satisfaction that the number of new infections was declining, even though experts warned of a possible resurgence.
Despite the worsening trend, White House officials say the US economy, which went into a nosedive in March and April due to lockdowns, will not be shut down again.
Separately, the US has said it would not allow foreign students to remain in the country if all of their classes are moved online in the autumn because of the coronavirus crisis.
Covid-19 cases hit 5.9 million in Americas - WHO
Meanwhile, the WHO has said that Latin America and the Caribbean now account for 50% of the Covid-19 cases in the Americas, and the number of registered cases continues to accelerate.
"This is a pandemic of staggering proportions and we have no option but to continue to put all our energy into controlling it," said the WHO's regional director Carissa Etienne in a virtual briefing from Washington with Pan American Health Organization directors.
PAHO wished Brazilian President Jair Bolsonaro a speedy recovery from his positive test result for Covid-19.
"The message is that this virus in unpredictable and does not respect race, class or people in power, despite security around any president," said PAHO director for communicable diseases Marcos Espinal.
For Brazil, the infection of its president should reinforce the need to strengthen implementations of social distancing recommendations and the use of masks to mitigate the spread of coronavirus, he said.
Two months ago, the United States accounted for 75% of the Covid-19 cases in the Americas, she said, warning that the WHO sees acceleration of cases in several US states, most of Central America and most of South America.
Some of Latin America's most persistent problems have contributed to the scale of the pandemic in the region, Ms Etienne said.
She said that inequality, political division and health systems that have been weakened by years of under-investment.
Australia's second-biggest city under new virus lockdown
More than five million residents of Melbourne will be locked down for six weeks after coronavirus cases surged in Australia's second-biggest city, authorities have announced.
State Premier Daniel Andrews said the lockdown would last at least six weeks, as he warned residents "we can't pretend" the coronavirus crisis is over.
After the south-eastern city detected 191 new cases in 24 hours, Mr Andrews said there were now too many incidents of the virus to trace and track.
"These are unsustainably high numbers," he said. "No-one wanted to be in this position. I know there will be enormous amounts of damage that will be done because of this. It will be very challenging."
Most school students will return to remote learning while restaurants and cafes will be limited to serving takeaway food.
"There is simply no alternative other than thousands and thousands of cases and potentially more," he told reporters.
Although the lockdown covers the Melbourne metropolitan area, the entire state of Victoria will effectively be sealed off from the rest of the country, as state borders are closed.
Police and the military are patrolling dozens of border crossings and using drones and other aircraft to check the vast frontier with other states where the coronavirus has been successfully contained.
Health officials last week effectively shut off some 300,000 Melbourne residents to the rest of the city until the end of July, but that has now been extended beyond their neighbourhoods.
Roughly 3,000 people were also locked in their homes on Saturday in Australia's strictest Covid-19 response to date after a cluster emerged in a high-rise public housing estate.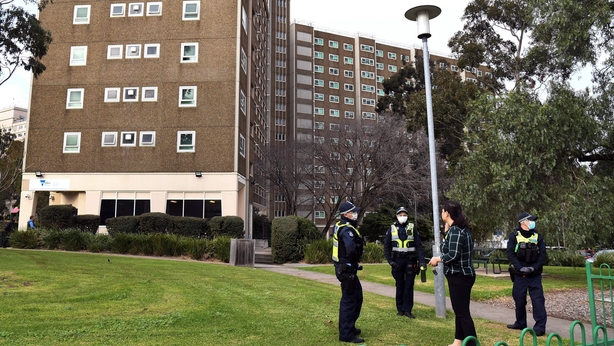 So far, 69 cases have been recorded across the nine densely populated towers and there are concerns the virus could spread widely, with one health official likening the crowded conditions inside to "vertical cruise ships".
NZ restricts entry for citizens escaping coronavirus abroad
New Zealand has begun restricting the return of its own nationals as the country faces an accelerating influx of citizens fleeing coronavirus outbreaks overseas and limited quarantine facilities.
National carrier Air New Zealand put a three-week freeze on new bookings and the government is in talks with other airlines to limit capacity, officials said.
New Zealand has gone 67 days without any cases of coronavirus in the community and its 22 active cases are all in managed quarantine facilities for New Zealanders flocking home from worsening epidemics elsewhere.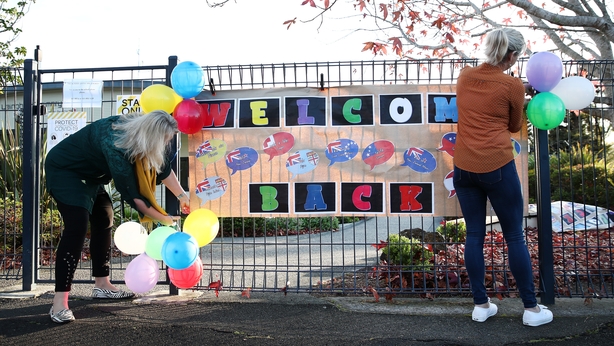 There are nearly 6,000 people currently undergoing the mandatory 14-day quarantine in the facilities and another 3,500 are due to arrive this week.
Since New Zealand went into lockdown in March, nearly 27,000 people have gone through managed isolation and quarantine.
The nation of five million has recorded just under 2,000 cases of Covid-19, 22 of them fatal.
---