The Green Party's Joe O'Brien has accused some fellow TDs of using racism to get elected to the Dáil. 
Mr O'Brien said that "some people have used racism to get into this house" and that racism in all forms "needs to be called out".
Speaking during a Dáil debate on racism, he said that "only a couple of weeks ago a member of this house used it in a parliamentary question to get attention".
He added: "When push comes to shove, there are people in this house who have opposed accommodation for Travellers when it comes to their area."
---
Read:
'Go back to your cotton fields' - Gaelic footballer speaks about racism
Growing up black and Irish - three women's experiences
Racism against Travellers 'embedded' in Irish society
'It's happening in so many places' - concerns over alleged racism in Irish schools
---
Labour's Aodhán Ó Ríordáin said there are TDs who have said such things as "asylum seekers are freeloaders, blaggards and hoodlums" and are "here to sponge off our system".
He said: "There are two members of a governing party who have been on the wrong side of anti-Traveller literature controversies - one of them sits at Cabinet."
He said the hypocrisy of standing in a parliament full of white people needs to be called out, along with saying racism is something other people do because "it's what politicians here in Ireland do".
Mr Ó Ríordáin said people in political parties here should not be "going to America and taking money off racist Trump supporters - I don't think it's good enough". 
He said that "we have to call out Irish-America for their support for Trump".
He said the Dáil, Seanad and schools should reflect Irish society, and asked "how powerful it would as an Irish Nigerian or Irish Polish child to have a teacher who looks just like you?"
He also called for more diversity with the Taoiseach's 11 appointments due to be made to the Seanad. 
Deputy Ó Ríordáin said the Senators should be appointed from minority communities rather than "a party political hack", which, he said, is "inevitably what's going to happen". 
The debate comes after thousands of protesters gathered at demonstrations around the country in recent weeks to support the Black Lives Matter movement with many speakers calling for an end to the direct provision system here. 
Worldwide support for the BLM movement, following the death of George Floyd in Minneapolis, has emerged with protests worldwide.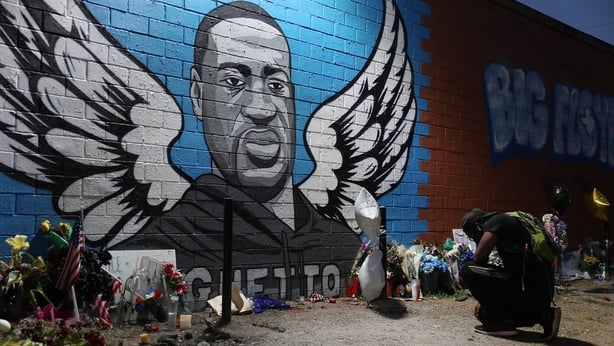 Minister for Justice Charlie Flanagan told the Dáil that existing legislation is not sufficient to "deter or sufficiently respond to crime in which the victim is targeted because of a perpetrator's hate". 
The Incitement to Hatred Act 1989 prohibits certain forms of threatening, abusive or insulting conduct, and in sentencing for criminal offences, a hate motive may be considered by the court to be an aggravating factor resulting in a stronger penalty. 
Mr Flanagan went on to say An Garda Síochána is "pivotal" to ensure a fully inclusive Ireland and garda recruitment campaigns have made "significant" efforts to attract candidates from minority communities. 
Anti-Racism Committee to report to Government in three months 
An Anti-Racism Committee, announced by the Department of Justice in June 2019, will hold its first meeting tomorrow.
Minister of State at the Department of Justice David Stanton said the committee will provide a report to Government within three months, with a full report at the end of one year. 
He said the recognition of Travellers as an ethnic minority in 2017 "did not remove overnight all of the obstacles that have prevented them from experiencing full equality within Irish society. 
Mr Stanton said he wanted to remind TDs the majority of Irish society has "been remarkably open and welcoming to migrants from across the world, that 17% of our population were born outside Ireland and many have been given the opportunity to acquire Irish citizenship". 
Fianna Fáil's Justice spokesperson Jim O'Callaghan said Ireland needed to recognise that the vast majority of Irish people detest racism. 
He said globalisation and social media play a big role in both promoting racism but also in standing up to it - and that it can allow for racists to spread out their hate and "get into the minds of young people". 
Mr O'Callaghan said it is more than laws that are required to defeat racism, it is a culture and we need to recognise it is completely socially unacceptable and once we do, we will defeat it. 
His party colleague Niall Collins said unfortunately racism is beginning to creep and grow within our population and our hate crime legislation has been largely absent in dealing with the modern forms of racism. 
Mr Collins said the State is being racist by not dealing with the undocumented 25,000 migrants in Ireland. 
Sinn Féin TD Martin Kenny said 2020 should give an opportunity for a 'new age of reason' that would allow for "us to work out why people form dangerous opinions".   
He said people's attitudes can develop racism, including "fallacies" such as people coming from abroad would have an impact on economy and social welfare and a fear that they would dilute Ireland's culture. 
Deputy Kenny said "it's all well and fine to shout racist at somebody and to accuse them of being racist but we need to work out how they formed that opinion and how we can erode that." 
Social Democrats co-leader Catherine Murphy highlighted that in the Dáil chamber today there are two women; that imbalance, she said, is very difficult not to notice as a woman. 
She asked "can you imagine what it feels to look in here as people of colour not to feel represented?"