George Floyd, the African-American man whose death in police custody roused worldwide protests against racism, was remembered as a"gentle giant" and a symbol of the oppressed's struggle for justice at a funeral in his hometown of Houston, Texas.
Family members and friends, most dressed all in white, stepped up to a microphone to describe Mr Floyd as a loving, larger than life personality who deserved justice after his death while in the custody of Minneapolis police officers on 25 May.
Mr Floyd, 46, died after a white police officer pinned him with a knee to the neck for eight minutes 46 seconds. The policeman, 44-year-old Derek Chauvin, has been charged with second-degree murder and three others with aiding and abetting.
Mr Floyd's death was captured in excruciating detail on a bystander's video, with his words "I can't breathe" shocking the world and triggering a wave of demonstrations against racism and police brutality against minorities.
Mr Floyd's niece Brooke Williams said in a eulogy that drew applause inside the Fountain of Praise Church, "I can breathe. And as long as I'm breathing, justice will be served".
Advised to guard against the coronavirus pandemic by wearing masks over their mouths and noses, some mourners and onlookers wore ones that also said, "I can't breathe".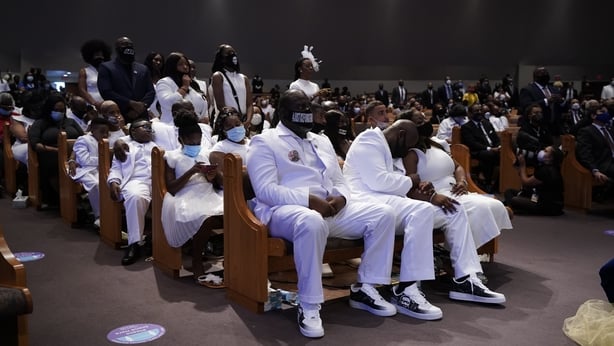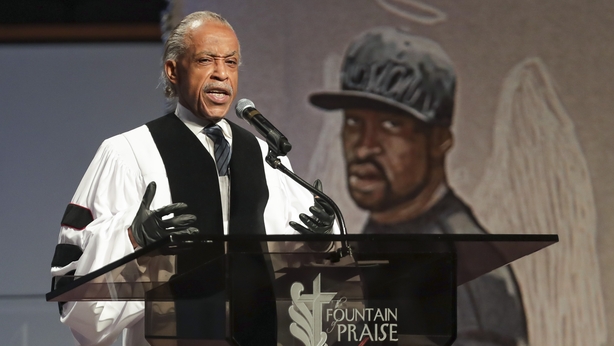 "This was not just a tragedy - it was a crime," the Reverend Al Sharpton, a prominent civil rights leader, said in the main eulogy, referring to Mr Floyd's death.
"Until these people pay for what they did we will be there with them because lives like George Floyd will not matter until somebody pays the cost for taking their lives."
About 500 people were invited to the funeral, which followed memorial services last week in Minneapolis and Raeford, the North Carolina town where Mr Floyd was born.
"This is a home-going celebration," Reverend Mia Wright, co-pastor at the church, told mourners. Banners featured pop art illustrations of Mr Floyd wearing a baseball cap with a halo above it.
The ceremony was much more than a simple funeral for a deceased loved one. The church was filled with the sounds of soulful gospel song, and video was played of shared memories about the life of the 6 foot 6 inch man known as "Big Floyd".
Underscoring the impact his death had on the world, the funeral was broadcast live on every major US broadcast and cable news channel and the New York Stock Exchange observed eight minutes 46 seconds of silence that was broadcast in silence on business news channel CNBC.
"I would like to thank the whole world for what it has done for my family today, especially George," Mr Floyd's aunt, Kathleen McGee said at the funeral. "I have gained such a huge family allover the world."
Sobbing in grief, Mr Floyd's brother Philonise said, "George was my personal superman."
American flags lined the streets outside the church. Flowers and bouquets were placed around a photograph of Mr Floyd.
Houston Mayor Sylvester Turner thanked the Floyd family "for seeking justice for George while at the same time asking people all around the world to do it respectfully and peacefully".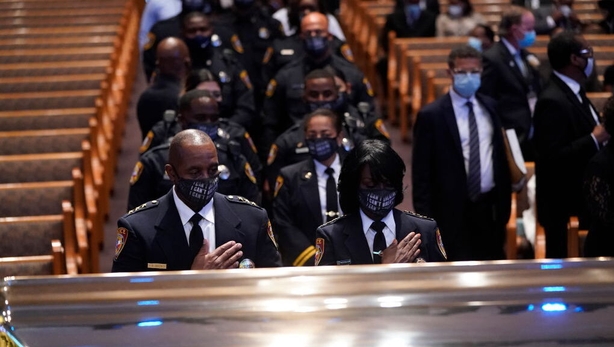 Former US Vice President Joe Biden, the presumptive Democratic presidential candidate in the upcoming election, spoke via a video recording.
"Why in this nation do too many black Americans wake up knowing that they could lose their life in the course of just living their life?" Mr Biden said. "We must not turn away. We cannot leave this moment thinking we can once again turn away from racism."
Grief is a heavy burden to bear — and it's even harder with the eyes of the world watching. I know. But that burden is now a purpose — to change the world for the better in the name of George Floyd.

That's the message I shared with his loved ones during today's service: pic.twitter.com/2LKJzwBUSO

— Joe Biden (@JoeBiden) June 9, 2020
Outside the church in hot, humid, weather, two voter registration tables were set up.
Family members of other black men who died in confrontations with white men attended.
The mother of Eric Garner, the New York man who died in a police chokehold, was at the church as was the family of Ahmaud Arbery, a 25-year-old Georgia man who was shot and killed in February while jogging. Three white men were charged.
Mr Floyd's death ignited a wave of protests across the United States and cities in other countries against racism and the systematic mistreatment of black people, reinvigorating the Black Lives Matter movement.
The case also thrust the administration of President Donald Trump into a political crisis. Mr Trump repeatedly threatened to order the military on to the streets to quell protests, which have mostly been peaceful.
Mr Trump has resisted calls by activists and some politicians to slash police budgets and redirect the money, saying 99% of police were "great, great people". Mr Biden has said he does not support moves to "defund the police".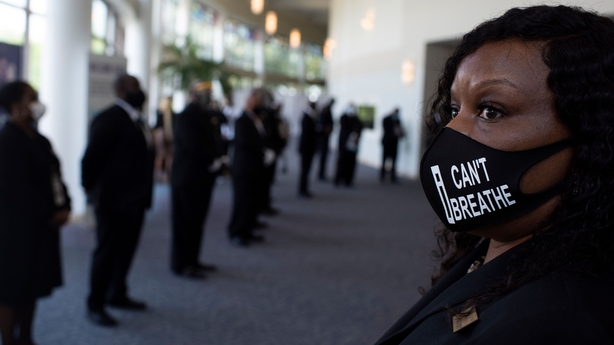 Trump tweets conspiracy theory about Buffalo protester shoved by police
President Trump has tweeted a conspiracy theory about a 75-year-old protester in Buffalo, New York who was shoved by police and critically injured during a march sparked by the death of George Floyd.
Citing a report by pro-Trump channel One America News Network, he wrote that the protester, Martin Gugino, could be a member of the anti-fascist movement Antifa, which the president and other Republicans have blamed for violence at the protests.
Mr Trump offered no evidence of links between Mr Gugino and the movement.
"Buffalo protester shoved by Police could be an ANTIFA provocateur. 75 year old Martin Gugino was pushed away after appearing to scan police communications in order to black out the equipment. @OANN I watched, he fell harder than was pushed. Was aiming scanner. Could be a set up?" President Trump tweeted.
Buffalo protester shoved by Police could be an ANTIFA provocateur. 75 year old Martin Gugino was pushed away after appearing to scan police communications in order to black out the equipment. @OANN I watched, he fell harder than was pushed. Was aiming scanner. Could be a set up?

— Donald J. Trump (@realDonaldTrump) June 9, 2020
His post appeared just hours before the funeral of Mr Floyd.
Two Buffalo police officers have been arraigned on felony assault charges after a viral video showed one of them shoving Mr Gugino and the other walking past his still body after he fell to the sidewalk. As Mr Gugino tumbles, his head strikes the pavement and trickles blood, according to the video.
Erie County District Attorney John Flynn, who is prosecuting the officers, declined to comment on President Trump's tweet about Mr Gugino, who remains hospitalised.
But New York Governor Andrew Cuomo jumped into the fray, saying he was "disgusted" by the tweet and urged the president to apologise.
"He accused this man of being associated with Antifa - no proof whatsoever. No facts, just an assertion," Mr Cuomo said.
"I mean, if there was ever a reprehensible, dumb comment, and from the president of the United States," said Mr Cuomo, a Democrat.
"At this moment of anguish and anger what does he do? Pours gasoline on the fire ... He should apologise for that tweet."
Virginia judge blocks governor's demand to pull down Confederate statue
A judge in Richmond, Virginia, has issued a ten-day injunction against Governor Ralph Northam's decision to remove a statue of Confederate General Robert E Lee from the city, according to the Washington Post.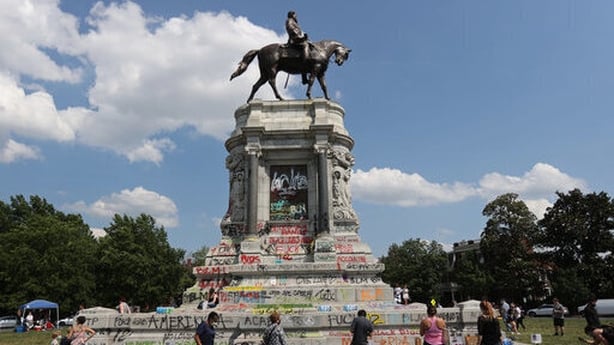 Mr Northam said last week that the statue should be taken down from its pedestal "as soon as possible", amid nationwide protests demanding racial equality following the death of Mr Floyd.
The injunction was issued by a Richmond City Circuit Court judge yesterday, the newspaper reported.
Calling for the Department of General Services to remove the towering statue of Lee, Mr Northam acknowledged the move could stir anger among admirers of the commander of the Confederate Army of Northern Virginia.
"Yes, that statue has been there for a long time. But it was wrong then and it is wrong now, so we're taking it down," Mr Northam said last week.
At the time of the American Civil War, Virginia had been a slave-owning state, and Richmond had been the capital of the rebel Confederate states.
Protesters in Richmond have defaced the statue of Lee in the past week.
It has been repeatedly vandalised in recent years, while many other Confederate statues have been removed from numerous locations across the southern United States.
Civil rights activists say they promote racism while advocates of the statues contend they are a reminder of their heritage.
---