Dressed in white, George Floyd's loved ones gathered at the Fountain of Praise Church in Houston, Texas for his funeral.
They were joined by hundreds of mourners and many more watching on TV to say goodbye to a man whose killing has led to an unprecedented movement across America.
There were emotional tributes from George Floyd's family members, like his niece Brooke Williams.
"Why must the system be corrupt and broken? Laws were already put in place for the African American system to fail," she said. "These laws need to be changed."
"No more hate crimes, please. Someone said, 'Make America great again,' but when has America ever been great?" she added.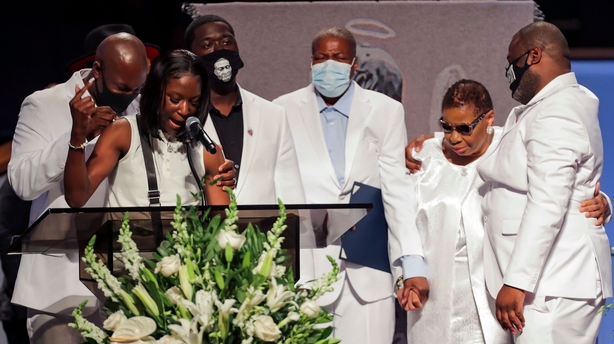 The Democratic presidential candidate Joe Biden addressed the funeral by video message and made reference to George Floyd's six-year-old daughter Gianna.
"I know you have a lot of questions that no child should have to ask, questions that too many black children have had to ask for generations," he said. "Why? Why is Daddy gone?"
George Floyd died after Minneapolis police officer Derek Chauvin knelt on his neck for almost nine minutes.
Chauvin appeared in court on Monday charged with second-degree murder and his bail was set at $1.25 million.
George Floyd's killing has sparked a wave of protests across the US and around the world.
The demonstrations were held to highlight police violence but saw fresh cases of heavy-handedness against protesters like an incident in Buffalo, New York when a 75-year-old man was pushed over by police.
The US President Donald Trump has questioned the man's motives tweeting that he may have been an "ANTIFA provocateur".
He suggested that he'd fallen harder than he was pushed and asked if it could have been a set up.
Buffalo protester shoved by Police could be an ANTIFA provocateur. 75 year old Martin Gugino was pushed away after appearing to scan police communications in order to black out the equipment. @OANN I watched, he fell harder than was pushed. Was aiming scanner. Could be a set up?

— Donald J. Trump (@realDonaldTrump) June 9, 2020
It is not the first time Mr Trump has questioned the motives of protesters.
He also pushed back against one of their calls, to defund police departments.
The US President has rejected demands to scrap the current policing model and replace it with community-based initiatives.
It is a radical proposal that would be unlikely to meet with widespread public approval.
Seizing on this, the Trump campaign suggested that Democratic candidate Joe Biden was in favour of defunding police departments, but he insisted this was not the case.
He has however called for major policing reforms.
With Election 2020 less than five months away, issues of race and policing look set to dominate the political discourse.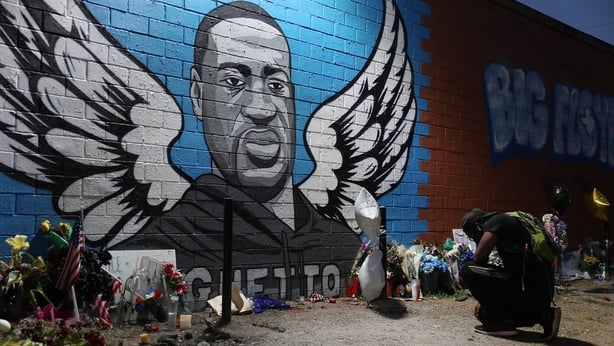 Perhaps that will be George Floyd's legacy.
As he lay gasping for air under the knee of a police officer, he cried out for his late mother and will now be buried alongside her.
Campaigners will be hopeful that although the man has been laid to rest, the movement sparked by George Floyd's killing will live on for months and years to come and bring about real change.