A young Gaelic footballer has spoken out about racist abuse he has suffered while playing in Co. Kerry.
Franz Sauerland, who plays senior football with the An Ghaeltacht club on the Dingle peninsula, says he has experienced racist abuse from opposition players on numerous occasions during matches.
"You hear things like: 'What are you doing in this country? 'Why are you playing this sport?' But the very worst insult I ever heard was 'Go back to your cotton fields.' That upset me'."
The 19-year-old, who is a fluent Irish speaker, has spent his entire life living near the Gaeltacht village of Baile an Fheirtéaraigh. His mother is originally from Ghana and his father is from Germany.
"It's upsetting, but I'm fortunate that I have really good team-mates and they stand up for me and support me whenever it happens. I'm lucky to live in such a wonderful community."
"People might think that racism doesn't exist in Ireland, but it's here. I don't know why they feel the need to say such horrible things to me on the field, but they do."
Franz has decided to speak out about his experiences in the hope of generating greater awareness around the issue:
"I think we need to talk about the problem. Especially for the younger generations coming up, children in primary schools and teenagers need to know what racism is, so that they can better understand what's happening in the world."
Today Franz was amongst over 600 protestors who took to the streets of the fishing town of Dingle today, voicing their support for the Black Lives Matter movement.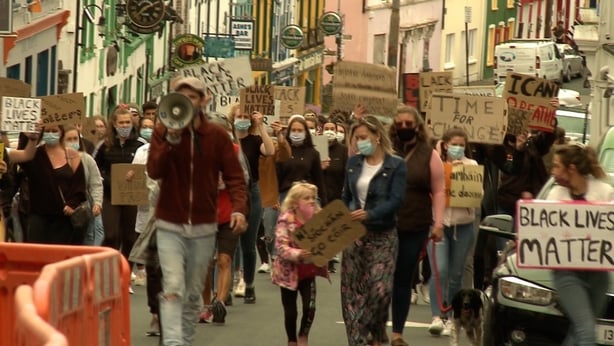 Protestors marched around the town, carrying placards, while chanting anti-racism slogans. 
Pa Sheehy, local man and lead-singer with the well-known band 'Walking on Cars,' was one of the organisers of the protest: "We saw what happened to George Floyd and it kind of compelled everyone in the community to do something. We felt we had to stand up. There are people in our own community here in Dingle suffering from racism, so it's a way of standing by them as well."
The protest remained peaceful throughout and organisers ensured social distancing was observed.
Róisín Ní Lúing said said such a big turn-out in a small town with a population of just over 2,000 people showed the importance of the issue to rural communities: "We feel it's really important for this Gaeltacht community and for rural communities in general to take a stand also. 'Cine amháin, an chine dhaonna' [One race, the human race].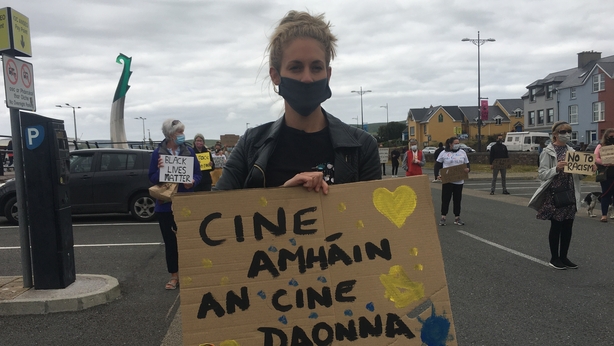 "Watching George Floyd being killed on the streets, that's only one of the reasons that brings us here. There are countless other reasons. We are all equal and everyone should be treated equally."