Bike shops around the world have been reporting record sales in recent months and retailers in Ireland are no exception. 
A combination of good weather and the Covid restrictions have seen people around the country taking to two wheels. 
Sport Ireland says a recent survey shows that more than 510,000 adults say they are cycling at least once a week and that is up by 220,000 in the same period last year. 
Many Irish bike shops are reporting that they are struggling to keep up with demand for new bikes and second hand bikes have sold out in many retailers. 
There are also waiting lists for repairs as people bring in bicycles that have long languished in sheds or back gardens. 
In Bray, Co Wicklow, Tom Hanratty of Everest Cycles says he has not seen anything like this in 35 years in the business. 
There are no new bikes on display in his shop; they are all sold out.
Stock that comes in is going straight out the door to meet customer demand. There is a week-long waiting list for repairs.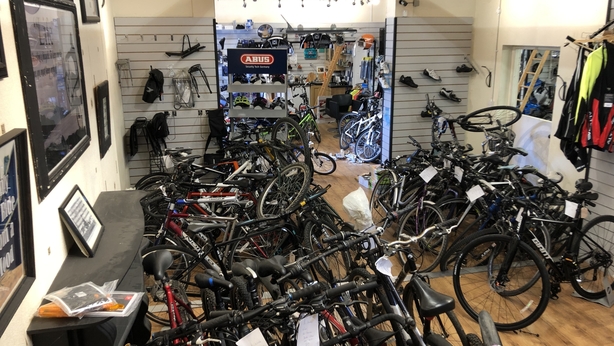 Regular customers are being joined by many who have not cycled in year. 
Ann-Marie Edwards told RTÉ News that she decided to look at a bike as everyone else was getting into cycling and the Bike to Work scheme, which offers discounts of up to 51%, made it more attractive. 
We need your consent to load this rte-player contentWe use rte-player to manage extra content that can set cookies on your device and collect data about your activity. Please review their details and accept them to load the content.Manage Preferences
Another customer, Bernie Taylor said normally she would be the last person you would expect to buy a bike but the Covid restrictions saw her out exercising with the family and "you get tired of walking all the time" she siad. 
In Tallaght, there were queues outside the Cycle Superstore which describes itself as Ireland's biggest bike retailer. 
There is plenty of stock on display and in the warehouse but some models are sold out.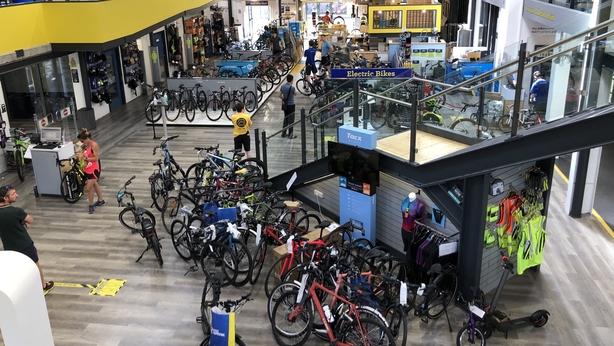 Assistant General Manager Yannick Pigeat said the problem is that 99% of bicycles are made in Taiwan or Asia and factories over there were shut down for up to 3 months. 
In Bray, Tom Hanratty says it is even getting hard to source some parts. He has sold out of one very popular type of tube and does not expect to get it back in stock for weeks.
He pointed out that most bicycles and parts come to Ireland through the UK and demand has soared there too.
He has long standing relationships with his suppliers and they are getting bikes to him, but not fast enough to keep up with demand he says.