Childcare facilities will be open to all parents who need childcare in order to return to work from 29 June, subject to capacity.
In the Government's roadmap for reopening the country, this was originally limited to essential workers.
But this evening the Department of Children and Youth Affairs confirmed that this has now been expanded to all those in need of childcare.
However, they said this will be subject to the capacity of childcare providers and if there is an issue, essential and frontline workers and vulnerable children will be given priority.
Childminders will also be able to resume looking after children in the childminder's home from 29 June.
The department says it is prioritising the opening of full-time and part-time childcare services and once this happens, it will move to planning for the resumption of the free pre-school programme known as the ECCE scheme, at the end of August.
Childcare providers have also been encouraged to support the return of children with disabilities who previously attended their services, in particular those preparing to start school in September.
Earlier, the department also confirmed that so called "play pods" would be used by early years and childcare services when children return to their care.
They consist of a number of children and adults who stay in that pod and do not mix with other pods indoors, outdoors or at drop off and collection times.
They do not share toys and have different meal and break times.
More than one pod can operate in a room with a "light partition" in place.
It also says children from the same household should, where possible, be in the same pod.
The pod system is designed to help with infection control, be an alternative to social distancing, which the department says is not possible for young children, and would facilitate contact tracing if there was an outbreak.
A number of children and adults in the pod will depend on the children's age but will follow existing adult-child ratios and should have a minimum of two adults to allow for staff breaks.
For children in full-time care, the existing ratios are one adult to three children for those aged under one year. It increased to one adult to five children for one-year-olds; one adult to six children for two-year-olds; and one adult to eight children for those aged three to six.
For sessional students, the ratios are different again. One to 11 for those in the two years of pre-school and one to 12 for children of school age.
The department says while the Health Protection Surveillance Centre says there is no evidence base to define a maximum number for pods, they should be kept as small as possible in the specific childcare context.
The HPSC also says that it is not appropriate for childcare workers to wear face covering when caring for children but they should follow NPHET advice on this for interaction between adults.
Research conducted for the department also suggests there may be a drop in demand for childcare services when they reopen.
A survey of more than 500 households with children under 15 found that only half of those who had children in centre-based care prior to the restrictions intend to return them to these settings.
The department is encouraging children and service providers to make contact with each other so that the level of demand can be assessed.
Minister for Children Katherine Zappone said she hoped that childcare services that normally operate over the summer can resume their services on 29 June "for the sake of children, families and our economy".
She also said she was conscious that the past three months have been tough on children who have missed playing with their friends and hugging their grandparents.
She said this was why she wanted to do her best to reintroduce some familiarity to their lives.
The minister also said it was inevitable that there would be some transmission of the virus in many settings at some point in time.
But she said the new measures would help limit that and that there will be additional Covid-19 training provided for childcare professionals.
Early Childhood Ireland says it welcomed the publication of the advice and its members must now examine their capacity, balancing family needs with that advice. 
It also said parents, providers or staff cannot be asked to meet any funding gap and its vital that Government comes forward with realistic financial measures to ensure the long-term sustainability of the sector.
Childcare sector specific work safety guidance is due to be issued to the sector next week.
In its advice the Health Protection Surveillance Centre said it is not possible to guarantee that infection can be prevented in any setting and one of the key challenges for all who care for children during this pandemic is to balance the need for a practical and sensible level of caution with the need for a nurturing and supportive environment for children. 
"An atmosphere of fear and on overwhelming preoccupation with hygiene can be harmful for children without materially reducing the risk of infection."
It suggests parents should wait in cars while a childcare workers come to the car to collect and return the child.
And it says all dropping off and picking up children should be arranged in a way that maintains distance between parents and between parents and childcare workers.
It says in the context of the pandemic, the use of soft toys and play dough needs to be considered carefully and if their use is deemed important soft toys should be wash regularly and play dough replaced daily.
It says if soft toys or comfort blankets are essential for some children, they should not be shared.
Jigsaws and puzzles must be capable of washing and it says children should be discouraged from putting shared toys into their mouths.
Services are also being advised with how to deal with an outbreak of Covid-19.
If a child shows symptoms, providers are being advised to separate the child from others by at least two metres or preferably in another room and that the childcare worker with them should wear a mask or gloves while the wait for the parents or guardians to collect them.
---
Read more:
HSE experts say schools not a high risk setting for Covid-19 transmission
Experience of schools reopening in other countries will be examined
Latest coronavirus stories
---
Separately, a body representing private sector childcare providers has expressed concern that many crèches and childcare facilities will go out of business or choose not to reopen unless the Government agrees a package of financial supports.
Seas Suas says privately owned and operated childcare providers employ 18,000 staff and care for more than 144,000 children. 
In its new post-lockdown strategy document entitled "Reopen Safely, Recover Sustainably", Seas Suas anticipates that even if some facilities can open on 29 June, as few as 20% of children will actually return due to continuing concerns among parents. 
This will reduce revenue significantly at a time when health and safety costs like personal protective equipment and deep cleaning will rise, and existing fixed costs like rent and mortgages must be met.
Seas Suas argues that without financial supports many early learning centres will simply choose not to re-open or go out of business.
They claim this in turn will trigger a shortage of creche places for young children, making it even harder for parents with childcare difficulties to return to work. 
It calls for existing "unused" Government funds originally allocated to failed attempts to deliver home-based childcare for essential healthcare workers to be "redirected, expanded and extended" to help providers to meet cashflow and cost challenges.
Seas Suas cites the allocation by Minister for Children and Youth Affairs Katherine Zappone of €4.2 million per week earlier this month to fund a home-based childcare scheme for health workers for 8 May to 29 June. 
That scheme had to be scrapped when only six childcare providers signed up amid concerns about issues including insurance.
Seas Suas points out that around €30 million remains unused, and calls for it to be redirected to childcare providers and extended until the end of the year to help them withstand the collapse in cash flow.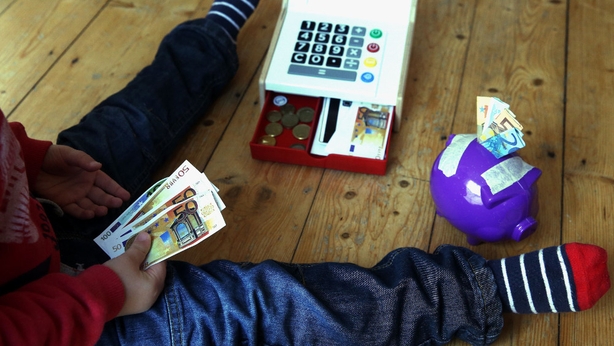 The childcare providers are also demanding that the sector should have access to dedicated Covid-19 testing and results within a 24-hour period, along with dedicated contact tracing, and that each facility should have a Covid-19 officer.
Seas Suas also noteed that wages account for up to 70% of the childcare sectors costs - and called for the Temporary Wage Subsidy Scheme to be extended "on a tapered basis."
It seeks the abolition of commercial rates on full-time daycare crèche facilities, a 0% VAT rate on infection control products, and wants restrictions on parents entering crèche facilities. 
Seas Suas chair Regina Bushell notes that while complex safety concerns could be addressed, no amount of handwashing and PPE could alter the fact that as few as one in five children are expected to return as the children of essential workers. 
She warned that current efforts to reopen childcare will fail for a third time without a "fundamental mindshift" in Government.
Ms Bushell said it is "undeniable" that the closure of early learning and childcare services has had profound effects both on Ireland's children and on their parents' productivity. 
She accused the Government of failing to grasp the financial fundamentals at the core of the problem, noting that two previous attempts to reinstate childcare had collapsed. 
"Unless there is a change in mindset, we will have a third collapse," she cautioned.
"Childcare is an essential part of Ireland's economy and must therefore be considered essential to its recovery; it cannot be viewed in isolation. The lockdown has shown us that despite parents' best efforts, it is virtually impossible to double-up as a full-time educator and a full-time, productive employee," she said.
McDonald calls for childcare supports
Meanwhile, Sinn Féin leader Mary Lou McDonald has said the wage bill of childcare workers should be continued until the end of the year to give certainty to childcare providers, childcare workers and parents.
Speaking on RTÉ's Today with Sarah McInerney, she said it is essential so childcare workers have jobs to go back to and parents will have places for their children at childcare facilities.
She said as the country moves to reopening and getting people back to work, we need to look at what support childcare workers and the sector is going to need.
She also outlined the concerns for parents as to whether or not they can access childcare places for children and if they will they be facing a hike in fees.
"We know even before the Covid crisis people were struggling with childcare costs," she added.
She said by continuing to cover the wages of childcare workers, the return would be no hike in childcare fees.
Additional reporting Ingrid Miley