Nine more people have died from Covid-19 in Ireland. There have now been a total of 1,639 deaths related to the virus here.
There have also been a further 46 cases of coronavirus diagnosed, which brings the total number of cases to 24,841.
Professor Philip Nolan, chair of the National Public Health Emergency Team Irish Epidemiological Modelling Advisory Group, said: "All the indications are that the incidences of coronavirus in Ireland are stable or declining."
There are currently 47 people with Covid-19 in intensive care units with an average admission to ICU of "one to two people per day".
He said the level of disease in the community remains "very low" at around 50 cases per day.
"Almost everything we see is astonishingly stable," added Professor Nolan.
"Next week we will see figures that reflect the impact of Phase One measures on key disease spread indicators. It is our hope that the R (reproductive) number will remain below one and our progress is preserved."
Professor Nolan said healthcare workers remain at increased risk. At the peak, 1% of healthcare workers were ill with the virus. That has now reduced to around 0.1%.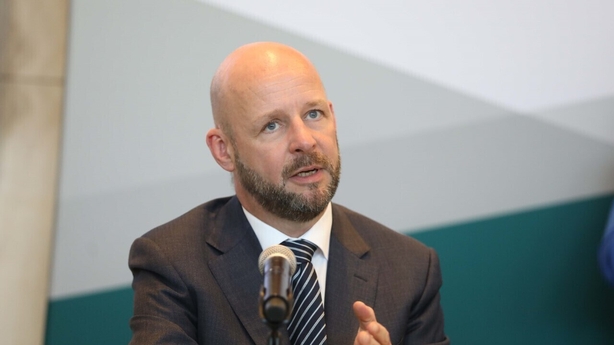 The Chief Medical Officer, Dr Tony Holohan, said there have been 1,030 deaths in residential care facilities here or 63% of the total deaths.
He said 900 of these deaths were residents of nursing homes, which represents 55% of all deaths.
"All the signs are that there is still widespread compliance with the restrictions," said Dr Holohan. "We hope that people will keep following our guidance."
Asked about the possibility of restrictions being eased in different parts of the country at different times, he said this was unlikely to work. "If, for example, pubs were to reopen in one county and not another, you can imagine what would happen!"
Asked about people attending Mass at a church in Blackrock, Dublin, Dr Holohan said health experts were sensitive to people's religious beliefs but it was not yet the right time for public gatherings.
He was also asked about the easing of measures to make life easier for children, such as allowing summer camps to go ahead.
The impact of the pandemic on Irish children is highlighted in a new survey from children's charity Barnardos. It found that young people are missing friends and school, while also worrying about the health of their older family members.
Dr Holohan said NPHET was giving ongoing advice and support to the departments of education and children. "We will meet again next week. We are discussing children at our meetings."
He said "we are not seeing increases in infection, for the most part" in countries where schools have reopened. "We can learn from that. We are encouraged by that but it is early days.
"We think for us, measures such as two-metre social distancing, has worked in suppressing the virus. But we will keep all those measures under review."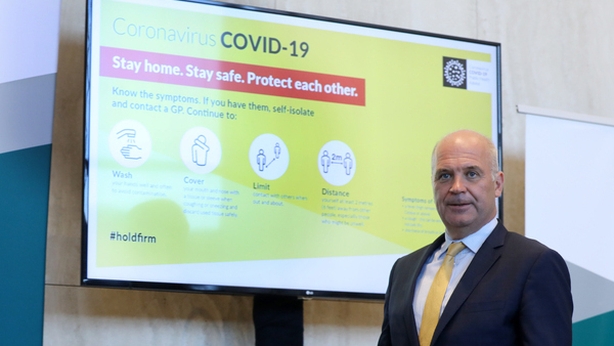 Dr Ronan Glynn, Deputy Chief Medical Officer, said NPHET has agreed to include the sudden loss of smell (anosmia) and loss of taste (ageusia) as being among the defining symptoms of Covid-19. "This is subject to updated guidance from the ECDC [European Centre for Disease Prevention and Control], which is expected to be published tomorrow."
As of midnight Wednesday 27 May, detailed data from the Health Protection Surveillance Centre - relating to 24,795 cases - reveals 57% are female and 43% are male with the median age of confirmed cases being 48.
3,267 cases (13%) have been hospitalised, with 404 of these been admitted to ICU. A total of 7,920 cases are associated with healthcare workers.
Dublin has the highest number of cases at 11,996 (48% of all cases) followed by Cork with 1,458 cases (6%) and then Kildare with 1,414 cases (6%).
Community transmission accounts for 40%, close contact accounts for 58%, travel abroad accounts for 2%.
Earlier, the Department of Health in Northern Ireland confirmed two more deaths related to Covid-19.
It brings the total death toll there to 518, while the number of lab completed positive cases is 4,679, a rise of 16 in the past day.
The Northern Ireland Executive plans to ease Covid-19 restrictions further early next month, providing the rate of infection does not rise.
The coronavirus has killed at least 355,736 people around the world since the outbreak first emerged in China last December, according to the latest official tally from AFP.
At least 5,705,890 cases of Covid-19 have been registered in 196 countries and territories.