The Garda Commissioner has said that "we are in uncharted waters" in terms of the long-term impact of the new powers given to gardaí during the Covid-19 crisis. 
Drew Harris said that gardaí had "engaged in more than 10,000 checkpoints" across the country last week.
Commissioner Harris was speaking during a public meeting with the Policing Authority, which is overseeing the Garda response to Covid-19.
The proceedings were streamed live online due to the Covid-19 restrictions.
Mr Harris said that the number of coronavirus-related arrests to date (76) illustrated how well the public was complying with the new regulations and "how sparingly gardaí were using their enforcement powers".
He said there was a huge level of public support for the garda operation. He said he did not believe that any issues had been raised in relation to how gardaí were using their additional powers.
Mr Harris said that garda checkpoints had so far resulted in 760 arrests in relation to non-Covid-19 offences, including drink or drug-driving, possession of drugs and offensive weapons, and various public order offences.
He said that "detectives who are routinely armed" had been supporting checkpoints in an effort to "maximise the visibility" of garda operations.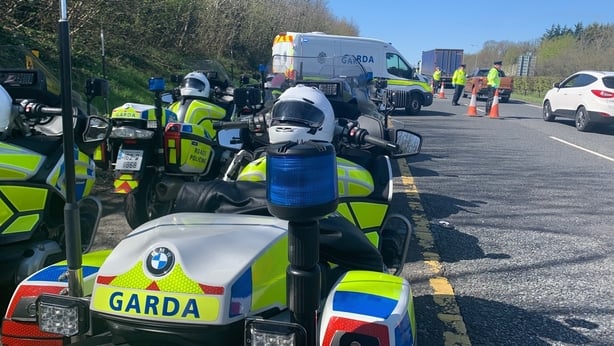 The commissioner also told the meeting that there had been an increase in reports of domestic abuse, possession of drugs, possession of offensive weapons and fraud since Covid-19 restrictions came into effect last month.
Mr Harris said that criminals were making significant attempts to defraud individuals, institutions and "even government procurement operations".
Other crimes, such as theft, burglary and criminal damage, had "diminished" during the same period, he added.
Mr Harris also said that there had been a worrying increase in domestic abuse, around 21%, compared to the same period last year.
He also said that "engaging, educating and encouraging" the public to comply with Covid-19 regulations remained the priority for gardaí. He said that enforcement of the measures was still being used as "a last resort".
Mr Harris added that gardaí have maintained a focus on the activities of organised crime gangs during the Covid-19 crisis.
He said that officers had made several significant seizures in recent weeks - of drugs, ammunition, firearms and cash - and had made important arrests.
He said gardaí had initially been fearful of what crime gangs might attempt during "a time of vulnerability".
Mr Harris said that a "prominent and proactive garda presence on the ground" had "borne fruit" and led to a "lot of success".
He said that drug dealers had been switching to postal routes to try to get supplies of drugs moving around the country.
The commissioner also said that a strong garda presence on roads had helped to deter people from moving to second homes during the last bank holiday weekend.
He said Easter was exceptionally quiet on the roads for the time of year.
Mr Harris said that a similar garda presence would be in place for the May bank holiday weekend.
He said that there was a time limit on how long the current high level of garda monitoring could continue.
"We can't keep going at this operational tempo, which began around the 16th of March, indefinitely, or indeed, for very much longer," he said.