31 more people have died from Covid-19 in Ireland bringing the overall death toll to 365.
527 more cases of coronavirus have been diagnosed in the Republic. In addition, there are a further 465 confirmed cases of Covid-19 from the backlog of tests at the laboratory in Germany.
With the German figures included, there is now a total of 10,647 confirmed cases of Covid-19 in Ireland.
Of the 31 additional deaths announced this evening, 18 were female and 13 were male.
Chief Medical Officer Dr Tony Holohan said that there were reports of an underlying condition for 25 of the 31 people who died and that the median age was 82.
So far, there have been 365 deaths linked to Covid-19 in this country.
68%, or 247 people, died in hospital. 37 people, or 10%, died in intensive care.
Speaking this evening, Dr Holohan said that people as young as 30 and as old as 105 have died.
However, he said the mean age was 69, and the median age was 62.
80% of people who have been admitted to ICU to be treated for Covid-19 have had an underlying illness.
So far, 269 people have been treated in intensive care since this crisis began.
65 people have been discharged from ICU (24%), while 37 people died in ICU (14%).
167 people are still being cared for in ICU, and the median age of all of those people who have been admitted to intensive care so far is 61.
In Northern Ireland, six more coronavirus-related deaths were announced today bringing the total in the region to 124.
There are now 1,882 confirmed cases in Northern Ireland, including 76 new ones since yesterday.
Around 80% of cases of Covid-19 will be a mild to moderate illness, close to 14% have severe disease and around 6% are critical.
Generally, you need to be 15 minutes or more in the vicinity of an infected person and within two metres of them, to be considered at-risk, or a close contact.
The Minister for Health has said Ireland's approach to tackling Covid-19 is the "right strategy" that is "going to save lives".
Minister for Health Simon Harris says modelling shows that if no measures were put place there would have been 120,000 news cases of Covid-19 in Ireland next Sunday | Read more coverage: https://t.co/8iee1S7MIE pic.twitter.com/RrgqkgL6Iw

— RTÉ News (@rtenews) April 13, 2020
Simon Harris said it is important for the Irish people, who are hurting and who are making sacrifices, to know this.
Minister Harris cited modelling done by Professor Philip Nolan, which projected that this coming Sunday alone, there would have been 120,000 new cases of the virus, if no restrictive measures had been introduced.
If just partial mitigation had been done, by the end of May, the modelling suggested we would see around 70,000 new cases on one day.
Mr Harris said that either of those scenarios would have been "utterly devastating for our country" and would have resulted in "very significant" numbers getting ill and losing their lives.
---
Read more:
Coronavirus death toll in UK reaches 11,329
Spain cautiously emerges from 'economic hibernation'
Family's joy as father recovers from Covid-19
---
The backlog in testing for Covid-19 will be "reduced completely" during the course of this week, according to the Health Service Executive.
HSE Chief Executive Paul Reid told a media briefing today that Ireland had built up a backlog of around 35,000. As of today that figure is now at 11,000, he said.
Mr Reid added that the backlog has been reduced by increasing our own lab capacity and testing being carried out in a German laboratory.
He said the HSE's goal was to carry out 4,500 lab tests per day by last week, and that on Saturday, 7,900 tests were carried out.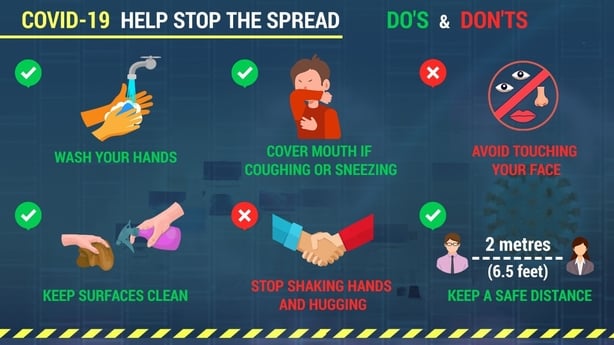 Turnaround times for testing carried out in hospitals is now between 24 and 36 hours, however, he said there is "further work to do" in this regard for community testing, which he said is a more complex process.
Mr Reid said there are now 25 laboratories carrying out testing for Covid-19.
This includes 20 hospital laboratories, the lab in Germany, the National Virus Reference Lab, and three others in Ireland.
Ireland's case fatality rate from Covid-19 is now almost 4%, the latest data shows.
The data published in the Health Protection Surveillance Centre's epidemiology report is based on figures up to midnight on Friday 10 April.
It shows that of the 8,496 confirmed cases of the virus, 329 people had died, giving a case fatality rate of 3.9%.