A total of 11,329 patients have died in hospital after testing positive for coronavirus in the UK, as of 5pm yesterday, the Department of Health said, up by 717 from 10,612 the day before.
The department said that, as of 9am today, 290,720 people have been tested of which 88,621 tested positive.
Overall, 367,667 tests have concluded, with 14,506 tests carried out yesterday. The figures exclude Northern Ireland.
667 people who tested positive for Covid-19 have died in hospitals in England, bringing the total number of deaths to 10,261, the NHS said.
Of the new deaths announced by NHS England today, 118 occurred on 12 April while 537 took place between 1 April and 11 April.
The remaining 12 deaths occurred in March, with the earliest new death taking place on 26 March.
NHS England releases updated figures each day showing the dates of every coronavirus-related death in hospitals in England, often including new deaths that took place several days or even weeks ago.
This is because of the time it takes for deaths to be confirmed as testing positive for Covid-19, for post-mortem tests to be processed, and for data from the tests to be validated.
The figures published today by NHS England show that 8 April currently has the highest total for the most hospital deaths occurring on a single day - 737 - although this could change in future updates.
---
---
In Northern Ireland, six more people have died, bringing the total number of coronavirus related deaths to 124.
There are now 1,882 confirmed cases in Northern Ireland, including 76 new ones since yesterday.
In Scotland, the death toll rose to 575.
A total of 6,067 people have now tested positive for the virus in the country, up 155 from 5,912 the day before, with nine more deaths.
Public Health Wales said a further 313 people had tested positive for Covid-19, bringing the total number of confirmed cases to 5,610.
Dr Robin Howe, from Public Health Wales, said: "313 new cases have tested positive for Covid-19 in Wales, bringing the total number of confirmed cases to 5,610, although the true number of cases is likely to be higher.
"Fifteen further deaths have been reported to us of people who had tested positive for Covid-19, taking the number of deaths in Wales to 384."
The figures came Boris Johnson was recuperating and remained off work after saying his battle with coronavirus "could have gone either way".
Foreign Secretary Dominic Raab is currently deputising for him, but the government is set to make a decision this week on whether to maintain Britain's lockdown.
Restrictions have been in place since 20 March across the country.
Mr Johnson became the most high-profile leader to contract the virus last month and spent a week in hospital - including three days in intensive care - before being discharged yesterday.
The 55-year-old is now staying at Chequers, which has been used as a retreat by British premiers for the past century.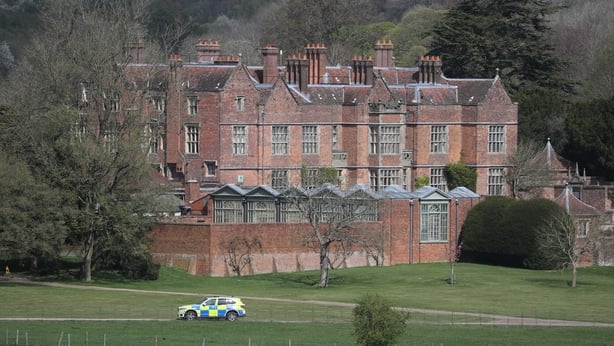 "The prime minister is focusing on his recovery, and he's not currently carrying out government work," Mr Johnson's spokesman said.
Mr Raab has been chairing the government's daily meetings on coronavirus, but a decision is due on Thursday when the three-week-old nationwide lockdown comes up for review.
Ministers must decide whether to continue demanding people stay at home where necessary, and keep non-essential shops closed.
Given the death toll has been rising by around 900 per day since last week, few expect the restrictions to be lifted this week.
Scottish First Minister Nicola Sturgeon said in Scotland, "that review is not likely to result in these restrictions being lifted in the very near future".
"There are early optimistic signs that the steps we are taking are working, but until we know more, until we have solid evidence, we must stick with it," she told reporters in Edinburgh.
Additional reporting AFP