The backlog in testing for Covid-19 will be "reduced completely" during the course of this week, according to the Health Service Executive.
HSE Chief Executive Paul Reid told a media briefing today that Ireland had built up a backlog of around 35,000. As of today that figure is now at 11,000, he said.
Paul Reid, CEO of HSE, says the backlog of tests to be completed has been reduced from 35,000 to 11,000 and says the aim is to have that backlog eliminated entirely by the end of the week. #covid19 pic.twitter.com/1UfNzK6BhR

— RTÉ News (@rtenews) April 13, 2020
Mr Reid added that the backlog has been reduced by increasing our own lab capacity and testing being carried out in a German laboratory. 
He said the HSE's goal was to carry out 4,500 lab tests per day by last week, and that on Saturday, 7,900 tests were carried out. 
Turnaround times for testing carried out in hospitals is now between 24 and 36 hours, however, he said there is "further work to do" in this regard for community testing, which he said is a more complex process. 
Mr Reid said there are now 25 laboratories carrying out testing for Covid-19. 
Paul Reid, CEO of HSE, says the HSE continue to build up capacity of testing and contact tracing. There are now 25 testing laboratories being used by the HSE. #covid19 pic.twitter.com/WpZRthiFRc

— RTÉ News (@rtenews) April 13, 2020
This includes 20 hospital laboratories, the lab in Germany, the National Virus Reference Lab, and three others in Ireland. 
Mr Reid said there are still "significant uncertainties" that the HSE is "trying to manage through this week". 
This includes "sustaining the support" of the German laboratories and securing a continuous supply of testing reagents. 
He said that Ireland has had a "significant delivery" of reagents from China, which is currently undergoing quality assurance testing. 
An average of around 2,800 laboratory tests are being done each day. More than 72,000 tests for Covid-19 have now been completed. 
---
Read more: Latest coronavirus stories
---
Mr Reid said that we have doubled the number of tests completed in a very short time, as this number was just over 30,000 last week. 
55,000 swab samples have been taken at 48 community testing centres nationwide and by the National Ambulance Service. 
Paul Reid said that 800 people either have appointments to be swabbed or will be given appointments in the coming days. 
Mr Reid also said there is a "significant issue" with the availability of gowns across the health system.
He said there are supplies, but that "we will be tight on gowns in some places" until a further delivery of PPE from China arrives. 
He said that the HSE's Chief Clinical Officer Dr Colm Henry will issue a note later setting out the best use of gowns and prioritisation for their use. 
Mr Reid said that we are in a better position than most countries are in this regard. Delivery of the first batch of PPE worth €31m was completed on Friday, he added.
He said that although there were issues around respiratory masks, the Chinese supplier has sent a revised specification which is now being assessed to see if it meets our standards. 
A second batch of PPE worth €67m will begin arriving on 17 April. However, Mr Reid outlined a "major issue" that could impact on Ireland. 
He said that new regulations in China to ensure the standard of the PPE could affect how quickly the PPE can be delivered here.
Mr Reid said that "we are not through this by any stretch" and that he believes we are heading into "a very very difficult phase" in the coming weeks.
He said the measures that have been taken are making a difference, but that it "will need continued diligence and support over the coming weeks".
There are currently 862 people being treated for Covid-19 in hospital. 
Chief Operations Officer at the HSE Anne O'Connor gave the figure today, which she said was correct up to 8pm last night. 
She said this was an increase of 8.5% on the previous week, however it was a smaller increase than we have seen in previous weeks. 
148 patients with Covid-19 are being treated in ICU, while a further 127 people with non-Covid related illnesses are also in intensive care.
Ms O'Connor said there are 135 ICU beds available, while there are more than 2,000 hospital beds available generally. 
HSE briefing latest: Anne O'Connor, COO of HSE, says attendance at emergency departments is down 46% on this time last year but it is up 12% on last week #covid19 pic.twitter.com/WdJIKADvwO

— RTÉ News (@rtenews) April 13, 2020
Ms O'Connor said there have been 268 "outbreaks" of Covid-19. 
She said these are not clusters, and that the HSE is working closely with people where there is just one case. 
Of these 268, 214 are in nursing homes, 32 are in disability services, 14 are in mental health services, four are in "non HSE" direct provision centres, three in prisons, and one in addiction services. 
The HSE's Chief Clinical Officer has said there is "uncertainty" about what is going to happen next.
Dr Colm Henry said that it does not seem like we are going to have a peak, followed by a fall, and then go back to normal. 
"That doesn't seem to be a plausible narrative anymore," he said. 
Dr Henry said that the modelling around this virus is extremely sensitive to the tightening or loosening of restrictions.
Dr Henry said that "if we all suddenly decide to congregate at beaches and stadiums and marches" the numbers will "go rapidly up again". 
---
Covid-19 advice on risk and close contacts
According to the HSE's Health Protection Surveillance Centre, you can be infected by breathing in the virus if you are within one metre of a person who has Covid-19, or by touching a contaminated surface and then touching your eyes, nose or mouth before washing your hands. Current information suggests that Covid-19 spreads easily from person to person.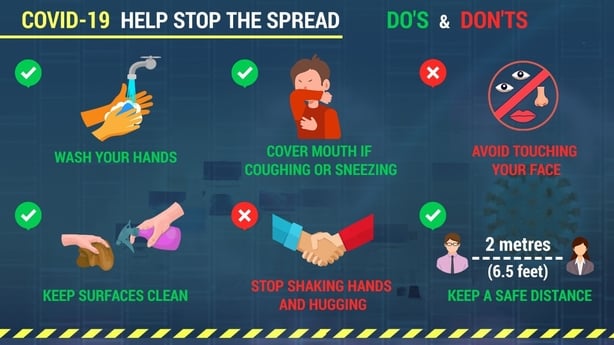 To protect yourself from Covid-19, you should:
keep a space of 2 metres (6.5ft) between you and other people
avoid communal sleeping areas
avoid any crowded places
do not shake hands or make close contact with other people, if possible
According to the Department of Health, there is very little risk if you are just passing someone. But try to keep a distance of 2 metres as much as possible.
---
Fourteen more deaths were announced yesterday evening, 12 from the east of the country and two from the west.
It is the lowest number of deaths since 2 April when 13 deaths were reported. 
727 additional cases of Covid-19 were confirmed - 430 new cases reported by Irish laboratories, the rest from the backlog sent to a German laboratory.
An organisation which works with vulnerable adults said the challenges faced by the nursing and home care sectors in the Covid-19 crisis, highlights the need for major reform in the area.
Sage Advocacy said that a single statutory system is needed covering care in all nursing homes, residential care homes, community hospitals and high support housing.
It said the sector needs shared guidelines on nursing staff, skill levels and medical care.
Additional reporting Fergal Bowers, Orla O'Donnell