The Department of Health has announced that two patients diagnosed with Covid-19 in Ireland have died.
Both patients were male and in the east of the country. There have now been six Covid-19 related deaths in Ireland.
There are also 219 new cases of coronavirus in Ireland bringing the total number of cases to 1,125.
Chief Medical Officer Dr Tony Holohan said that in relation to the two further deaths, the National Public Health Emergency Team (NPHET) had not been informed of any underlying illnesses in these cases.
Dr Holohan said they hoped to have enhanced detail in 24/48 hours in relation to how many patients have recovered and their clinical journey.
He also said that the average waiting time for a test was longer than they would like, but that testing services were being ramped up over the coming weeks.
The NPHET will meet again on Tuesday to review Ireland's response and to make further recommendations where appropriate.
It is expected that a number of significant measures are to be recommended.
Some of the measures for discussion are expected to be the closure of non-essential premises, further social distancing measures, including the closure of playgrounds and parks, the closure of shops that cannot provide for social distancing and possibly some restrictions in relation to certain public transport.
The existing measures in place, including the closure of schools, crèches, universities and pubs expire at the end of this week are expected to be extended, along with the introduction of new measures, which are decided upon.
The NPHE is also expected to emphasise the importance of an all-Island approach to the issue.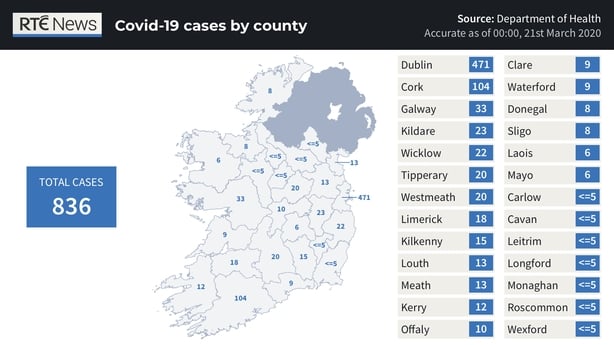 In Northern Ireland, 20 new cases of coronavirus were confirmed, bringing the total number of cases there to 148.
The head of the Department of International Health and Tropical Medicine at the Royal College of Surgeons in Ireland has said the rising number of Covid-19 cases in Ireland is "very concerning".
Professor Sam McConkey said "we are still failing to control" the pandemic here, however he said it was still "too early to know if the interventions have worked yet".
Speaking on RTÉ's Claire Byrne Live programme, he said he hoped to see the number of new cases coming down by the end of the week.
Professor McConkey said there were currently more people who need to be tested than there was availability and he said there "is a real scramble" to scale up testing as quick as possible.
Earlier today, the Taoiseach said the Government asked Dr Holohan for further advice about social distancing.
Leo Varadkar said if further measures were recommended then the Government would implement them.
But Mr Varadkar also said that people should not be berated for going to places that were crowded at the weekend.
He said they probably did not realise until they turned up there and said that he believed most people were observing social distancing.
The Taoiseach said decisions would not be made because things were trending on Twitter.
Around 80% of cases of Covid-19 will be a mild to moderate illness, close to 14% have severe disease and around 6% are critical.
Generally, you need to be 15 minutes or more in the vicinity of an infected person, within 1-2 metres, to be considered at-risk or a close contact.
Meanwhile, dozens of new testing centres for the coronavirus are opening around the country, many in venues usually used for social or sporting purposes.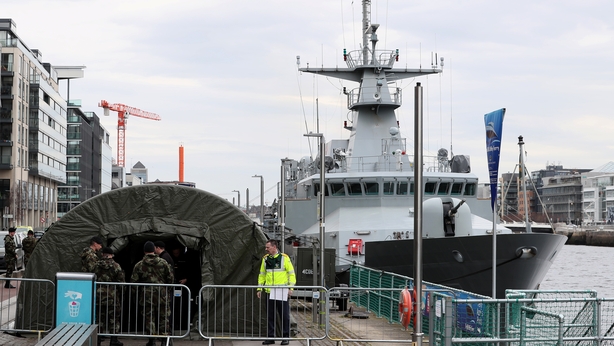 GAA stadiums and grounds are a common site for drive-through testing, including Croke Park, Páirc Uí Chaoimh in Cork and Nowlan Park in Kilkenny.
In Tipperary, the Moyle Rovers GAA complex, halfway between Clonmel and South Tipperary, goes into use today as a drive-through centre.
This, and other such centres, are by appointment-only and anyone getting tested there will have been referred by a GP.
The Tánaiste Simon Coveney has tested negative for Covid-19.
In a statement, Mr Coveney revealed that he had been alerted that he had been "in close contact with a person who has tested positive for Covid-19".
The contact was made by "a member of the HSE contact tracing team" in "recent days".
He added: "Testing is going to be a reality for tens of thousands of people and it is vitally important that we all follow HSE direction in the interest of public health."
Earlier, Minister for Health Simon Harris said priority testing, for example for healthcare workers, may be implemented.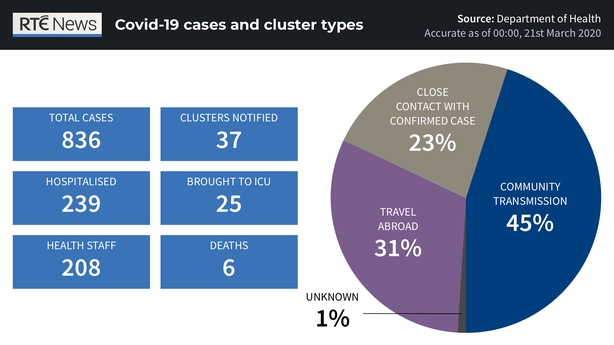 Health officials have said that the waiting time for a test for the coronavirus is between four to five days and around 40,000 people are currently waiting for a test.
Speaking on RTÉ's Morning Ireland, the minister said that efforts were under way to increase testing capacity, but it was important for anyone displaying symptoms of the virus to self-isolate immediately.
Mr Harris said every effort would be made to protect healthcare workers, adding that there was personal protective equipment in Ireland and it was being distributed fairly.
More equipment is due to arrive from China at the end of the week.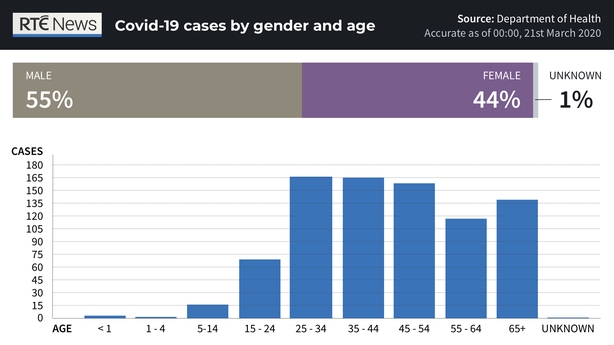 Firms that defy bans will face fines up to £100,000, says NI minister
Businesses and event organisers who defy Stormont's coronavirus bans and closure orders will face fines up to £100,000, the Northern Ireland Justice Minister has warned.
Naomi Long said the financial penalties are among new powers set to be made available to the Stormont Executive through emergency laws being passed at Westminster.
Addressing the Assembly on the crisis, Ms Long also said any prisoners who might potentially be released early to alleviate pressure on the prisons system during the emergency would first be assessed to ensure they do not pose a risk to the public or themselves.
Ms Long joined Assembly members from across the chamber condemning those who continue to ignore social distancing advice.
"It is not good enough for people to sit down and wait until they are forced to behave appropriately," she said.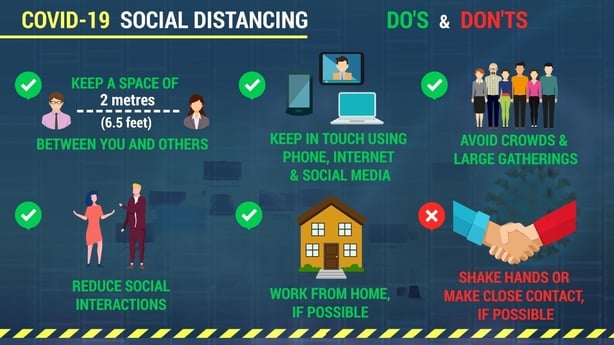 McDonald's is to temporarily close all its restaurants in Ireland.
The decision by the fast food outlet to close all its Irish restaurants will have a massive impact on an already struggling beef sector.
McDonald's is the biggest buyer of Irish beef, spending more than €160m on Irish beef for consumption here and at restaurants all over Europe.
Two in ten burgers sold in its outlets in Europe are made from Irish beef. McDonald's scale as a buyer of Irish beef is huge, purchasing around 40,000 tonnes of beef every year.
Fast food outlets are big buyers of beef, Supermacs spends an estimated €40m every year on Irish food produce, €9m of that on chicken alone.
The Irish Farmers Association has described the announcement as a "big blow", but said it was "understandable".
Elsewhere, Bank of Ireland has said it plans to temporarily close 101 branches from tomorrow while 161 will remain open.
In a statement, Bank of Ireland said it had seen a reduction in footfall in its branches, while it was seeing an increase in customers needing a different range of supports.